Wow! What a year it is has been…
Between opening new stores, acquiring new markets, and relocating and renovating several existing locations, we've had a busy 2018 to say the least!
One of the most exciting things to happen was the relocation of our very first Panera Bread ever in Boardman, Ohio. We opened the cafe the summer of 1998 when most people had never even heard of Panera Bread.  Fast forward 20 years and look where the concept is today! This September, we relocated that very first cafe just around the corner, and it now features a drive thru, delivery service, and the latest in store model upgrades with an updated, modern design. The opening marks 20 full years of Panera Bread for our company, and we couldn't be prouder of how far we've come with the brand in the last two decades.
This move, along with other relocations and drive thru retrofits, is all part of our focus on fulfilling the commitment to our customers to continue to grow, to improve, to provide new conveniences, and most importantly, to give back.
Our goal is to keep delivering on our promise to serve the community in any way we can.
As I look back on this year, I'm overwhelmed with everything we've been able to accomplish, and I'm grateful for the support of our patrons, guests, and friends for helping us make it happen.
It began at the start of 2018 when we were able to donate $60,000 to the US Marine's Toys for Tots as a result of fundraising efforts across all of our markets during the month of December last year. These funds will ensure local Toys for Tots Foundations are able to provide gifts and hope for children in the areas we serve. Many of our markets supported this cause again in 2018, and we continue to be the largest contributor to the local Toys for Tots program where we are headquartered for more than three decades now.
This year we launched Covelli Cares, a program designed to formalize the philanthropy that has always been a part of our culture at Covelli Enterprises. This program encompasses our community donations, corporate giving, fundraising promotions, partnerships with local non-profit organizations, and local volunteer activities. 100% of all donations to Covelli Cares benefits non-profit partners in the communities we serve.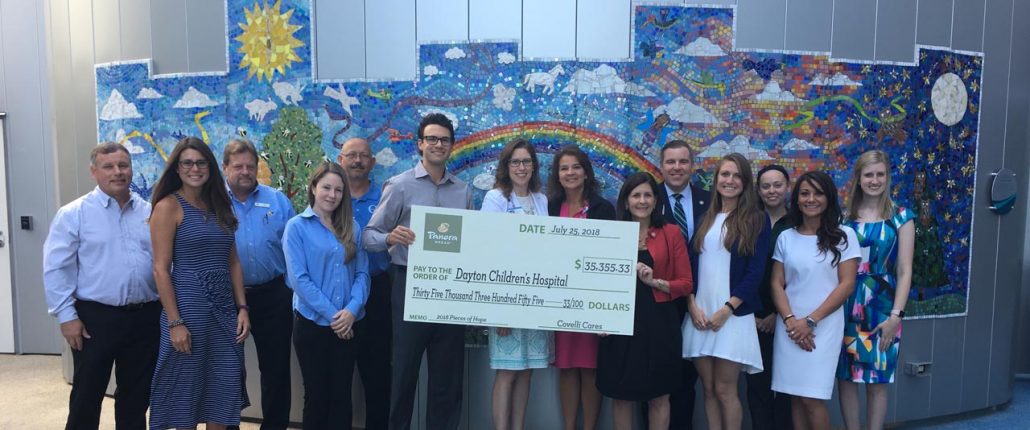 Our annual Pieces of Hope for Autism campaign was another huge success. Each year we sell our specially-designed puzzle piece cookies for a week in April with 100% of the proceeds benefitting local autism programs, hospitals, centers, organizations and advocate groups. This year's cookie campaign put us over the $2 million mark for funds raised for this cause.
In many of our newly acquired markets, we were thrilled to develop some new relationships with various non-profits. In Cincinnati, we began a first-time partnership with the 2nd & 7 Foundation to promote literacy and provide positive role models for children in at-risk communities. In South Carolina and Georgia, we launched a Summer of Wishes campaign in partnership with the Make-A-Wish Foundation that resulted in nearly $20,000 to grant wishes to sick children and their families. In our Central and Northeast Ohio markets, we continued to foster both new and existing partnerships with groups like Flying Horse Farms, Pink Ribbon Girls, Animal Protective League, local Children's Hospitals, and the LeBron James Family Foundation and their new I Promise School that opened this year in Akron.
We hosted our largest Panerathon 10K/2 Mile Walk/Run in its nine-year history with 12,000 participants and spectators. The event, held in Youngstown near our headquarters, has raised more than $2.5 million for the Joanie Abdu Comprehensive Breast Care Center since 2010. This event continues to grow each year, and we can't wait to see what our 10th annual event will bring in the coming year!
Our Pink Ribbon Bagel campaign launched in October to raise funds for local breast cancer organizations in our communities. The campaign along with our additional fundraising efforts has raised nearly $6.5 million since 2010. These funds have been used to open new breast cancer facilities, purchase mobile mammography units, support education and outreach programs, and provide transportation and assistance for those undergoing treatment.
In November, we hosted yet another annual tradition offering free meals to veterans and military service members in honor of Veterans Day. We have fed more than 150,000 veterans since 2011 and have donated more than $1.7 million in food and monetary support to military organizations since the tradition began.
And, of course, we have continued to donate the leftover bread and baked goods from our cafes every night to hunger relief agencies and food banks in our neighborhoods and surrounding areas. This program, our Day-End Dough-Nation program, benefits thousands of partners each year and provides millions of dollars in food product to those in need.
I look forward to 2019 being another year of unparalleled growth for us. I feel fortunate to be able to use our success in business to be able to make a positive impact on our communities. It's something I feel more passionate about with every passing year, especially as the end of year approaches.
I wish to thank our loyal customers for allowing us to continue doing what we do. We are able to do all this because of YOU.  I wish you all a 2019 filled with love, prosperity, and joy.
Thank you sincerely
– Sam
https://www.covelli.com/wp-content/uploads/2018/12/samc-web.jpg
483
943
Ricky Darbey
https://www.covelli.com/wp-content/uploads/2016/01/Covelli-Enterprises_small_white.png
Ricky Darbey
2018-12-31 12:07:11
2019-02-06 13:57:19
Year In Review by Mr. Covelli