UPDATE: The Power Pack-a-thon was a major success – read the details here
Donate at Cincinnati, Northern Kentucky Panera restaurants
As the director of training for Covelli Enterprises/Panera Bread operations in the Cincinnati area, Ken Bloebaum works with hundreds of people each year and travels to the company's 21 different Panera Bread restaurants in Southwestern Ohio and Northern Kentucky.
But in all of his travels and work, he was not aware of one of the biggest problems plaguing the region where he lives and works: childhood hunger.
His eyes opened to the issue last year when he joined his co-workers in packing food for hungry children as part of the Freestore Foodbank's Power Pack-a-thon, which is being sponsored by Panera/Covelli Enterprises.
"Child hunger and food insecurity is a problem that doesn't get talked about much and is much more prevalent than most of us realize," Bloebaum said.
He and about 25 to 30 other Panera Bread associates will again spend Martin Luther King Day packing such items as sun butter, whole grain cereals, sunflower seeds, apple and oatmeal bars, complete pasta meals and other healthy options. The Power Packs are then sent home on every Friday during the school year to 5,000 children weekly between the ages of 6 and 12 who attend 100 different area schools.
In addition to the day of packing, Panera/Covelli will also be collecting funds for the Power Packs through coin boxes at each Panera cash register this winter. To donate to the effort, visit a Panera bakery-café in the Cincinnati region during January and February.
"The opportunity to address the issue of child hunger and food insecurity (even in this small way) makes me feel like I'm having a positive impact in my community," Bloebaum said.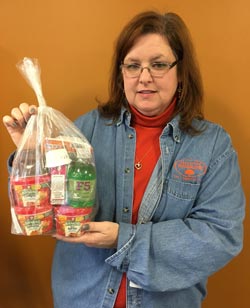 The Freestore Foodbank estimates that 94,000 children are among the 294,000 people at risk for hunger in the Cincinnati region.
Kurt Reiber, Freestore Foodbank president and chief executive officer, said support from Panera is critical for the effort.
"We truly appreciate Panera Bread's continued support as we work to provide children with nutritious, easy-to-prepare food to take home on weekends and schools vacations when other resources are not available. Together, we can solve hunger and ensure our children have the nutrition that they need to grow healthy and strong," Reiber said.
The Freestore Foodbank's long-term goals include decreasing childhood hunger, and it hopes to do this by expanding the Power Pack program.
Research has shown that hungry children do not perform well in school. "Through programs like Power Pack, the Freestore Foodbank provides more meals to children at times when they are most at risk for hunger. Everyone has a role in making sure every family member has enough to eat," Reiber said.
https://www.covelli.com/wp-content/uploads/2017/01/power-pack-bg.jpg
400
1200
Sam Covelli
https://www.covelli.com/wp-content/uploads/2016/01/Covelli-Enterprises_small_white.png
Sam Covelli
2017-01-04 18:38:10
2017-08-01 03:00:05
Panera joins Power Pack program to help childhood hunger