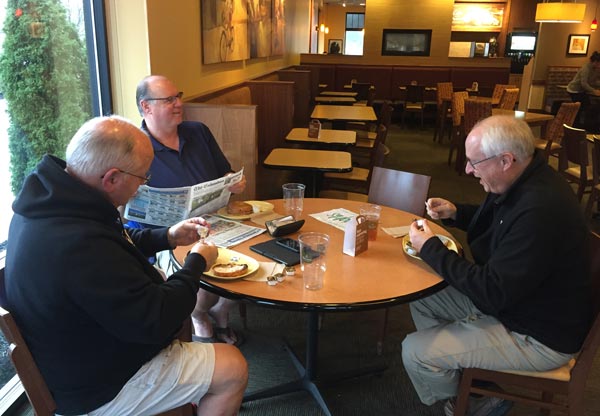 29 Mar

Knights of the Round Table Hold Court at Gahanna Panera Bread
Knights of the Round Table Hold Court at Gahanna Panera Bread
Posted in Sam Says on March 29, 2017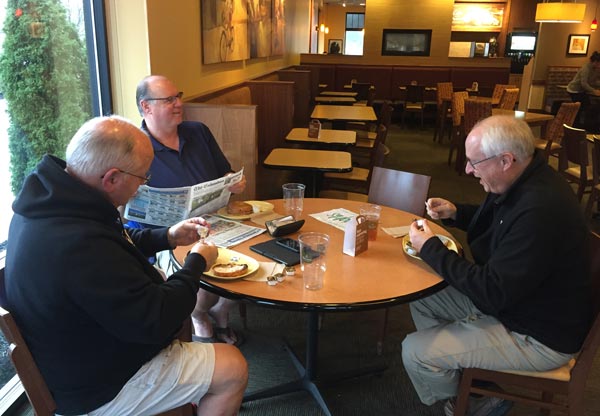 Tom Dove can't quite remember the year that he was dubbed a Knight.
Dennis Evans, another Knight, said it was a few years before 2001 because he, Dove and the other members of their order were at their round table at the Panera Bread Restaurant in Gahanna, Ohio, when they learned of the 911 Disaster.
"We shared that and so many other things with each other over the years," Dove said.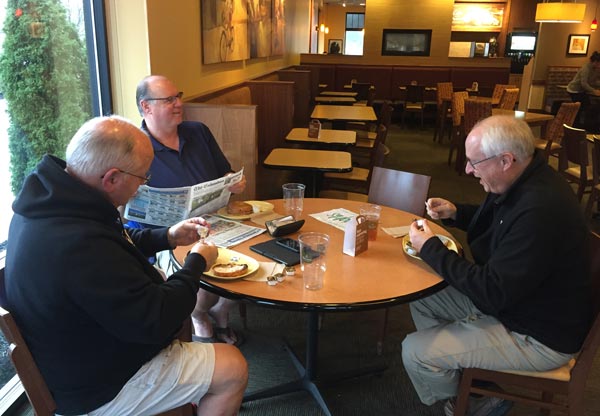 Dove, Evans and others have been dubbed "Knights of the Roundtable" – the Panera Round table – because they come to the restaurant between 7:15 a.m. and 8 a.m. every single day and often linger until noon. They talk about sports, their families, occasionally, politics, but never work.
Panera staffers are always ready for the men and place a special "Knights of the Round Table" reserved sign on their table, which sits right in the middle of the restaurant.
"The most amazing thing is that we walk into the door and they already know what we want and have it ready," Dove said.
None of the Knights knew each other before meeting at Panera, but now view each other as family and worry when someone doesn't show up for a day or two. "If we don't see someone for a day or two, we will call and make sure that everything is OK," Dove said. "We know if one of them is going through a hard time and we are there for each other."
Dove said new Knights are always welcome. The only requirement for knighthood is to show up and to agree not to talk shop.  Dove said the Knights all have different jobs and some have the flexibility of working remotely which means they can work right from their round table.
"It's a way to start your day in a relaxed mode. You have something good to eat and drink. And it's an environment where we can be ourselves," Evans said.
"We try to make it be a spot where no one has to be onstage or judged. We have always tried to make it a comfortable, relaxing place to be," Evans said.
In addition to their relationships with each other, the Knights have also developed strong connections to the Panera staffers in Gahanna.
Chrysta Harsh, manager of the Gahanna Panera Bread, said she views the Knights as part of her family.  "To me, I consider the Round Table like my crazy uncles. They have jokes. Lots of jokes," she said. "Tom has the great advice to help you through any situation you are in." She said each of the Knights offers something different, with another Knight providing business advice, including the admonition not to run out of chocolate chip cookies.
When Evans walks in every morning, Panera staffers will already be getting his order ready. In fact, one staffer picks the type of bagel he will have that day and Evans has made countless suggestions to management about everything from menu additions to staffing needs.
Rachel Hackenberg, assistant manager of the Panera Bread in Gahanna, said the Knights treat her, other staffers and customers with respect and are amazing additions to the restaurant.
"We always joke around with them saying Gahanna is their store and we call them our boss," Hackenberg said.  "We know their order already, how dark they like their bagels and how many butters they get on the side and especially to NEVER give them their receipt."
Hackenberg said new employees are taken to the Knights' table and formally introduced. "Sometimes the Knights don't even feel like customers; they are just part of your family."
Harsh agreed, "No matter the person, no matter the time of day, these guys have our backs with our career and our personal life and anyone would be lucky to know them."