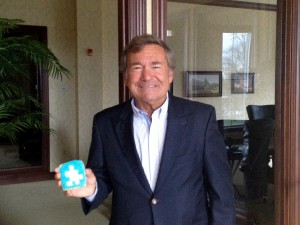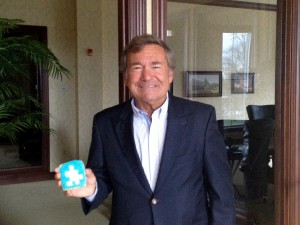 It was nearly a decade ago that I was invited to the Rich Center for Autism on Youngstown State University's campus. I receive many invitations to tour local facilities, and I am always touched by the incredible work being done in our communities, but for some reason this trip was extra special for me.
When I entered Fedor Hall, a building just outside YSU's Kilcawley Center, and one I had likely passed many times on campus without ever noticing, I took note of the children's paintings that hung in the main hallway. I saw children. They were playing, laughing, holding hands as they walked the halls, and learning. They were all unique, each with their own set of challenges and gifts. Some seemed to have more difficulty than others interacting, speaking or following commands. But I also saw teachers. Passionate educators guiding the groups of children, carefully addressing the unique needs of each child, dedicating themselves to providing them with every opportunity to grow and prosper with such compassion and patience. This place was special, and I knew it. And I knew we had to get involved.
We challenged our bakers to create something that could help raise awareness of autism among our vast customer base and also provide the much need monetary support for schools and centers like the Rich Center that do so much for families and children who are affected. It all started with a single puzzle piece shaped cookie. Today, that cookie, along with additional fundraising efforts, has resulted in $1.5 million donated to autism-related non-profit organizations in the communities we serve.
This special cookie is one of my favorite things we make. People look forward to its release since it is only available for a week each year in April. It's made from our delicious shortbread cookie, sweet white icing and an edible puzzle piece decal, and we donate 100% of the proceeds to partners like the Cleveland Clinic Center for Autism, Cincinnati Children's Kelly O'Leary Center for Autism Spectrum Disorders, Dayton Children's Autism Diagnostic Center, Autism Society of Northwest Pennsylvania, Autism Speaks of Central Ohio, The Rich Center for Autism at Youngstown State University, Potential Development, and The Dan Marino Foundation. This money goes to fund schools, hospital facilities, resources, research, treatments and advocacy for families.
We're beyond proud of the work we've been able to support within our communities for those on the autism spectrum over the years. This special cookie has allowed us to make such a positive difference in our communities, which is what we aim to do through our products and our bakery-cafes every single day. We've come so far with just a simple cookie.
https://www.covelli.com/wp-content/uploads/2017/07/sam-covelli-everycookie-counts-photo.jpg
225
300
Sam Covelli
https://www.covelli.com/wp-content/uploads/2016/01/Covelli-Enterprises_small_white.png
Sam Covelli
2017-07-27 02:49:43
2017-08-01 02:14:42
How far we've come with just a simple cookie…