JOIN OUR TEAM
WITH AN UNWAVERING DEDICATION TO EXCELLENCE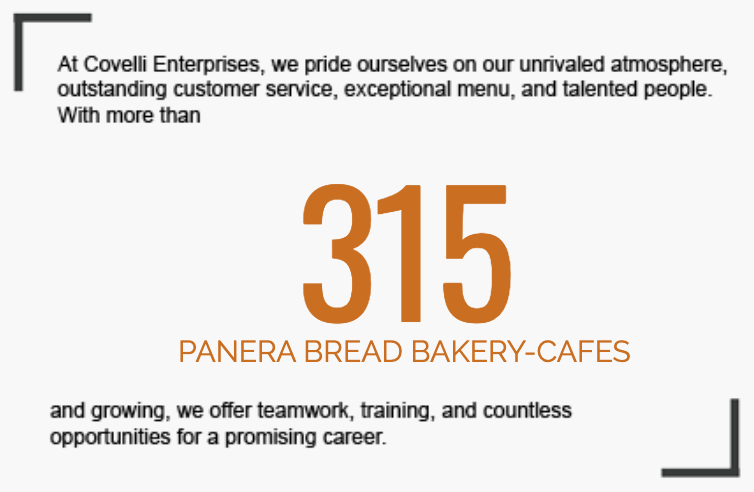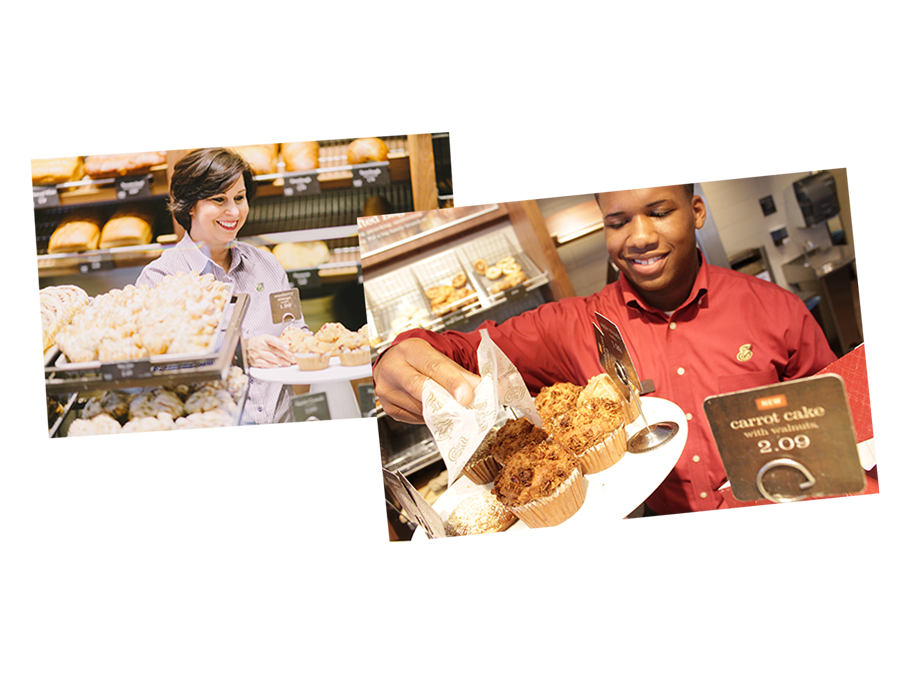 ASSOCIATES
You have enthusiasm, energy and outstanding customer service skills. And we have the best place for you to show it off! We offer flexible scheduling, great wages, 401k, and a warm and welcoming team atmosphere. Visit any café and introduce yourself to any member of our management team.
MANAGERS
Drive, enthusiasm and outstanding leadership skills come naturally to you. That's what makes you a perfect fit for a management role in our company. Hourly and salaried managers are provided with the training, experience and opportunity to take your career to the next level! Along with company growth and room for advancement, our salaried managers enjoy medical and dental, 401k, paid vacations and opportunity for bonuses.
BAKERS 3RD SHIFT
At home or on the job, you have a passion for great food and are known for creating outstanding baked products. We want you to share that with Panera Bread and its customers. We offer you medical and dental, paid vacations, meals at work, paid training, 401k and opportunity for advancement.
DELIVERY DRIVERS
Delivering for Panera is a great way to earn extra income on a flexible schedule. As a Panera delivery driver, you will join a team that loves to have fun at work and participate in a culture of helping those around you. No previous experience needed! Bring your positive attitude and great customer service, and we will provide the rest!
Our drivers earn hourly in wages, tips, and mileage reimbursement; they receive tips in CASH at the end of each shift. 401k offered, and uniforms provided.
YOU MUST:
BE AT LEAST 18 YEARS OLD
HAVE A VALID DRIVERS LICENSE
HAVE A VEHICLE WITH CURRENT REGISTRATION AND INSURANCE
HAVE A MOTOR VEHICLE RECORD IN GOOD STANDING
CATERING COORDINATOR
If you enjoy meeting new people and conquering different challenges every day, being a Catering Coordinator is for you! Build a business for yourself by marketing to existing catering clients and new catering prospects. You will be spending time in the cafes working on production as well as executing deliveries and attending networking opportunities to build your book of business.
We offer a great daylight schedule, 401k, meal discount, uniforms, vacation, and great tip potential! Enjoy a fast-paced and rewarding position with the possibility of sales commission! Your compensation is what you make it!