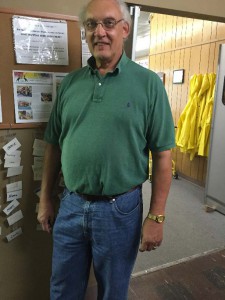 Mike Patterson, president of the Alliance Community Food Pantry, explains how the pantry works.
The number of people who came for free food this day was small compared to what it often is, said Mike Patterson, vice president of the board of the all-volunteer food pantry.
But Patterson and the 150 others who volunteer at the storefront food pantry, which opened Nov. 15, 2010, know that people get more desperate when the end of the month nears.
"There is a tremendous need here," Patterson said, noting that nearly 80 percent of the children in Alliance schools receive a free or reduced-price lunch. "It's been a pretty rough ride for a lot of people."
One-fourth of the city's population of 23,000 is considered to be living in poverty.
In 2014, 2,665 families visited the pantry a total of 18,100 times. A person can come once every two weeks and spend "points" on food, cleaning products or personal care items that are on the neatly organized shelves.
Panera/Covelli support volunteer food pantry in Alliance OH.
The pantry relies on donations of food and money from corporations , churches, organizations, schools and individuals to feed the needy of Alliance.
Covelli Enterprises is one of the Pantry's regular donors , and four mornings each week Pantry volunteers drive over to the Alliance Panera to pick up all unused products from the day.
"People love Panera Bread," Patterson said.
Sam Covelli, chief executive officer of Covelli Enterprises, has instructed all of his café managers, bakers and cooks to prepare more food each day than what they know they will sell so that there are leftovers to donate to organizations which help feed the hungry.
Some days, this means that volunte ers will fill up two entire shopping carts with bread and pastries.
The Alliance Community Food Pantry is one of dozens of food shelters that receive donations of food each day from Covelli-owned Panera Breads.
Patterson said Covelli Enterprises is one of only a handful of businesses that donate to the shelter.
"Maybe other businesses will see the example that Panera Bread has set and donate," Patterson said.
Don Kingan and his wife, Judy, manage the pantry which is open four days per week. Don Kingan explained that the pantry purchases food from the Akron-Canton Regional Food Bank. The organization's food budget is $6,500 per month.
Kristian and Victoria came to the pantry and sat patiently waiting for their turn to select items for their family of five children with the help of a food pantry volunteer.
Kristian said he was laid off two weeks ago and their only means of current support is Victoria's 33-hour-per-week job as a nurse's aide. Their regular trips to the pantry help a lot, he said.
"We like meats and, of course, chips and breads too," Victoria said. "The kids snack a lot too."
Don Kingan said pantry volunteers develop close relationships with the clients and that this is part of the allure of the pantry.
Jan Puterbaugh, a Pantry volunteer, was in charge of three freezers of meat and meat substitutes. Puterbaugh was working hard to convince Pantry shoppers to try a box of black bean burgers.
"They're very healthy," said Jan, whose husband, Dave, helped develop the idea for the pantry where people can select what they want . Prior to the Pantry opening, he helped organize monthly food giveaways in various locations where clients left with about 50 pounds of pre-selected food .
One woman looked at the box of black bean burgers and then said, "No, these aren't for me. Do you have any ground beef?"
Jan Puterbaugh and Don Kingan said there are certain items that people really want.
"We'd make a lot of people really happy if we had ground beef every day," Jan Puterbaugh said.
Don Kingan said peanut butter and tuna fish are also in demand.
Patterson, however, said that Panera items, especially baked goods, always bring smiles from customers , too.
"We love Panera," Patterson said.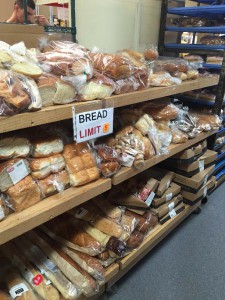 Volunteers pick up food from the Alliance Panera bread to offer to the hundreds who are served by the Alliance Community Food Pantry.