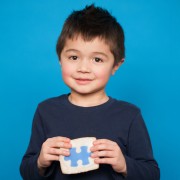 COUPLE MOVES ACROSS COUNTRY SO THAT SON CAN RECEIVE THERAPY AT CLEVELAND CLINIC CHILDREN'S
Covelli Enterprises supports Cleveland Clinic Children's Center for Autism
A few weeks ago, Katrina Masumiya Winiarski heard her five-year-old son say "hello" to a classmate – a simple social exchange that she once feared he'd never accomplish. "I got in the car and cried my eyes out," she said, explaining that her son has come so far from the toddler who wouldn't use gestures or words to communicate.
Kaz Winiarski was diagnosed with autism when he was two years old and since then, Katrina and Kaz's father, Rich, have lived in different cities, quit their jobs, sold a home and moved across the country — all in an effort to seek the best possible treatment for their son.
In 2014, the family moved to Cleveland so that Kaz could enroll in Cleveland Clinic Children's Center for Autism.
Cleveland Clinic Children's Center for Autism is one of several organizations that work with autism that are scheduled to receive funding from the Sixth Annual Covelli Enterprises/Panera Bread Pieces of the Puzzle Cookie sales in April.
A friend told them about the Center for Autism and they flew to see it on Labor Day weekend in 2014. "We knew this was the place for Kaz. We went home and made the radical decision to quit our jobs and sell our home, and officially arrived in Ohio about two months later," Katrina said.
Katrina explained their thinking:
"We wanted to live life with no regrets and give Kaz the best possible chance at success, and were fortunate to be able to make such a move."
Cleveland Clinic Children's Center for Autism, which houses a school that works with students from their autism diagnosis to the age of 22, embraces a similar approach to therapy that was working for Kaz when the couple had him enrolled in a three month program at UCLA Hospital in California. When the program at UCLA ended, the couple began their search for a similar program.
Katrina said the decision to move to Cleveland was very much a "this is crazy, but let's do it and we'll figure it out and make it work" decision. "We had never even been to Cleveland before our first trip here to tour the school," she added. "Fortunately, bringing Kaz to Cleveland Clinic Children's Center for Autism was the best thing we could have done."
Kaz is one of about 104 children who receive therapy at Cleveland Clinic Children's Center for Autism, which is led by Tom Frazier, Ph.D.
Cleveland Clinic Children's Center for Autism will receive proceeds from all puzzle-shaped cookies sold during the Panera Bread/Covelli Enterprises' Puzzle Piece Autism Cookie sale which has raised more than $1 million since 2010.
Katrina said many people don't understand the many hours of therapy that are needed to help those with autism learn to do some of the most basic tasks.
"It certainly makes you never take any morsel of progress for granted," she said. And as for Kaz, his "hello" to a classmate was just the beginning.

"He is not just talking but engaging in conversations with both peers and adults. He is curious about the world and asking questions. He is reading. He is excited about learning and new experiences. He enjoys playing with his friends," she said.

"All of this is new and they are huge achievements for him and it's all been made possible by his time at the Center for Autism. Kaz has worked so hard to get here and we are so proud of him."