Winners everywhere; Sixth Annual Panerathon Testament to Community's Goodness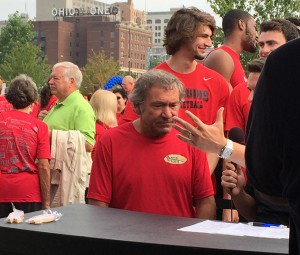 There were so many winners, on and off the course, at Sunday's Panerathon in downtown Youngstown.
I will begin with Dr. Rashid Abdu because it is his dream that we're supporting with the Panerathon.
Dr. Abdu, a humble man who speaks softly, is so devoted to the community and honoring the memory of his late wife, Joanie, that he helped create the Joanie Abdu Comprehensive Breast Care Center at Mercy Health. The Joanie Abdu Comprehensive Breast Care Center and its spa-like atmosphere is ranked as one of the top facilities of its kind.
But that's not all.
There's Joanie's Promise which says that every woman, regardless of her ability to pay, will have breast screenings and care at the Joanie Abdu Comprehensive Breast Care Center.
They've already saved many women's lives and they are determined to keep going and growing.
Dr. Abdu has many colleagues, including Julie Dulay, who runs the Care Center and Candace Madden of the Mercy Health Foundation.
Their work is transformative for our Valley.
Speaking of colleagues, I have many who are super stars.
Ashlee Mauti, the marketing director for Covelli Enterprises, deserves immense praise for the Panerathon event. Ashlee doesn't take complements well and credits the entire Covelli and community team, including Allen Ryan, director of external relations.
Our community team is growing.
More than 130 people volunteered to help us with this massive undertaking that took place at the Covelli Centre.
I want to acknowledge the amazing work of Jaclyn Carpenter, event coordinator for Covelli Center and the entire Centre's crew for helping us put up signs, move tents and attend to all of the hundreds, maybe thousands, of details.
I'd be remiss not to mention Bill Ross, who helped us with the law enforcement protection for the event. And of course, there was Sharon Letson from Cityscape who helped with downtown parking.
And a special thanks to the Western Reserve Amateur Radio Group for helping to monitor the course for safety.
The Austintown Fitch track team staffed a water stop for the runners and walkers. And while I am on the subject of water, Walgreen's donated more than 10,000 bottles of it!
United Way volunteered. And our very own O'Charley's restaurants donated all of the food that was sold after the event. All money collected for those food sales is being donated to the Cancer Care Center.
And there are more than 80 very special companies, organizations and individuals who keep sponsoring this event year after year.
We had 120 groups that built teams, including Sweeney Chevrolet whose team had 170 members, the YSU nurses who had 150 people and WFMJ's Team Peacock with more than 150.
And none of this could have happened without Ted Rupe and his team from Gopherarun. They did all of our timing of the 10k and assisted with all of the registrations.
Thank you all.
And then there were the runners, the walkers and the survivors.
All of you are winners and you are an inspiration.
We raised more than $300,000 for the Joanie Abdu Comprehensive Cancer Care Center this year.
I am honored to be associated with all of you in this amazing display of how a business can harness the energy, resources and goodwill of a community.
Now, we need to start planning for Panerathon 2016!
Start training.