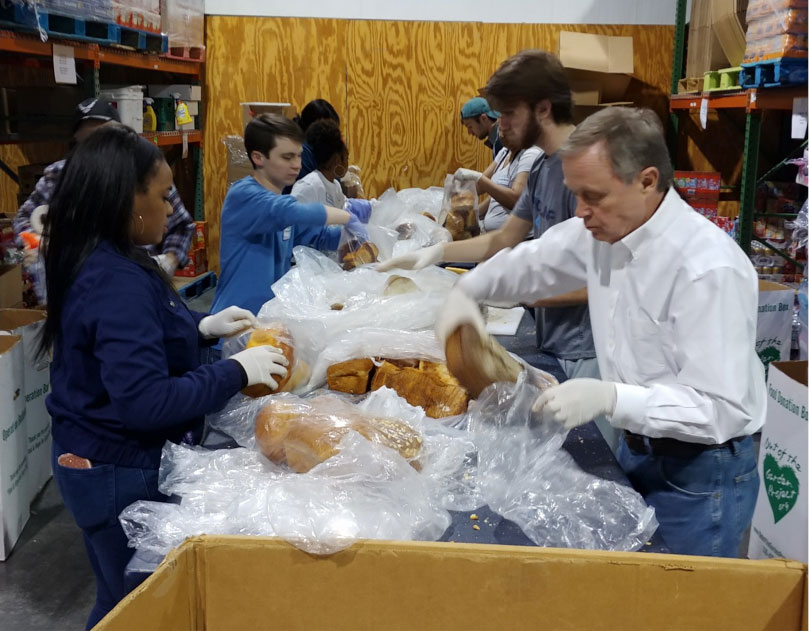 01 Apr

Out of the Garden Project Turns Panera Product into 'Tangible Signs of Love' for Hungry Children in North Carolina
Out of the Garden Project Turns Panera Product into 'Tangible Signs of Love' for Hungry Children in North Carolina
Posted in COMMUNITY WORK, FEATURED on April 1, 2019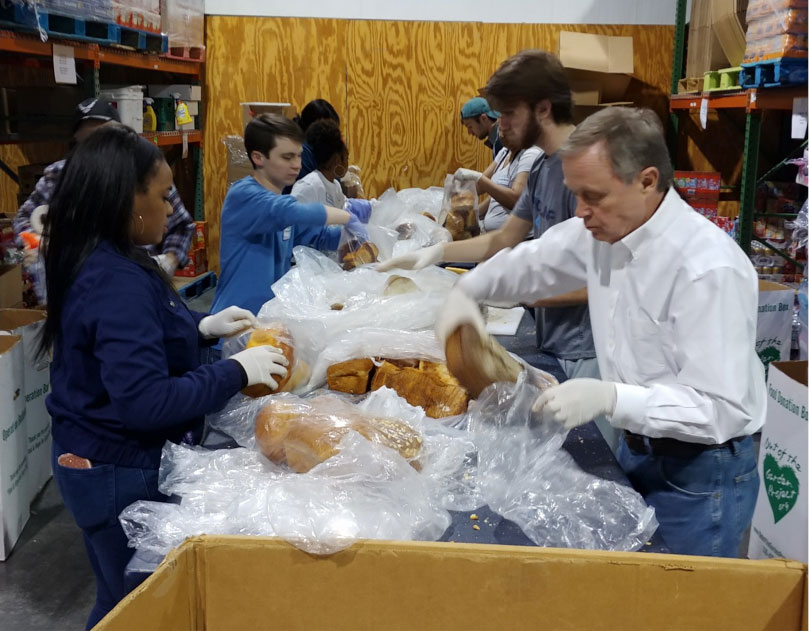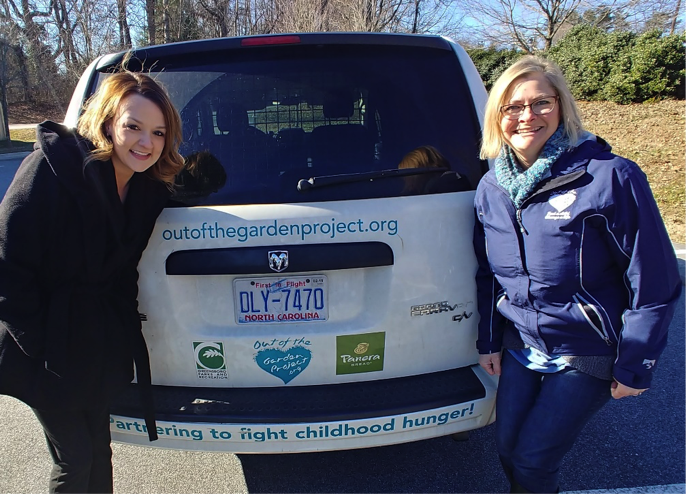 I decided to try and write this blog at 11:46 a.m. on an empty stomach just before lunch. It's hard to concentrate as I struggle to ignore the loud grumbles and sharp pangs of hunger in my gut and the lightheadedness that comes with low blood sugar. I'm cranky. I'm slow. I'm not myself. This is how I feel, and I ate a full breakfast at 7:00 a.m. There are people out there who deal with this feeling all day, every day, chronically, and sadly most of them are children.
— TEN-MINUTE PAUSE WHILE I ATE MY LUNCH AND RETURNED FEELING MUCH BETTER —
Five years ago, the Greensboro, North Carolina area ranked #1 in the nation for hunger. Now, the area is #9 on that list, but Don Milholin, Co-Founder, Executive Director, and President of Out of the Garden Project, explains that the number of hungry children over the last five years has remained unchanged.
The sad reality is that thinking about children going hungry is an uncomfortable thing to do, so people simply… don't. But childhood hunger, especially in North Carolina's Piedmont Triad, is rampant even if it isn't always overt.
"It's not like with breast cancer how everyone is aware of someone who has it or someone affected by it," Don said. "The truth is, 67% of public school children in our area are hungry, but people just aren't aware."
That means that if your child goes to public school and isn't the hungry one, each of the two children on either side of your child IS. Wow.
For this reason, Don considers this the worst and most urgent epidemic facing the Triad right now.
Don and his wife and Co-Founder, Kristy, are no stranger to 'living in lack', as he put it. This is what he feels makes them uniquely inclined to help. They approach their mission from the perspective of their clients because they've actually been in their shoes. They were those children in need.
Don grew up in the Midwest with very little. His family lived in a dilapidated house – one he compared to the dwelling of TV's The Munsters – that his family was unable to afford to fix. When he wasn't being bullied for the state of his home, he was being teased for his size or for his dream of becoming an opera singer. His wife Kristy also grew up 'in lack', often having to accept mustard on bread as a complete sandwich or eating nothing but rice for weeks.
Both Don and Kristy eventually found themselves in better circumstances. Kristy put herself through beauty school, and Don pursued and achieved his dream of becoming an opera singer before getting his Masters and eventually teaching at both Duke University and UNC. But Don always wanted to do more to impact the world, if only just to help one other person or family in need.
Don and Kristy met and married, and they now have four children including two boys, 29 and 22, and two girls, 17 and 14. When the girls were in elementary school, Kristy took note of some children in their school who wore the same clothes every day and brought the idea to Don to do something to help.
That's how Out of the Garden Project got its start. Don and Kristy began every Thursday in their kitchen packing small bags of food to serve 10 families over the weekends, to help nourish the children when they weren't in school to be fed. Now, their organization is the largest of its kind in the region and recently celebrated 11 million meals served since 2009. They went from wanting to help a few families to now serving more than 10,000 people a month, with a focus on families with children.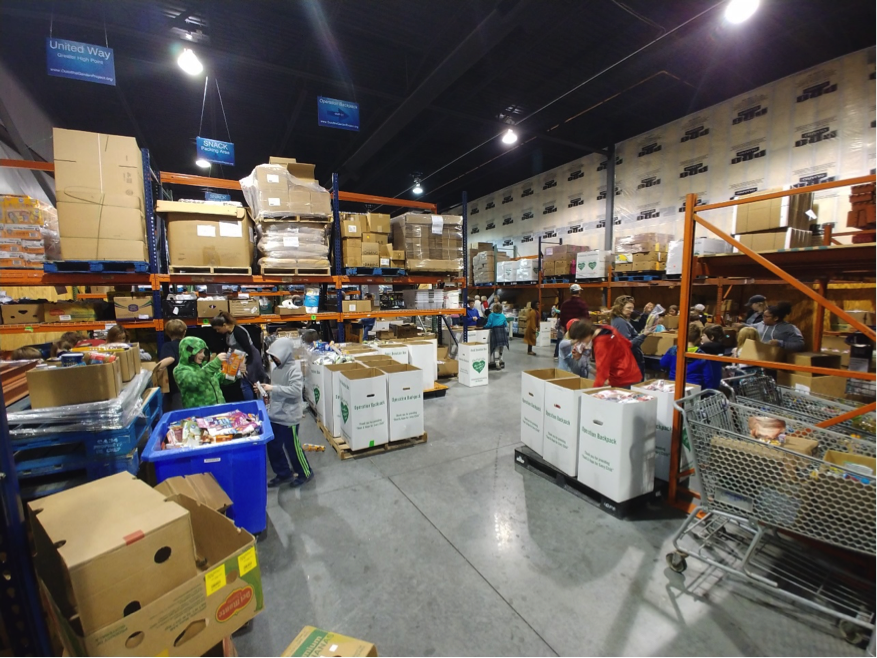 For the last 6 years, Out of the Garden Project has been a recipient of food from our Day-End Dough-Nation program, receiving the unsold leftovers from 7 area Panera Bread bakery-cafes, 6 days a week. Panera bakery items are distributed to families through the organization's Fresh Mobile Markets that distribute fresh produce, bread, meat, and shelf-stable items monthly to families throughout 18 locations in Greensboro and High Point. Each of the thousand or more qualifying families leaves with at least 65 pounds of food for the month. Panera products are also distributed to schools, as the organization partners with 50 Guilford County schools to feed nearly 2,000 students and their families on a weekly basis.
When asked what he appreciates most about Panera's donations, he said, "Panera gives without any expectations except that we do something good with the food." He went on to say,
"Panera has donated millions of dollars in food that could have been sold. Just by [the company's] generosity, thousands of lives have been changed."
In addition to being a Day-End Dough-Nation recipient, Out of the Garden Project was also the beneficiary of funds from our Change Roll-Up program at the registers of our North Carolina bakery-cafes last June. This year, the organization will be the benefiting organization during the month of August.
No matter how they distribute our food or utilize our donated funds, it is done so in a way that supports a single and clear mission: to provide tangible signs of love so that no child goes to bed hungry, to nourish children's minds and bodies with food and with hope.
We are grateful and proud that our food can be that tangible sign of love for these children and families in need.
"When our clients receive the Panera their eyes light up," Don said.
That light may just be the spark of hope for the future, and that is the gift we strive to give through our Day-End Dough-Nation program.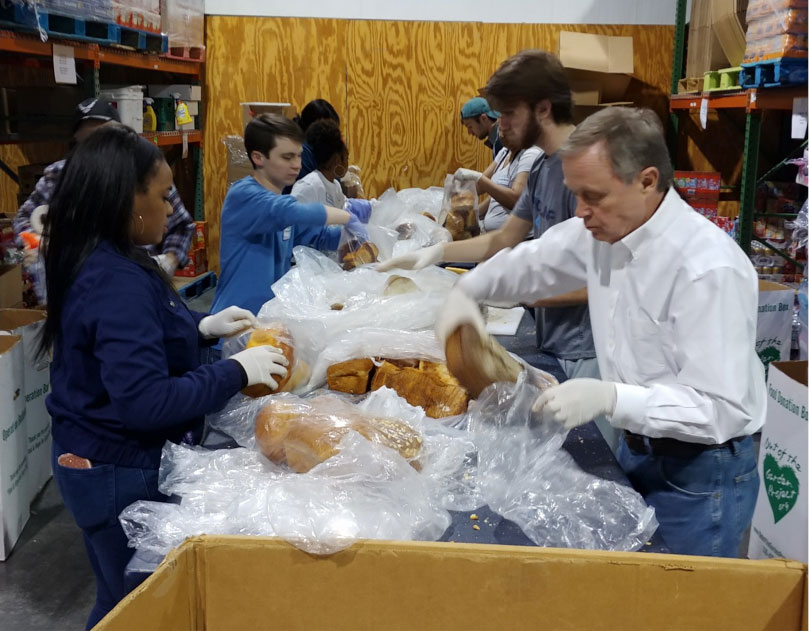 Don and Kristy believe that if you fix hunger, you fix many other problems in our collective society. Without adequate nutrition a child is unable to learn, grow, and create a promising future. "If you're paying for tutoring for child who is hungry, you're throwing your money away," he said. Through the work of Out of the Garden Project, Don hopes to level the playing field. Before they can prosper in any other aspect of life, children must first have their most basic needs met.
The bottom line for Don, Kristy, and their operation is this: "Every person should have the dignity of being fed, clothed, and taken care of. Especially our children."
For more on Out of the Garden Project, visit OutoftheGardenProject.org.
Click here to read about our Day-End Dough-Nation Program and how it supports the communities we serve.