We had a hard time tracking down Peter Freimark. He's a very busy man. We caught up with him as he was on his drive back to Cleveland from the coal fields of Kentucky where he had been volunteering. His Trip to Appalachia was organized through the Good People Fund, and while there, Peter spent time building wheelchair ramps, painting and cleaning homes, and bringing food to those in need. This is what Peter does in his spare time when he isn't picking up leftovers from our Panera Bread locations as a representative of his congregation at Temple Israel Ner Tamid.
Peter's congregation has been a recipient of our Day-End Dough-Nation program for more than a decade. In that time, Peter and a team of dedicated volunteers have been feeding the hungry in some of the poorest neighborhoods in the Cleveland area. His group picks up unsold bakery and bread products from our Highland Heights, Mayfield Heights, and Harvard Park cafe locations five days a week and distributes it to those who need it most – women and children in shelters, people in recovery, and those living on the streets.
A typical pick-up happens in the early morning hours before our cafe opens. Peter says the Panera employees are always helpful to him and his volunteers, even helping to load their cars for them when there is an abundance of leftover baked goods from the day before. Then Peter and his team set out either to shelters and recovery centers or back to the church where even more volunteers are waiting to take food out to the homeless on the streets. Every Friday, his congregation makes peanut butter and jelly sandwiches for the homeless, and he said Panera pastries along with those is always a special delight for those receiving the food.
"Imagine sleeping under a bridge or living in a car in a Northeast Ohio winter. Imagine what a welcome gift this food is to these people," he said.
His group expects nothing in return for the food. They have no ulterior motives nor do they bring with them any intentions of preaching or conversion. They simply bring the hope that their neighbors in need will perhaps suffer a bit less.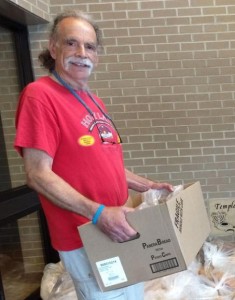 When we asked Peter why he does what he does, he humbly replied, "It's the right thing to do. I can eat a peanut butter and jelly sandwich anytime I want to. What I want for myself, I want for others, too."
Peter and the volunteers who work with him are all unpaid and use their own cars and gasoline to drive around bringing food to those in need. These are the people we are so proud to support through this program. The people like Peter who are relentlessly working in their communities to make a difference in people's lives. The goal of our Day-End Dough-Nation program is to support those who are out there supporting others who need it most.
Through the Day-End Dough-Nation program, thousands of pounds of unsold bread and bakery products are donated each day from our Panera cafes to benefit hunger relief agencies, local food pantries, shelters, churches, and volunteer organizations. In 2017 alone, Covelli Enterprises donated more than $30 million in the form of food for the hungry.
Peter said of the program, "It's such an efficient way for needy people to get delicious food at no cost to them. Plus, it keeps food out of the landfill. Everything gets used and in the best way possible."
Peter also said, "I would like to thank [Covelli Enterprises] on behalf of the people who receive the food, who are unable to thank you. They are so grateful. What your company does really helps."
Peter's philosophy is that any tiny effort you can put forth to turn someone's day around could mean a world difference to that person.
In his own words, "a tasty treat from Panera Bread is enough to put a smile on their faces, and you never know what a difference even a small act of kindness can make in someone's life. Truly, there is no such thing as a small act of kindness."
We thank Peter, his team of volunteers, and all our hundreds of other Day-End Dough-Nation partners who are supporting their communities in this special way. It is our honor and privilege to support you.
https://www.covelli.com/wp-content/uploads/2018/06/bread-1200x600.jpg
600
1200
Ricky Darbey
https://www.covelli.com/wp-content/uploads/2016/01/Covelli-Enterprises_small_white.png
Ricky Darbey
2018-06-25 22:45:22
2018-06-25 22:46:23
Our Day-End Dough-Nation Program - Supporting Those Who Support Others