25 Sep

NEW PANERA PRODUCTS AND TECHNOLOGY KEEP LARGEST FRANCHISEE EXCITED FOR FUTURE
NEW PANERA PRODUCTS AND TECHNOLOGY KEEP LARGEST FRANCHISEE EXCITED FOR FUTURE
Posted in FEATURED, OUR RESTAURANTS on September 25, 2019
Covelli Enterprises is not new to the restaurant game. The Ohio-based company has been in the business for more than fifty years, once one of the largest franchisees of McDonalds and now the single largest franchisee of Panera Bread, LLC with more than 315 locations nationwide. Throughout its experience, the company has witnessed countless trends and mounting consumer preferences. First customers wanted a 'third space' or 'home away from home'. They also wanted convenience. Next they wanted unmatched food quality. Then they wanted complete menu transparency. Now it seems they want all of this and more – including all day access, anywhere they are. For any other brand, that might feel like an impossible mountain to climb. Sam Covelli, CEO of Covelli Enterprises, explains why Panera was built exactly for the purpose of addressing these ever-growing demands, and why his commitment to the brand only gets stronger as he watches it evolve to lead the industry where it is headed.
More than 20 years ago, Covelli Enterprises began franchising Panera restaurants to align with the consumer trend toward healthier food options. The bakery-cafe brand sought to challenge the expectation that quick service meant low quality and founded itself on the commitment to bake fresh bread every day with simple ingredients. The tradition of serving 'food as it should be' continues to be the foundation of the brand and has allowed it to remain ahead of the curve in addressing what customers want – and in Covelli's opinion, this ability is exclusive to Panera.
"What makes Panera unique is that we didn't need to change anything to give our customers what they wanted. The brand was built to already be that for them," Covelli said.  "That's the reason we took a chance on Panera back in the 90s before anyone knew what it was. We saw what was happening with customer preferences and found a brand we knew would not only be able to respond, but to help shape where the restaurant industry was going," he said.
Panera has begun testing a 10-item dinner menu in Lexington, KY and Providence, RI available from 4:30-10 p.m. that includes three new product categories: artisanal flatbreads, hearty dinner bowls, and seasonal sides. If testing goes well, the brand seeks to bring these options to the entire chain in the near future. In a first step, all Panera locations launched two new grain bowls this month – including Baja and Mediterranean – served warm and with the option to add chicken or keep it plant-based. The company's goal is offer more grains, plants, and proteins, with a focus on delivering craveable food that makes you feel not just full, but fulfilled.
Daniel A. Wegiel, EVP and Chief Growth and Strategy Officer at Panera said in a company release, "Interest in bowls that feature an abundance of nutrient-dense, fresh, layered ingredients, lean protein, veggies, grains and flavorful sauces is on the rise. We believe this product is the best example of what we stand for when we say 'good and good for you.' Panera's warm grain bowls deliver on consumer demand for options that are both hearty and nutritious, that they can feel good about, without compromise."
The warm grain bowls are designed to fit into a flexitarian diet and contain at least 29 grams of protein. They are the brand's answer to the customer's desire for something heartier than a salad, but healthier than a traditional sandwich, and is intended to appeal to a dinner crowd.
Panera's recent menu additions are not its first attempt to branch out of the lunch daypart. In April it launched another set of menu items designed to attract the highly loyal and convenience-focused breakfast guest. The launch of new breakfast wraps and cold brew coffee along with a revamp of its hot coffee allowed Panera to add to its appeal for the busy morning visitor.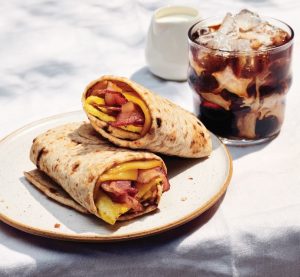 According to a recent QSR magazine article by Danny Klein, the benefit Panera has is that is has always been a brand with products that people believe in. The article sites data from a mobile location analytics platform saying, "when you consider Placer.ai's data, it shows there's customer demand and trust in the offering at Panera. The chain didn't have to reinvent the wheel with breakfast. Guests know it's there. It was a matter of changing how they access it and incorporating those products into daily routines" (Klein, 2019). In other words, these new products, rather than appearing like a diversion, made complete sense to the customer.
Panera has always been a food innovator. In 2004, Panera was the first major chain to launch chicken raised without antibiotics, and by 2005, it had removed all artificial trans fats from its menu. In 2010, it became the first national restaurant to voluntarily display calorie information on the menu boards, and in 2014 it committed to remove all flavors, sweeteners, preservatives and colors from artificial sources from its food. In 2015, Panera shared a comprehensive list of ingredients it planned to remove or never use with the unveiling of its famous 'No No' List. It also promised to use all cage-free eggs by 2020. In the midst of its menu modifications, the brand was also working to implement its Panera 2.0 initiative, incorporating technology to improve the customer experience through conveniences like online ordering. By early 2016, Panera had delivered on its promise of a 100% clean menu while simultaneously launching its small order delivery service. By the end of 2016, digital sales accounted for more than 20 percent of its business.
Recent menu changes, however, have not been made necessarily to appeal to new customers, but to appeal to the same customer at different times of day – or rather all day. The QSR article stated that brands are using customer frequency to fill the void of slower in-store traffic, attracting 'stickier', more loyal customers who are willing to dine with the brand more often and spend more while doing so (Klein 2019). The new products are also designed to fit in with the new ways people are accessing them – more portable wraps, for example. With the success of its Rapid Pick-up and Delivery programs, Panera has made its products as accessible as they are craveable. Panera now receives about 1.4 million online orders a week. That means while its stores may see less traffic during traditional dayparts, its digital sales continue to grow and allow customers access to the brand anytime, anywhere. The new, diverse products – designed to be transportable and for anytime-of-day appeal – fit perfectly into this tech-driven shift.
Covelli Enterprises has made it a priority to implement as much of the Panera 2.0 technology into its locations as possible. The company has invested in building new locations and remodeling existing ones to include drive-thrus, Delivery, Rapid Pick-up, and digital ordering kiosks. These changes required a significant monetary investment by the company – all part of Covelli's long-established commitment to the Panera 2.0 vision, many years in the making.
"We've spent decades building the systems and the framework that allow us to react quickly and even be ahead of trends. Instead of working backward, we've always been thinking forward," Covelli said.
For Covelli, his belief in the Panera brand has only strengthened as he has watched many other concepts jump through hoops to try and keep up. In his mind, Panera is the only brand that has taken steps from its inception to be ahead of customer demands. Panera's forte is in its food, but also the tech behind it including a MyPanera database of more than 34 million people and now more than $2 billion in digital sales under its belt.
"Some concepts have to make sweeping changes. They have to stop in their tracks and reinvent who and what they are. We've never had to do that with Panera because even as everything changes, there are some things that remain the same. The customer will always want to be treated well and offered delicious food they can feel good about in a clean, friendly environment. The technology, the responsibly-sourced ingredients, the varied menu… that's all just part of that. We're still just delivering on those most basic promises," he said.
Late this summer, Panera announced its partnership with third-party delivery providers DoorDash, GrubHub, and UberEats to be able to further expand its delivery business. The exciting changes from Panera will continue as it tests breakfast delivery, adds new conveniences like an easy reorder function to its app and more fast-pay options, and launches menu items designed to be enjoyed anytime – morning, noon, and night from wherever the customer pleases.
Covelli said, "We've had to get creative with how we are delighting our customers, but that's what makes our industry – and our brand – fun. It's the versatility of Panera in the face of new challenges that makes it so powerful."
References:
Klein, D. (July 2019). Is Panera Just Beginning to Reach its Potential? Breakfast and dinner strategies could turn the fast casual into an all-day giant. QSR Magazine. Retrieved from https://www.qsrmagazine.com/fast-casual/panera-just-beginning-reach-its-potential.