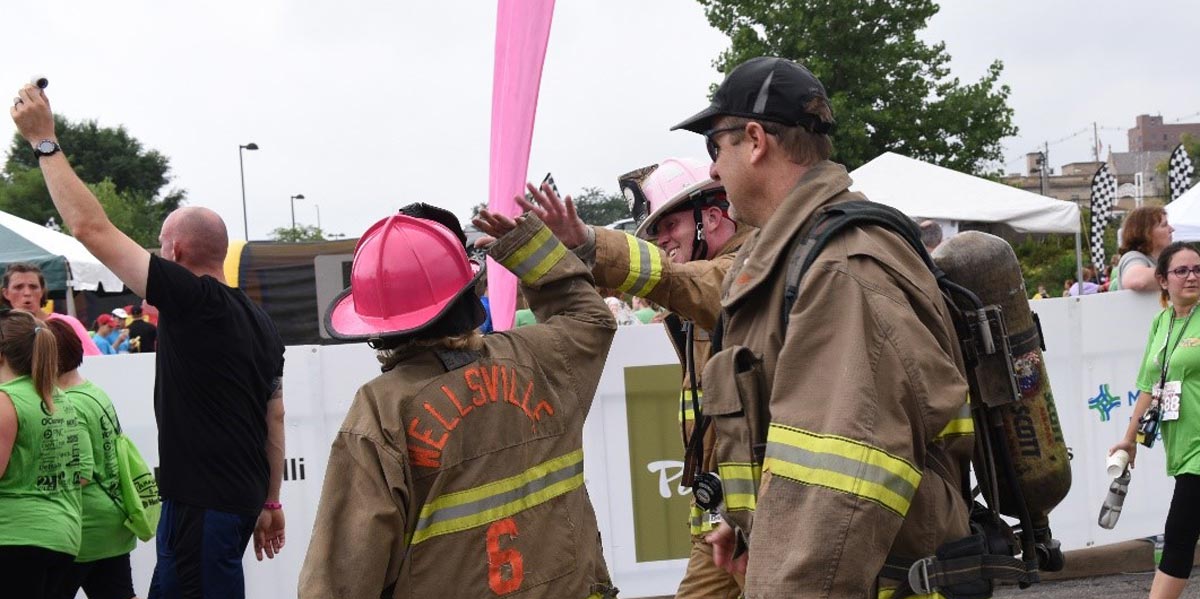 13 Sep

Firefighters in Pink – The Unique Way Some are Finding to Participate in Our Annual Panerathon
Firefighters in Pink – The Unique Way Some are Finding to Participate in Our Annual Panerathon
Posted in COMMUNITY WORK, FEATURED, OUR RESTAURANTS on September 13, 2018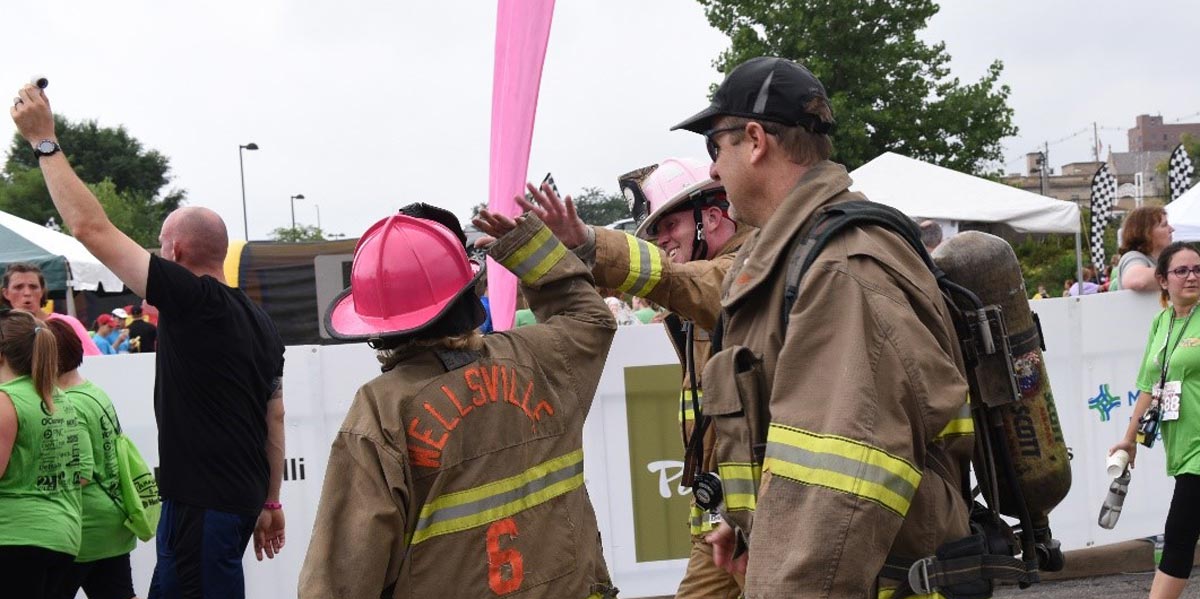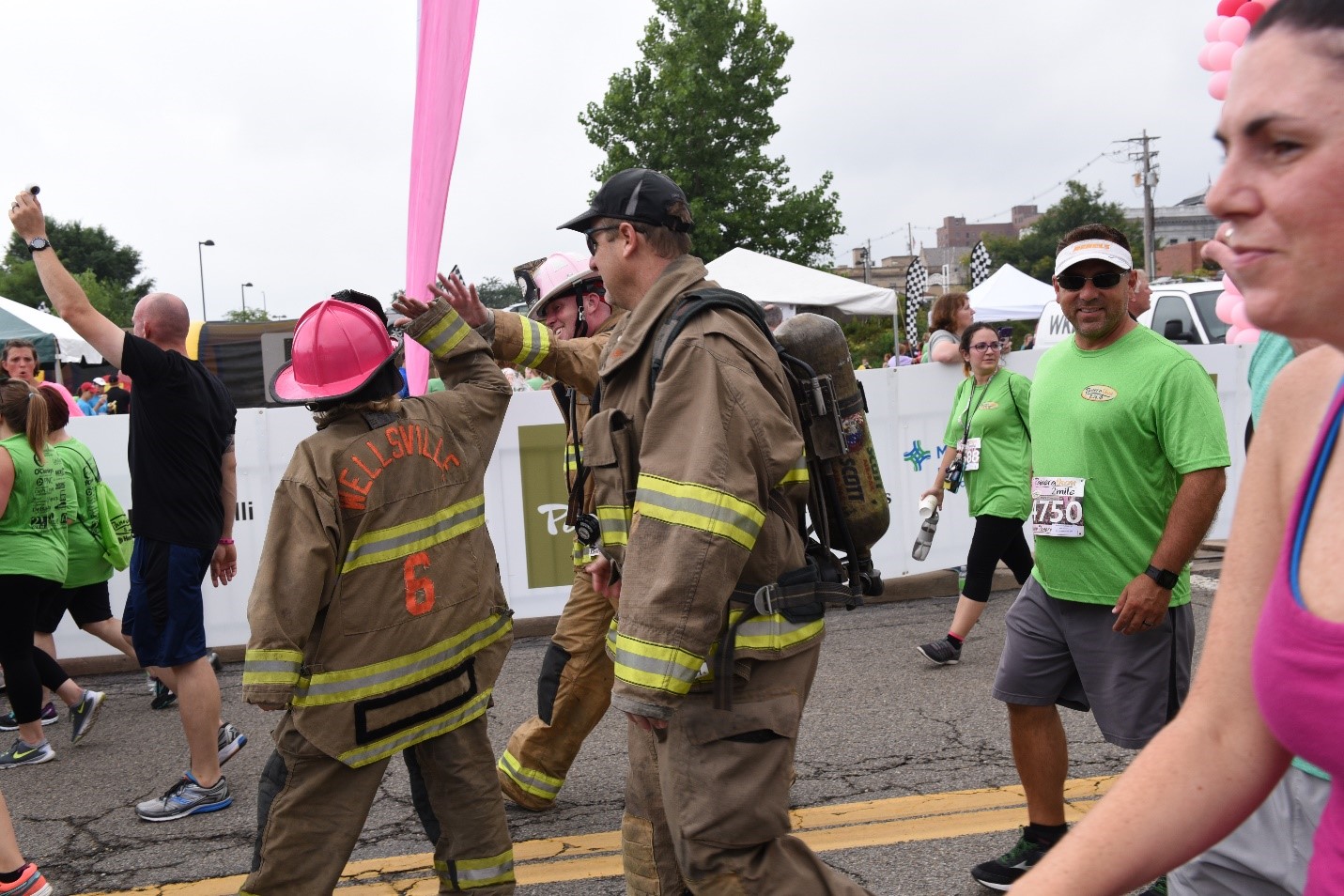 With a high temperature of 84 degrees Fahrenheit and a humidity level of 93%, this year's Panerathon was a hot and muggy one to say the least. Runners, walkers, and spectators dressed in their shorts and dri fit short-sleeved shirts to keep themselves cool while out in the sun for the 9th annual 10k/2 mile walk/run. A small group, however, could be seen donning full head-to-toe firefighting gear including jackets, pants, air packs and helmets. These items not only add extra insulation for these participants but also an additional 50-70 lbs. of weight to carry.
But extreme heat and weight are things you learn to deal with when you are a firefighter, and that's exactly who these people are. The group called "Firefighters in Pink" includes a small number of firefighters and their family members who participate in Panerathon each year wearing their firefighting gear. The tradition was begun 6 years ago by Captain William Claypoole, affectionately called "Willie", by the other group members.
"It started as something fun for us to do. It was a challenge for us, and it blossomed from there," said Stephanie Deitch, formerly a volunteer firefighter from Wellsville, Ohio. Stephanie and Willie, long-time friends, are the ones who organize the team each year.
It started as just something fun to do, but has grown to mean so much more to this group.
"We're a family within the firefighting community. When we are out there together, we're not just representing our individual selves, but representing one another as a whole," Stephanie said.
The group of firefighters hail from different fire departments in various communities all around the Valley. Some of them had never even met before showing up to participate in Panerathon together. Stephanie and Willie use word of mouth and Facebook to recruit firefighters and their family members to join them. It started the first year with just 2 or 3 firefighters and has slowly grown to about 8 people, adding a few more each year.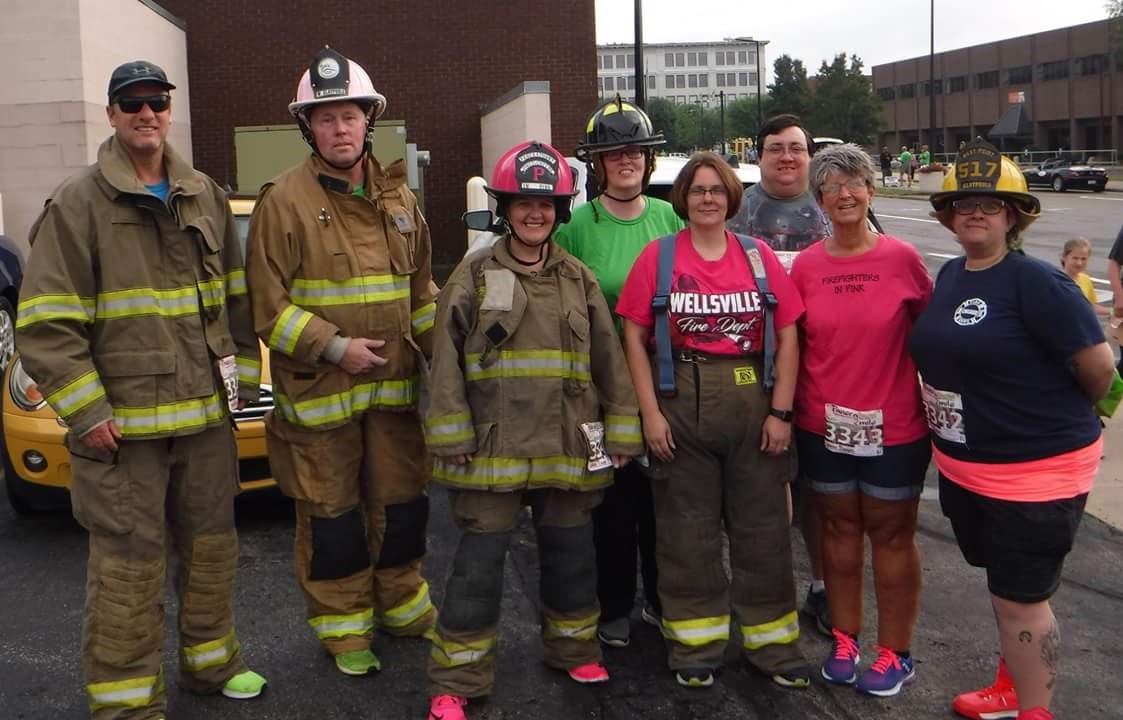 "Anybody is welcome to join our team, and we're always looking to expand our group," Stephanie said.
Stephanie's mother-in-law participated this year for the first time. Her mother-in-law is not only a fire-mother-in-law, but she's also a fire-wife and fire-mother. She participated wearing the heavy fire pants to show her support for her entire family of firefighters.
Stephanie said they even had a curious runner named Eric ask to participate wearing the full gear this year, so you don't even need to be a firefighter or connected to a firefighting family to be able to join in.
In 2014, the Panerathon event staff got wind of this team and their mission and presented Willie with a pink fire helmet that has been worn by him every year at Panerathon since. Stephanie, building upon this tradition, had a retired helmet revamped in pink for this year's event. She explained that firefighting gear has a lifespan and then it expires, so as more gear expires, she plans to turn them into pink displays of pride for the Firefighters in Pink to wear.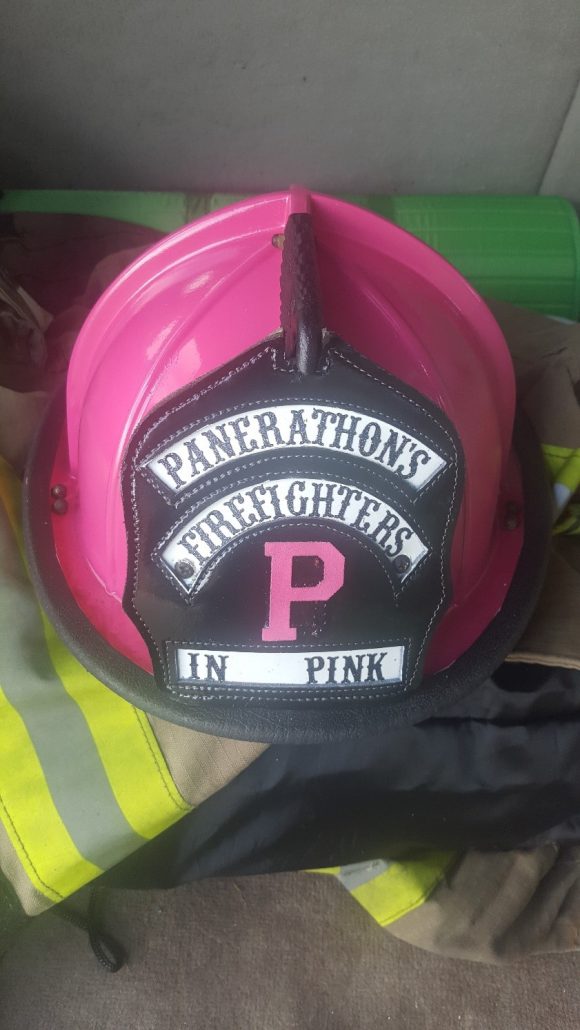 The Firefighters in Pink can be seen along the 2 mile course shaking hands, stopping to talk to people, high-fiving kids, allowing other participants to try on their packs and helmets, and encouraging other participants on the course to continue on. Stephanie said it's a great way to give the community a small sense of what firefighters go through every day. In some ways, the struggles a firefighter experiences mirrors the fight of someone battling cancer.
"Pretty much all of us know someone who has had cancer, and as firefighters we are very aware of how cancer affects people," she said.
It's no wonder these firefighters, all of whom are volunteers with the exception of Willie, who is the only full-time firefighter, choose to participate each year in the sweltering heat to show their support for the cause. They are used to making these types of sacrifices. In their line of work, they are out there giving their time and risking their lives to save the lives of others.
"I think [saving lives] is what Panerathon is all about, so in a way, Panerathon helps us achieve that same goal."
Willie's firefighting recently relocated him to Georgia, but he returned to the Valley for Panerathon and plans to continue doing so every year. The event has come to mean a lot to him in particular. His father, called "Red", was present at every Panerathon since the Firefighters in Pink first began participating. He referred to himself as the "equipment manager" for the group, and he served as a morale booster out there in his chair cheering on the participants each year. Red passed away July 10 of this year, just a month and a half before Panerathon, after becoming sick in late 2017. Stephanie said Red's passing made this both a more difficult and a more special Panerathon for the few participants who knew him well.
"Willie would give anyone the shirt off his back if they needed it, so we were out there supporting Willie this year," Stephanie said.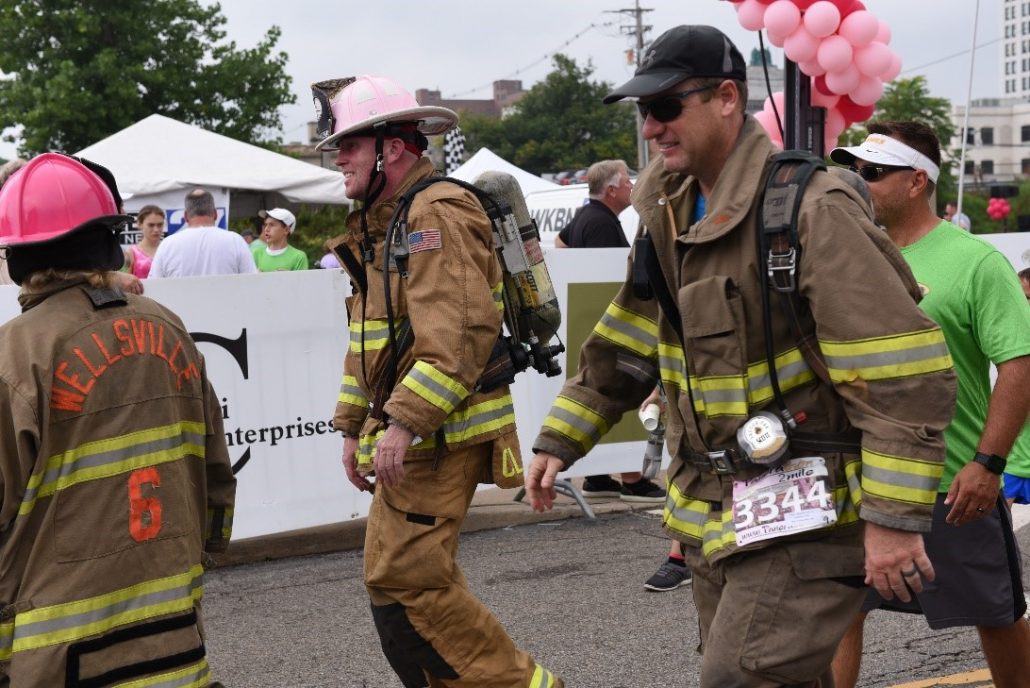 Stephanie went on to explain how Willie's commitment to helping others goes beyond his daily duties as a firefighter. He currently performs lectures on suicide prevention among firefighters in his new home in Georgia and hopes to one day take his lectures on the road across the country.
Stephanie said she, Willie, and the rest of the Firefighters in Pink look forward to next year's Panerathon and hopefully adding even more people to their crew.
She equated their participation in event to their passion for their jobs saying, "We want to be there. We do it because we enjoy it and to be out there with the community."
Essentially they do it because they care.
We are grateful to Stephanie, Willie and all firefighters, EMTs, and police officers who are out there saving lives every day, and we thank the Firefighters in Pink for their part in making Panerathon the special community event it is.
To learn more about Firefighters in Pink and how you can join them, find Steph Deitch on Facebook or email her at smnremtbff@yahoo.com.
For more information on Panerathon, visit panerathon.org.