08 Aug

Cousins for a Cause – An inspiring story about what Panerathon means to one special family
Cousins for a Cause – An inspiring story about what Panerathon means to one special family
Posted in COMMUNITY WORK, FEATURED, OUR RESTAURANTS on August 8, 2018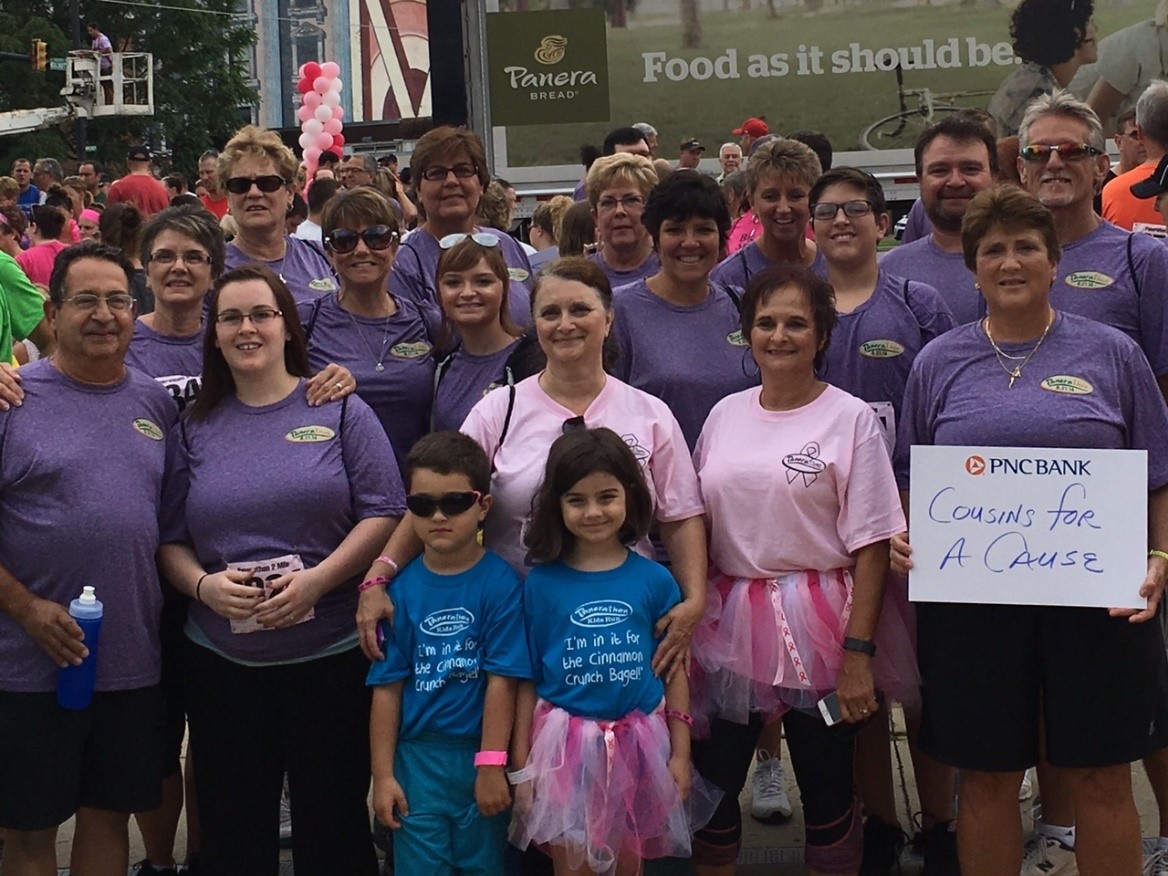 Every year on a Sunday in late August, hundreds of teams and individuals gather together in downtown Youngstown, Ohio to walk, jog, or run for one common cause: to raise funds for the Joanie Abdu Comprehensive Breast Care Center (JACBCC) at St. Elizabeth Hospital Youngstown. This facility, which opened its doors in 2011, has served nearly 70,000 women in the region, and is responsible for improved outcomes for so many dealing with the devastating diagnosis of breast cancer.
There are countless stories to tell among the women helped by the JACBCC and about those who participate as part of a team in Panerathon. One particular story, the story of Marianne Burman and her cousin Mary Argiro, is one we were lucky enough to hear and fortunate enough to get to share now as our annual Panerathon approaches in a few short weeks.
In 2014, Marianne was diagnosed with breast cancer. She found her own lump during a self-breast exam, even after it went undetected through traditional mammography. Her cousin Mary watched Marianne 'fight the battle', going through grueling rounds of radiation and chemo until she was finally through it. Mary created a Panerathon team in Marianne's honor the following year, called 'Marching with Marianne' and encouraged their big, close-knit Italian family to join the team and show their support by walking alongside Marianne, who had just been through the struggle of a lifetime.
"The hardest part was the treatment. It's the worst thing in the world someone can go through, and I was even lucky. I never got sick with the chemo," Marianne recalled.
She also noted the incredible feeling of isolation she felt. Marianne and Mary are part of the Ginnetti clan, a large family originally from Struthers, Ohio. The Ginnettis pride themselves on their camaraderie, making it a priority to stay close to cousins through their monthly Ginnetti Girls' Night Out, annual Christmas parties, and frequent family reunions. Marianne, however, had to avoid large groups of people during her treatment due to her compromised immune system. A grandmother of three, she was also unable to see her grandkids throughout the extent of her treatment. This, to her, was the most heartbreaking part of it all. During that time, any phone call or card she received from a family member or friend meant so much. It helped ease the feeling of separation.
For Marianne, that feeling completely disappeared on Sunday, August 30 when she was joined by nearly 40 members of her extended family at the 2015 Panerathon, all there to show their love for her.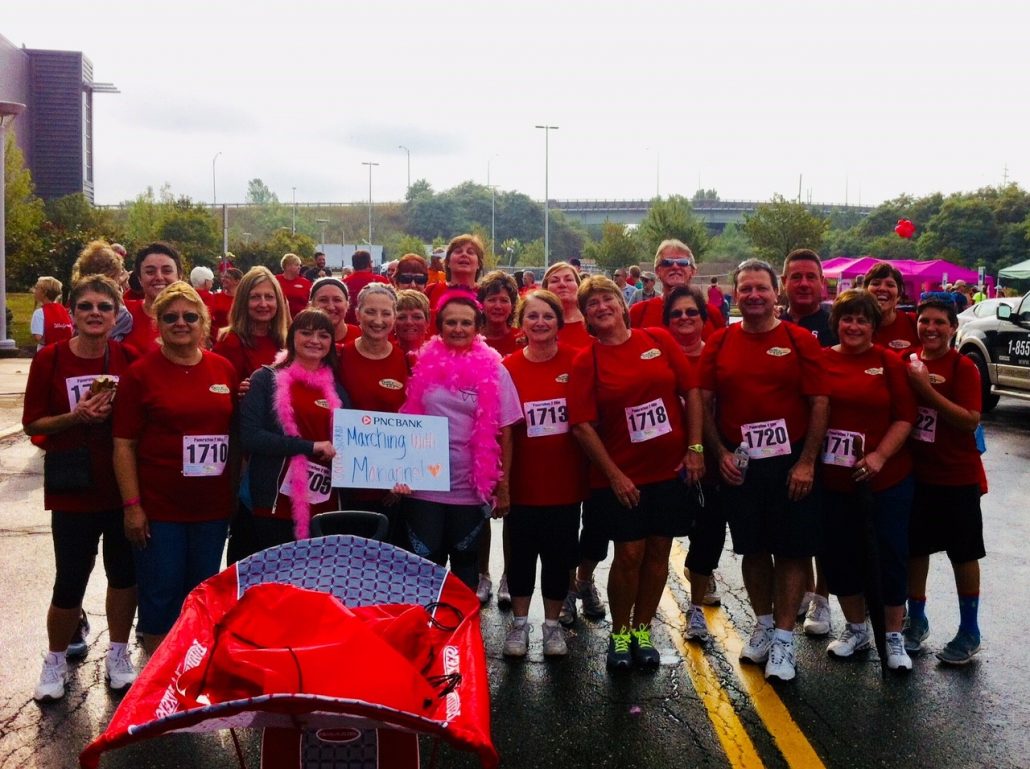 "The support meant so much to me. That's why it's so important to me now to show my support for others," she said.
That's the reason Marianne, Mary and the rest of their cousins continue to put together a team every year, even though Marianne has been cancer-free since that first year. Their team, now called 'Cousins for a Cause', has grown to more than 60 participants over the last 4 years, mostly consisting of cousins and extended family members all from all around the Mahoning Valley area.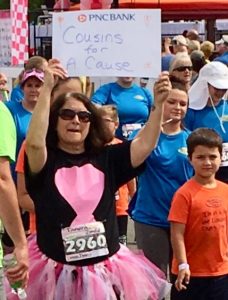 "There's strength in numbers," said Mary. "At first, I started participating in Panerathon to support Marianne, but once you're there, it's a whole new world. The feeling comes over you that you aren't just supporting the person you came there to walk for, but you're supporting everyone else, too. THAT'S strength in numbers."
Marianne agreed, "There's nothing like seeing the mass of people all wearing the same shirt all lined up on race day. It takes your breath away."
Unfortunately, cancer touches the lives of nearly everyone somehow, and several other family members were also diagnosed over the years. Marianne's sister Susan McCallister was diagnosed with breast cancer in 2016 and in 2018 Mary was diagnosed with kidney cancer. Mary was just released this past June from St. Elizabeth's Hospital recovering both a partial kidney removal and an adrenal gland removal.
The good news: at this year's Panerathon, Marianne, Susan and Mary will all three be officially cancer-free.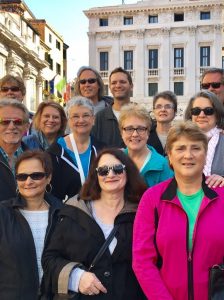 "You definitely feel like you have a guardian angel looking out for you. We all feel like we've been blessed," Mary said.
So blessed, that the Ginnetti cousins, 13 of them in total, all crossed a huge item off their collective bucket list together. They took a trip to Italy for 10 days to see the incredible sights of their country of origin and even enter the house where Mary's mother, also a breast cancer survivor, was born. Both women found themselves getting emotional as they recounted their travels.
"It was incredible to see the place where my mother was born. We were back where it all started," Mary said.
(Fun fact: Mary's mother was treated by Dr. Nancy Gantt, who is still a practicing surgeon at St. Elizabeth today and is highly involved at the Joanie Abdu Comprehensive Breast Care Center. It was Dr. Gantt who operated on Mary's mom to remove and cure her cancer.)
The Ginnetti cousins will never forget their amazing trip to Italy, but the best part was getting to spend time with more than 30 new family members they had never met before.
"None of them spoke any English, and none of us spoke Italian. We had only a 15-year-old girl translating for us," Marianne recalled.
They may not have shared the same language, but they all shared the very same sense of family and closeness that defines the Ginnetti cousins.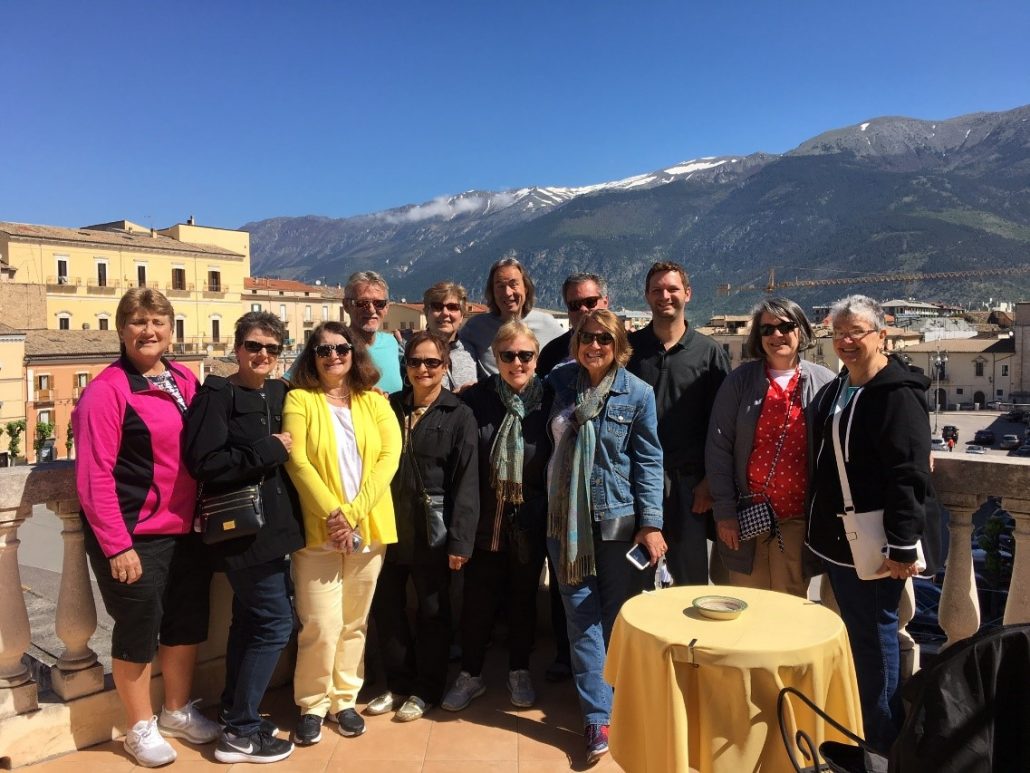 Mary and Marianne hope to continue to grow their Panerathon team. Their last family reunion had more than 75 people in attendance, all of whom they hope to eventually encourage to participate. Perhaps, they'll even get a few of their new family members from Italy to join, too!
In any event, they both agreed that they are looking forward to seeing the faces of those they love all gathered together, old and young, to show support for one another and for everyone else there that day who may need it.
You can find Mary, Marianne and their 'Cousins for a Cause' team Sunday, August 26 at the Covelli Centre in downtown Youngstown lined up along with nearly 11,000 other participants and spectators. A mass of people, all likely to have equally inspiring stories to share about how cancer has touched their lives and what the event means to them.
Panerathon in the City of YOU
Thanks to the City of Youngstown and Birds Eye View Films for putting together this awesome video that captures what Panerathon is all about!
For more on Panerathon or to register, visit Panerathon.org. The event has raised more than $2 million since 2010 for the Joanie Abdu Comprehensive Breast Care Center, and 100% of proceeds benefits the cause.