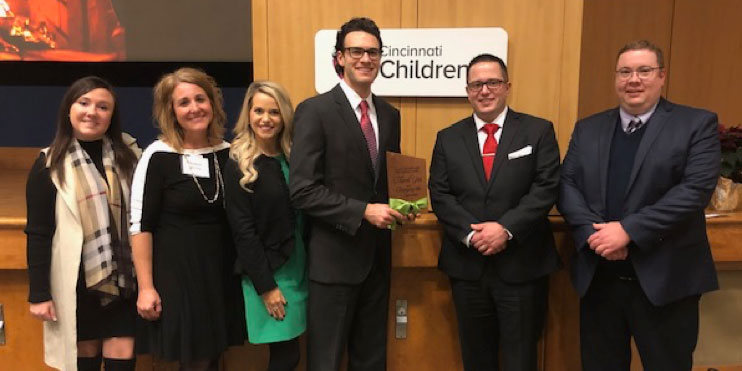 During the recent holiday season, millions of Americans boarded planes and endured the modern inconveniences that often come with airline travel in order to spend quality time with family and friends hundreds of miles away. Others remained local, participating in annual hometown traditions with the family, like a visit to the Cincinnati Zoo's Festival of Lights, or an afternoon at The Taft's Children's Theater of Cincinnati to take in "Santa Clause the Musical." These are common holiday activities that include mom, dad and the kids, and make for cherished memories. Although, for many families contending with an autism diagnosis, these experiences are few and far between. It's just too difficult.
But, Covelli Enterprise's Panera Bread locations around the country sell a delicious Puzzle Piece Cookie for a week every April…and it's making a small, but powerful difference in the lives of families in the Cincinnati market and beyond.
Making a Difference – one Puzzle Piece Cookie at a Time.
Since the franchise's annual Pieces of Hope for Autism cookie campaign kicked off in 2017, Covelli's Cincinnati Panera Bread locations have sold tens of thousands of cookies for a cause over the last two years, and donated in upwards of $50,000 to Cincinnati Children's Kelly O'Leary Center for Autism Spectrum Disorders (TKOC). And, the funds from the campaign are being used to support an innovative cause – the hospital's Starting Our Adventures Right (SOAR) program. SOAR integrates the hospital with local experience-based companies and venues like the Cincinnati Northern Kentucky International Airport, the Cincinnati Zoo and Botanical Garden, the Cincinnati Recreation Commission, the Taft Theater, the Cincinnati Opera, and many others, to integrate families with Autism Spectrum Disorder (ASD) more successfully into their communities.
"We're making a difference here in Cincinnati one cookie at a time," said Albert Covelli, Owner and Operator of Covelli Enterprises, at the recent Cincinnati Children's Dinner with Champions event where the franchise was named the hospital's "Corporate Cause Marketer of the Year" for its annual Pieces of Hope campaign.
Since 2010, Covelli's Pieces of Hope for Autism campaign has raised more than $1.7 million for autism-related beneficiaries in the communities the franchise serves across eight states through the sale of the Puzzle Piece Shortbread Cookie every April. Cincinnati Children's is a rapidly growing part of this amazing effort.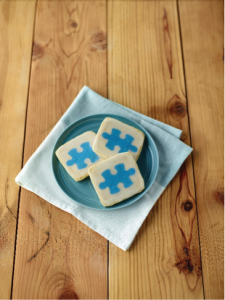 Shortly after the franchise's 2016 Pieces of Hope campaign, Covelli Enterprises purchased the Cincinnati, Ohio market, and a visit to Cincinnati Children's Hospital occurred soon there-after to begin exploring options and ways the two organizations could best merge their efforts for the good of the community. Cincinnati Children's Kelly O'Leary Center was an integral part of those initial discussions.
Julia Anixt, MD, Program Director at TKOC, and Donor Relations Officer, Natalie Gerano, were among members of the Cincinnati Children's staff who guided Owner/Operator, Albert Covelli, and Regional Marketing Director, Melanie Murray, through the halls of the center back then. The Covelli staff learned about the groundbreaking work Cincinnati Children's Developmental and Behavioral Pediatrics group spearheads at TKOC. They witnessed classes in session with hard-working teachers at the helm, and ASD students in an engaging and colorful environment, where learning is made interactive and hands-on. It was clear there's never a dull moment at TKOC! And, Covelli's partnership with Cincinnati Children's soon became reality.
"We were so honored to be selected by Covelli as the beneficiary of its Panera's Pieces of Hope campaign," said Anixt. "We knew this annual campaign would raise enormous awareness about ASD in our community, and help us improve outcomes for children with a diagnosis."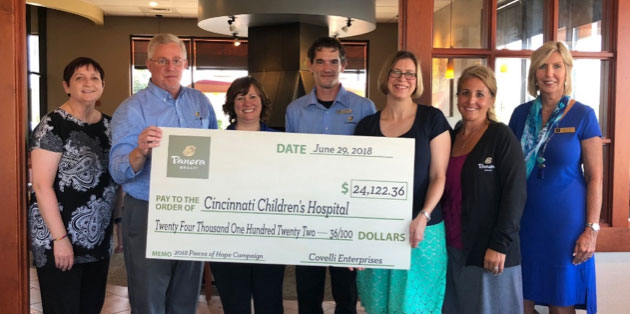 Pieces of Hope: A community-wide effort
The Cincinnati market kicked off its first Pieces of Hope campaign in 2017 with a splash raising nearly $23,000 in one week! And, the effort maintained momentum into 2018. Twenty-three participating Cincinnati / Northern Kentucky Panera Bread locations sold 17,616 Puzzle Piece Shortbread cookies to once again benefit the Kelly O'Leary Center. In all, the 2018 Cincinnati Pieces of Hope campaign raised another $24,100 this past April for Cincinnati Children's TKOC.
The excitement in the Cincinnati market is hard to ignore every April, as local well-known organizations and individuals have now joined the Pieces of Hope campaign to help Covelli move the dial. The Cincinnati Reds invite members of Covelli, Cincinnati Children's, and a designated hospital Champion Family from TKOC out to Great American Ballpark each April for some recognition and awareness of the Puzzle Piece Cookie during campaign week.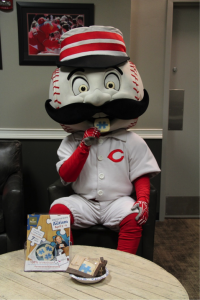 "The Cincinnati Reds organization is honored to be a part of the collaborative effort between Covelli Enterprises and Cincinnati Children's Hospital every April through generating awareness at Great American Ballpark about the Panera Pieces of Hope campaign," said Jaqueline Sprague, Cincinnati Reds Corporate Partnerships Manager. "Autism is something that impacts so many families in the area, and these two organizations are doing some amazing outreach to help make a difference in our community and beyond."
In addition, billboard company, Lamar Advertising, donated in upwards of $13,000 in digital billboard space across the Cincinnati market in 2018 to help generate awareness across the community about the Panera campaign during that one special week in April. And, local radio morning show host, Jenn Jordan, takes part in the franchise's annual cookie decorating party at Cincinnati Children's with local autistic patients of TKOC the week before the cookie campaign. Jordan is a local spokesperson for autism awareness and research due in large part to her teenage son, Jakob, who has autism and has been a patient of Cincinnati Children's for many years. Jordan's radio station, WKRQ Q102 FM in Cincinnati, supports the campaign with local interviews and media awareness. The Cincinnati community rallying around Covelli's Pieces of Hope has been an integral component of its overall success.
"Everyone in this region knows someone impacted by the world-renown services of Cincinnati Children's," said Covelli. "And, more impactful to this particular cause, everyone knows a family touched by ASD. And, that's why our Pieces of Hope campaign has resonated among the residents of Cincinnati and Northern Kentucky in such a short period of time. It's very powerful."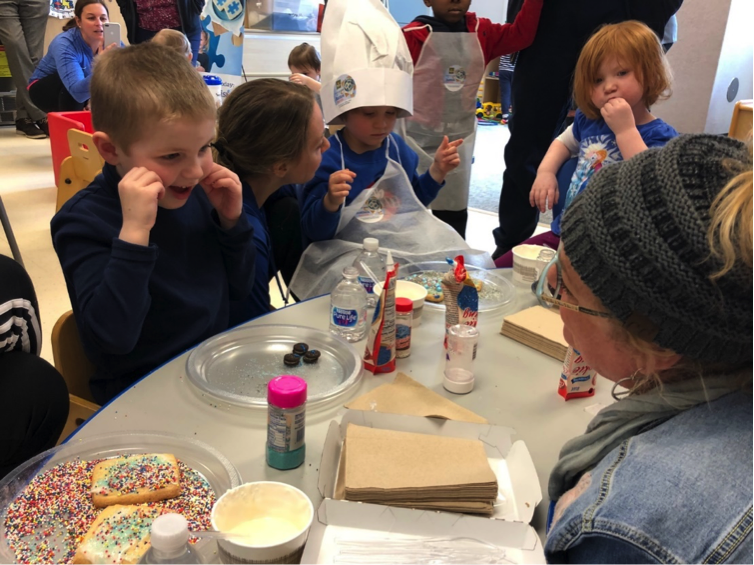 #EveryCookieCounts
In an effort to select a cause within Cincinnati Children's that aligned best with Covelli, the SOAR program checked all the boxes. Through SOAR, Cincinnati Children's Hospital's Kelly O'Leary Center partners with local Cincinnati experience-based stakeholders, like the airport, the zoo, local museums, parks and theaters to increase participation in activities by families of children with developmental disabilities.
According to Jennifer D. Smith, PsyD at TKOC at Cincinnati Children's, SOAR's mission was predicated on the fact that "participation in recreation and leisure activities offer an opportunity to practice life skills that are essential for community integration."
Smith leads the charge for Cincinnati Children's SOAR program, and couldn't be more grateful for the support of partners like Covelli. The Cincinnati Northern Kentucky International Airport staff now gets trained on how to better equip themselves and their facility for families with autism. The Cincinnati Zoo created a sensory map for ASD families to utilize during their visit and interactive experiences that are sensory-friendly. And, special sensory-based performances are now offered at The Taft, The Cincinnati Ballet, the Victoria Theatre, and other venues around the city through SOAR, thanks to companies like Covelli Enterprises, whose funds make a difference in the lives of the local community.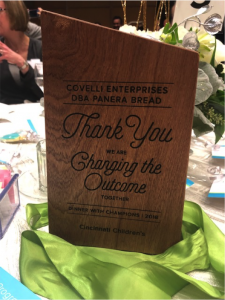 "Generosity from Covelli Enterprises means so much to the patients and families who turn to Cincinnati Children's for care," says Natalie Gerano, Donor Relations Officer at Cincinnati Children's. "Their inclusive support provides opportunities for our patients to learn, grow and socialize as we seek new and innovative ways to nurture and support their individual interests and needs."
The Kelly O'Leary Center continues to make huge strides in state-of-the-art diagnostics, treatment and support services, education and training that enhance the lives of individuals living on the Autism Spectrum. And, Covelli Enterprises will continue to support this effort through the Panera Bread Pieces of Hope campaign. This is just one example of how something so small, just one Puzzle Piece Shortbread Cookie, can make a huge impact in the lives of others. Every cookie truly does count.
The annual Pieces of Hope for Autism campaign will occur April 8-14th in the Cincinnati market (and most other Covelli markets as well), and will once again benefit Cincinnati Children's Hospital's Kelly O'Leary Center for Autism Spectrum Disorders. Click here for a list of all other Panera Bread locations participating in this worthwhile cause to benefit local autism charities across the communities where Covelli operates Panera Bread bakery-cafes. #everycookiecounts
https://www.covelli.com/wp-content/uploads/2019/01/group-pic2.jpg
570
1140
Ricky Darbey
https://www.covelli.com/wp-content/uploads/2016/01/Covelli-Enterprises_small_white.png
Ricky Darbey
2019-01-13 19:43:19
2019-06-19 20:19:55
Watching Hope SOAR: How Panera Cookies are Creating Change for Families in Cincinnati and Beyond