How one community initiative supports another
Panerathon has been the region's largest community fundraising walk/run for 10 years. It's Covelli Enterprises' largest undertaking, hosting 12,000 participants annually and raising more than $2.5 million for the Joanie Abdu Comprehensive Breast Care Center in Youngstown, Ohio. Pulling together an event of this magnitude requires the cooperation of many diverse community members, some of which act completely behind the scenes. One of the most prominent examples of vital behind-the-curtain work is the time-consuming job of packing of the Panerathon race bags.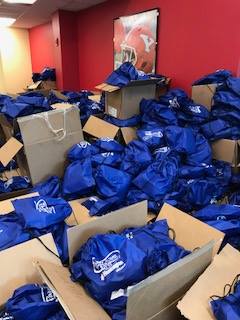 Each one is filled with promotional items and special offers from sponsors and needs to receive the exact same items as the next. Multiply that task by the thousands, and the result is an incredibly labor-intensive feat. There's an extraordinary group of individuals who pack these bags for us each year, and we are taking this opportunity to pull back the curtain and share a little about who they are and why we are so proud to work with them: the clients of Lark Enterprises.
About 30 miles from our Warren, Ohio headquarters just over the border into Pennsylvania, Lark Enterprises is serving many notable businesses and groups including McKesson Pharmaceuticals, Adams Manufacturing, Lowes, Big Lots, Walmart, Pennsylvania Department of Transportation, and the Army Reserve. These, however, are NOT the clients of Lark Enterprises. It's the employees of Lark Enterprises who are referred to as 'clients', because Lark is not a typical employer. It is a nonprofit vocational rehabilitation organization and day services provider for people with significant disabilities. The organization's sole mission is to provide job training, employment opportunities, and social engagement for their clients so they can live full, independent, and meaningful lives.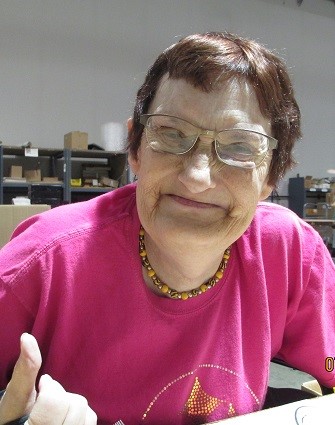 Mary B. has been a client of Lark Enterprises for 38 years. She wakes up every day and goes into work doing very important projects for the high-profile partners of Lark. Her favorite job is stapling weights in vacuum bags. For Mary, the best part about her job is the people. Her job at Lark has taught her new skills, and given her friends and a pay check, things many may take for granted. For Mary, her position at Lark means being able to demonstrate her abilities, learn new skills, and venture into the community to develop meaningful relationships.
There are more than 200 clients at Lark Enterprises just like Mary B., and they are working in the community in very versatile positions and serving a wide-array of industries. Lark clients are providing everything from screen printing, mailing, and packing services to manufacturing, janitorial, auto detailing, and recycling services, all while receiving a living wage that helps them contribute to their families.
Susan Lautenbacher, Ph.D., CEO of Lark Enterprises, only the third in the nonprofit's 62 year history, explained that raising a child with a disability is an expensive, life-long commitment. The clients of Lark Enterprises feel pride not only that they are able to work and support their communities, but that can help offset their cost of living and care expenses.
The clients of Lark Enterprises enjoy giving back and helping others. Their favorite projects are ones that benefit the community including supporting schools, churches, and the military. One project they were especially excited about was their support for Cribs for Kids, an initiative to promote safe infant sleep practices. They packed gift boxes with sleep sacks, pacifiers, crib sheets, and educational materials to distribute to low-income mothers to prevent sleep-related death among infants. Lautenbacher said the Lark clients took 'a measurable pride in making a real difference and keeping the newborns safe'. When they aren't working, Lark clients are also very active community volunteers doing food deliveries for Meals on Wheels or assisting at the local food banks. This type of work they find vastly rewarding, like the work they do for Panerathon.
"They realize the community does so much for them, so they love giving back. We all want to feel like we are a part of the solution. Through Panerathon, they feel like they are making a difference for breast cancer and getting that opportunity to give back. We are grateful for that," she said.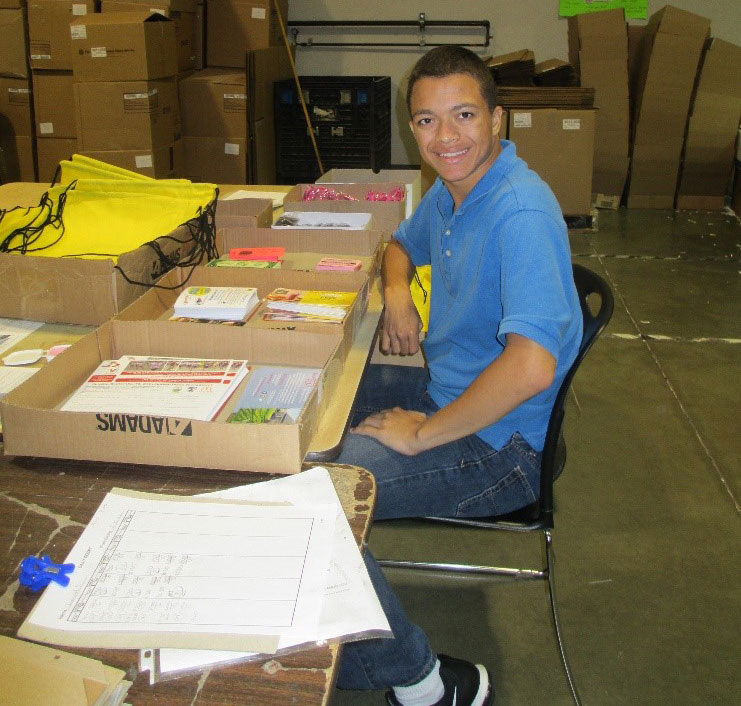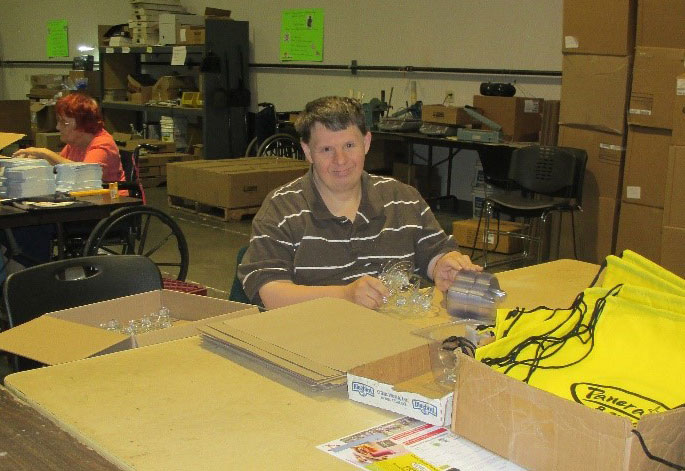 Lautenbacher said that opportunities to support the community are a significant part of Lark's full continuum of services. They aren't just providing job training, but instead providing the chance for their clients to be fully involved in all aspects of community life. Lark clients spend 25% of their time in social activities like volunteering or attending baseball games and other community events. Lautenbacher believes that investing in 'every part of the person' is the best way to lift them up, and ultimately lift up entire communities – and she knows from personal experience.
Lautenbacher is a mother to an adult child with autism. When her son was young, she was told by doctors he would likely end up in a group home. Due to early intervention, he far exceeded the group home expectation and is now a high-functioning adult who is married to the love of his life with a seven-year-old son of his own. That is what helps ground her in Lark's mission and drives her to continue to find ways to level the playing field for its clients.
"Everyone has the capacity to work 100% in the community," she said, "we just have to be willing to support them."
Dave Freshcorn, Director of Production Services at Lark Enterprises, feels the same way about investing in developing the talents of Lark's clients, but he admitted that's not the original reason for joining the organization. He took his position to find a better work-life balance after many years as the Operations Manager at a company in New Mexico. He wanted to be able to coach his son's little league team and spend more time at home with his family. He accepted the job with Lark thinking it would be short-term solution. Fourteen years later, Freshcorn is still with Lark and credits the clients for keeping him there. He said he gets the same joy from watching the clients grow as he did from coaching.
"Watching our clients grow is just like coaching little league. It's amazing to see the strong team members work hard to help others learn. To see them have money to buy their first iPhone and come to work and show me. It's like planting a seed, watering it, and watching it grow."
For Freshcorn, he found fulfillment in witnessing the clients' progress and watching them find confidence.
"For many years you live with a label and you think less of yourself and then suddenly you can do a job anyone else can. What was out of reach for them, is now in reach," Freshcorn said.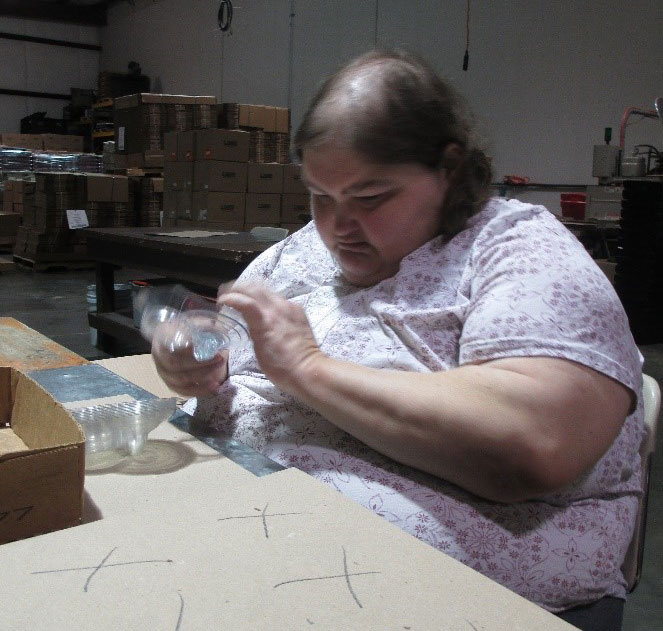 Debbie B. has been a client at Lark for 27 years. Her favorite work is packing giant cups and wiring light boxes. Debbie says that Lark has made her life better by teaching her new skills and helping her make friends. Debbie thinks that Panerathon is a very good thing especially for her, having lost someone to cancer. It makes her feel excited to help others out.
Freshcorn said many of the clients feel this way about packing the Panerathon bags. "They always love doing the job. It brings variety to what they do and they know they are helping the community. They take pride in doing it correctly. One program complements the other."
We are proud that our Panerathon has helped so many women in the Youngstown region get the breast care they need, and we also grateful that our efforts are able to support wonderful organizations like Lark Enterprises and its clients, who in turn are out there giving back to their communities. It's the Panerathon Effect!
We thank the clients at Lark for their hard work and for helping to make our event what it is. We couldn't do it without their dedication to what they do.
For more on Lark Enterprises, visit larkenterprises.org. Be sure to register at Panerathon.org for the Panerathon 10K/2 Mile Walk/Run Sunday, August 25 to get your hands on one of these perfectly-packed bags and keep the Panerathon effect going.
https://www.covelli.com/wp-content/uploads/2019/08/panerathon-featured.jpg
582
874
Ricky Darbey
https://www.covelli.com/wp-content/uploads/2016/01/Covelli-Enterprises_small_white.png
Ricky Darbey
2019-08-07 15:49:46
2019-08-08 10:27:05
The Panerathon Effect