Change Roll-Up and Community Breadbox Programs make major difference for causes in need of mass-support
It may be hard to imagine how a donation of a few cents can amount to any substantial worth for the partners that appear on our Panera change collection canisters. How much could it possibly amount to? We'll tell you. It's more than you might think.
In 2018 alone, these programs resulted in nearly three-quarters of a million dollars for partners in the communities Covelli Enterprises serves. A total of $623,557 was collected through these programs and directed back into the neighborhoods surrounding our cafes, benefitting causes that support children, autism, breast cancer, cancer, animals, veterans, education and more.
Still, these fundraising programs aren't just about dollars and cents. These programs bring a significant level of awareness for our partners and their focuses, starting a conversation with our more than 2 million monthly customers. This type of exposure is invaluable to certain causes, especially ones like the On Our Sleeves initiative from our partner Nationwide Children's Hospital in Columbus, Ohio. This cause has in the past been an under-supported one, but Niki Shafer, Senior Vice President of Outreach for Nationwide Children's Hospital Foundation explained how the hospital is working to change that.
Nationwide Children's has started a national movement to break the silence surrounding children's mental health. This cause is so important and affects so many, and that is why On Our Sleeves was created – to provide a network of support around the millions of families around the country dealing with mental illness by addressing the stigma associated with the diagnoses and providing the tools necessary to improve behavioral health outcomes.
"1 in 5 children is affected by mental illness," Shafer said, "and the lack of resources for kids is compounding the problem." According to the National Institute of Mental Health, less than half of these children receive the treatment they need."
Many local community partners and businesses have now started lending their support to this cause that some experts consider a national crisis, and we are proud to be among them. Mental and behavioral health is at the center of Nationwide Children's future strategic plans. In 2020, a new facility will open on its main campus that will be the largest behavioral health treatment and research center dedicated to children and adolescents on a pediatric medical campus in the country. The Big Lots Behavioral Health Pavilion has already broken ground and upon completion will be a nine-story, freestanding facility fully dedicated to children and adolescents with behavioral health conditions. It will also house researchers and provide for expanded education and training for those in the mental health field.
Nationwide Children's goal is to develop a national model for pediatric mental health care and research and to share the learnings to improve care for children everywhere, including kids like Aubry, who at just 11 years old struggles with anxiety and Obsessive Compulsive Disorder. Aubry experienced symptoms as early as preschool and has been treated by the Behavioral Health team at Nationwide Children's. These diagnoses, however, do not define her, and with the help of her clinician and the Nationwide Children's staff she has been able to make positive strides in managing her fears and her compulsive behavior in order to function and prosper.

Aubry's mom, Nikki, said "Nationwide Children's has been there as a supportive organization for my daughter throughout her mental health issues. I look forward to working with the Behavioral Health team for as long as my daughter needs them. We want other families to not be afraid to speak up and acknowledge these issues in their own children. Ignoring issues and pushing them off for fear of someone judging you or your family is no way to live. The conversation starts with those of us that deal with mental health disorders, and we can carry that to our community."
Aubry eloquently added her sentiments saying, "Just because you need to go to counseling or therapy does not mean that there is anything wrong with you! Be yourself and be happy with who you are, including your quirks and weirdness. Being 'normal' is boring, anyway!"
We at Covelli Enterprises are passionate about supporting amazing kids like Aubry, who need our help to move beyond their mental health issues. Our objective is to let children everywhere experiencing similar challenges that it is okay to talk about those challenges and seek help in managing them. To be happy being themselves!
The Change Roll-Up Program in Central Ohio resulted in a $30,000 donation for Nationwide Children's in 2018. The On Our Sleeves campaign will be the featured partner during the months of May and November 2019. According to Shafer, dollars raised will support Behavioral Health Research and Care and will be used by the hospital for the areas of greatest need including, but not limited to, staffing, research, and programs for patients at the new state-of-the-art behavioral health facility. The goal of Panera's 2019 Change Roll-Up campaign is two-fold: to raise at least $50,000 to support Nationwide Children's pioneering work and to help garner support for this important cause.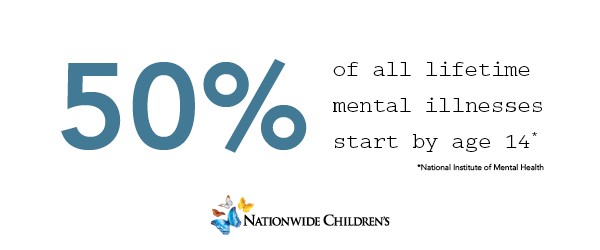 May is Mental Health Awareness Month. In honor of this, Albert Covelli, who also sits on the Foundation board at Nationwide Children's, along with his wife Sarah, and son Theo appeared in several ads promoting our company's support for the On Our Sleeves movement. In the campaign photos, they wear shirts with the phrase "I break stigmas," which is exactly what the initiative aims to do. The message is clear: It's okay to talk about children's mental health, and it's more than okay for companies and business leaders to step out and show their involvement. It's crucial.

"Our family and the Central Ohio Panera Bread locations within Covelli Enterprises are proud supporters of the On Our Sleeves campaign," said Albert Covelli. "We believe that we are not only in the food business but rather in the customer business, working to help individuals in our communities. We are honored to raise funds and awareness for pediatric mental health. Our children are the future, we need to care for them today to give them success in the years to come."
With your help, our Central Ohio Change Roll-Up program will be fueling a positive change in the mental health outcomes for children of all ages like Aubry and countless others across the country.
Shafer said, "Support of children's mental and behavioral health is desperately needed and we are sincerely grateful that Covelli Enterprises has been one of the first companies to step forward as an important voice in this critical effort."
We are proud that our Panera cafes are able help lead this conversation, shedding light on and raising funds to support a necessary shift in the way we care for our nation's kids. For more on Nationwide Children's groundbreaking On Our Sleeves movement, click here.
We thank our customers for their on-going support of our Change Roll-Up and Community Breadbox fundraising programs and the difference they have been able to make for our community partners.
Does your change really make a difference? Absolutely!

How Your Contributions Support Our Communities:
The below chart breaks down the categories of non-profit organizations that Change Roll-Up and Community Breadbox funds benefitted in 2018.
https://www.covelli.com/wp-content/uploads/2019/05/mental-health-featured.jpg
570
1140
Ricky Darbey
https://www.covelli.com/wp-content/uploads/2016/01/Covelli-Enterprises_small_white.png
Ricky Darbey
2019-05-09 11:05:37
2019-05-09 13:24:19
Small Change Leads to Big Impact