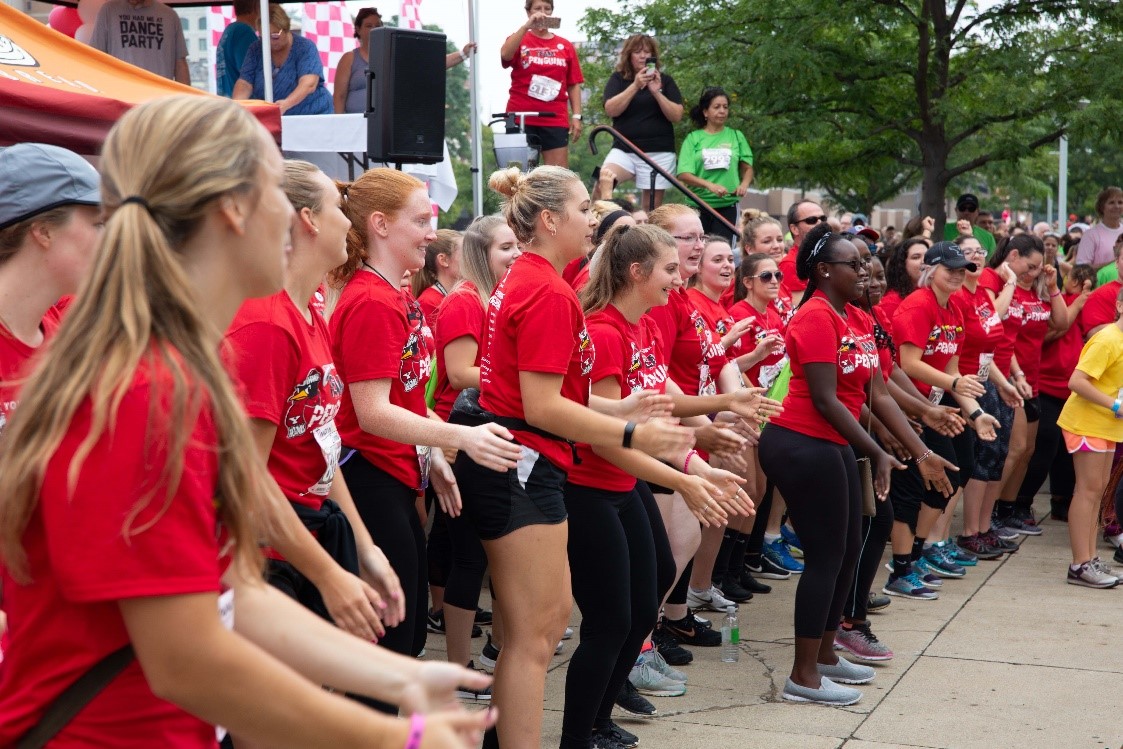 In late August 2014, Mary Shortreed and Amy Weaver, both professors in the nursing department at Youngstown State University, participated in the Panerathon 10K/2 Mile Walk/Run for the very first time. They looked around them that day in amazement at the overwhelming number of people gathered in support of the Joanie Abdu Comprehensive Breast Care Center and got to thinking how the YSU nursing program could get involved.
There were two of them that year. Now, the YSU Nurses make up a massive chunk of the largest team ever to participate in the event: the YSU Team Penguin Mega Team. This team had nearly 400 members in 2018, and the mass-interest in participating all began with the passion of these two nursing professors.
Mary said their goal has always been to show their students that being a nurse means more than just clocking in and out each day. It's about a deeper connection to the community as a whole.
Her lesson to them: "Don't just go to work and be a nurse. Support your community. Be active."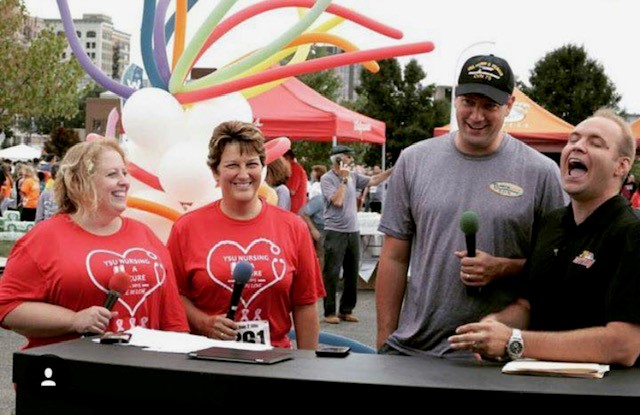 In 2015, they decided to arrange a Panerathon team of nursing students. It didn't take much for Mary and Amy to get their students excited about the event. The thing that makes nurses special – their desire to care for others – is the thing that ties them to their communities and motivates them to be a part of something bigger than themselves. Mary and Amy focused on encouraging the juniors in the nursing program to participate. They were blown away by the amount that signed up that year and also the number of sophomores, seniors, and alumni who decided to join them. The nurses did what nurses do – they showed up in a big way to be a source of support for their community. There were 160 of them total that year.
In that same first year of the YSU Nursing team, they arranged a choreographed dance and performed it before the start of the walk/run. This "YSU Nurses flash mob" has become an annual tradition ever since, and it is one of the most exciting things that happen before the runners take off.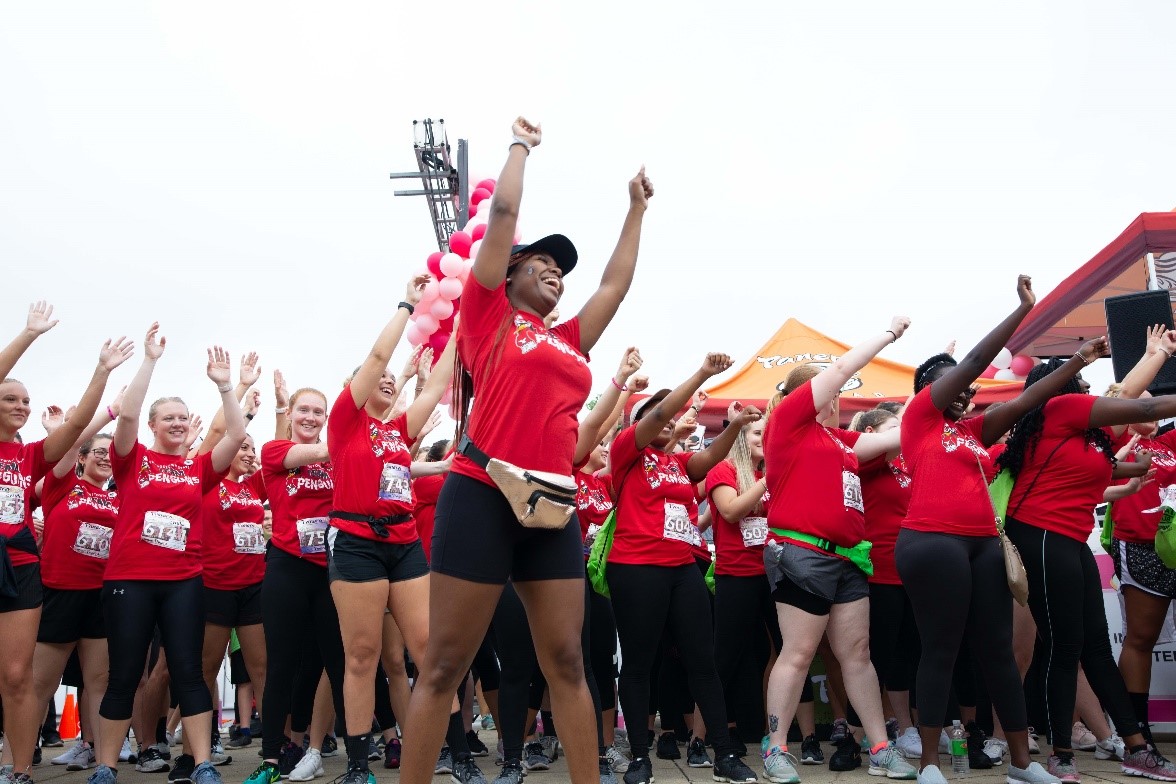 "It's a lot of fun, and it adds so much excitement," Mary said. And each year she gets to relive what she fell in love with at her first Panerathon through the eyes of her students.
"Each year it's a new group and a new team and that makes it even more special. It's always fun to see the new nurses experience it and take it all in," Mary said.
The YSU Nurses' connection to the cause goes even deeper than their pre-race dance routine. The department's involvement with Panerathon affiliated them with the Joanie Abdu Comprehensive Breast Care Center and now 15-20 YSU nursing students filter through the center each year for their clinicals.
"They love it there. They get to see so many different things at the center including screenings, biopsies, and more," Mary said.
She also noted that her nursing students always seem to comment on the personal approach of the center, its calming environment, and its impressive ability to address patient needs quickly and effectively.
She said, "Our nursing students are experienced enough to know and appreciate that if something is found in a patient, that it can be dealt with that day."
The nurses' relationship to the center and their experiences working there give them a unique understanding of how crucial it is to the women of the Valley. It renews their resolve to continue supporting it in any way they can – including through their flash mob group dance!
Amy doesn't see the tradition going anywhere. She knows that the connection among the YSU Nurses, the JACBCC, and the event that brought them together – the Panerathon – will continue to be on display year after year.
She said, "Twenty to thirty years from now, we will look back on these first years that we started getting involved, and Panerathon will probably play our first flash mob video when it's 30 years old…and we will look back on it fondly and laugh!"
It's these unique ways that groups (like the YSU Nurses), businesses, teams, and individuals find to participate in Panerathon that make it a truly amazing and one-of-a-kind experience. Each member of the community embraces the event and makes it his or her own. In the case of the YSU Nurses, they have done with Panerathon what they do every day in their field – they breathe life into it with their enthusiasm, their support, their creativity, their spirit, their dedication, and their care.
Join the YSU Nurses at 9:20 a.m. in the runners corral Sunday, August 25 to kick off our race in the most fun way possible! View the video below to learn the dance and be a part of this amazing tradition.
Special thank you to Ashley Milligan Smith, YSU Nursing Alum and Shauntiaonia Johnson, YSU Nursing Student, who along with Amy Weaver choreograph, record, and star in the Flash Mob videos. At least one of them lead the dance at Panerathon every year.
LEARN THIS YEAR'S GROUP DANCE:
Panerathon is presented by Covelli Enterprises and Panera Bread.
https://www.covelli.com/wp-content/uploads/2019/08/nurses-1.jpg
749
1123
Ricky Darbey
https://www.covelli.com/wp-content/uploads/2016/01/Covelli-Enterprises_small_white.png
Ricky Darbey
2019-08-20 14:31:31
2019-08-21 09:30:38
Nurses Breathe Life into Community Event