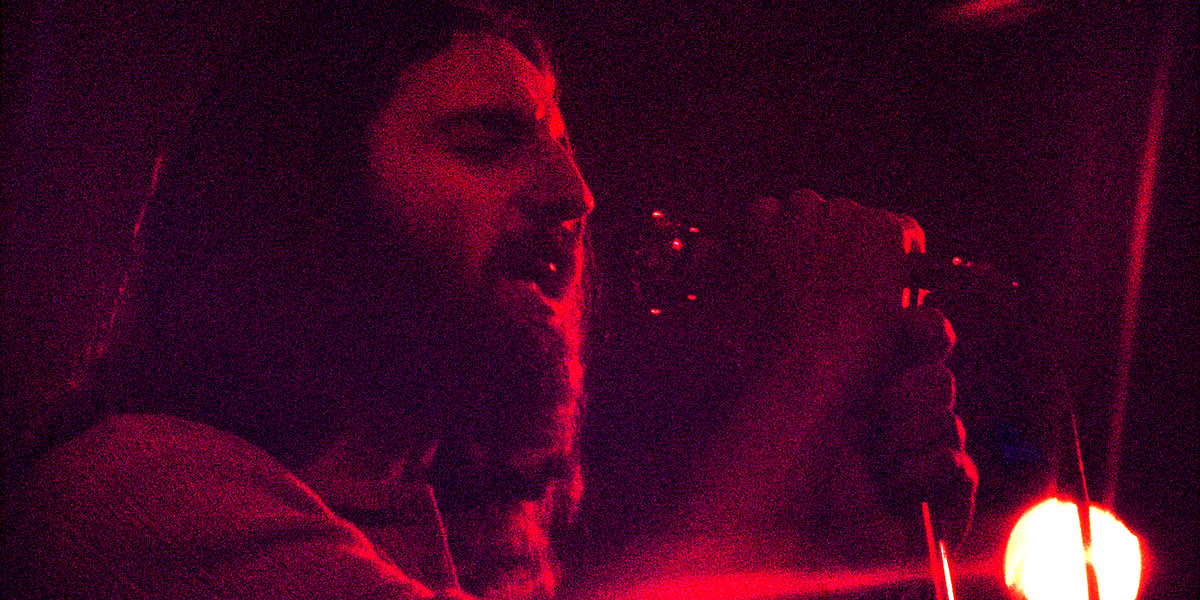 Covelli Enterprises supports exhibition featuring rock and roll photography with special meaning for its CFO
The sun is just coming up in Warren, Ohio, but Bob Fiorino's mind is already on his work. It's 6:00 a.m. on a Sunday, but it's very typical for him to head into the office. It's because he's incredibly hardworking, but also because he simply loves what he does. Bob is CFO of Covelli Enterprises and has been for the last 33 years, spending many weekends as the only one in the office. He knows the financials backward and forward of every one of the 315 Covelli-run restaurants. He spends his days diving into spreadsheets and analyzing numbers. Some people might think with how much he devotes to his day job that he wouldn't have much time for any other interests. That couldn't be further from the truth. Bob loves his work, yes. But there is so much more to this man than meets the eye.
You see, under his desk covered with sales reports and labor projections, Bob's toe is tapping. He's got music in his soul (and always playing on his computer).  And long before he was a CPA, Bob was the lead singer of a popular 1970s rock band called Mom's Apple Pie that toured all over the country. The 10-person band played such venues as Whiskey A Go Go on Sunset Boulevard and Madison Square Garden with The Kinks. Their album cover has been featured in Rolling Stone Magazine. Now, the band will be showcased all summer long in "First Three Songs, No Flash: From Hometown Heroes to Hall of Famers," a concert photography exhibition made possible by a donation from Covelli Enterprises that recently opened at Trumbull Art Gallery in downtown Warren.
The exhibition features the work of many Mahoning Valley photographers and the stars they've captured in their photography spanning decades including Elton John, Rod Stewart, Tony Bennett, Joe Walsh, KISS and many other Rock and Roll Hall of Fame inductees and top-drawing performers like Paul McCartney, Bruce Springsteen, and Willie Nelson. It also features acts with Valley ties, both recent and from the past, including Bob's Mom's Apple Pie.
One featured photographer Bob Jadloski, a Warren native, joined Mom's Apple Pie as a "roadie" through its touring days and documented the band's time on the road and in the recording studio. His work has been compiled in a Mom's Apple Pie feature wall within the gallery exhibition.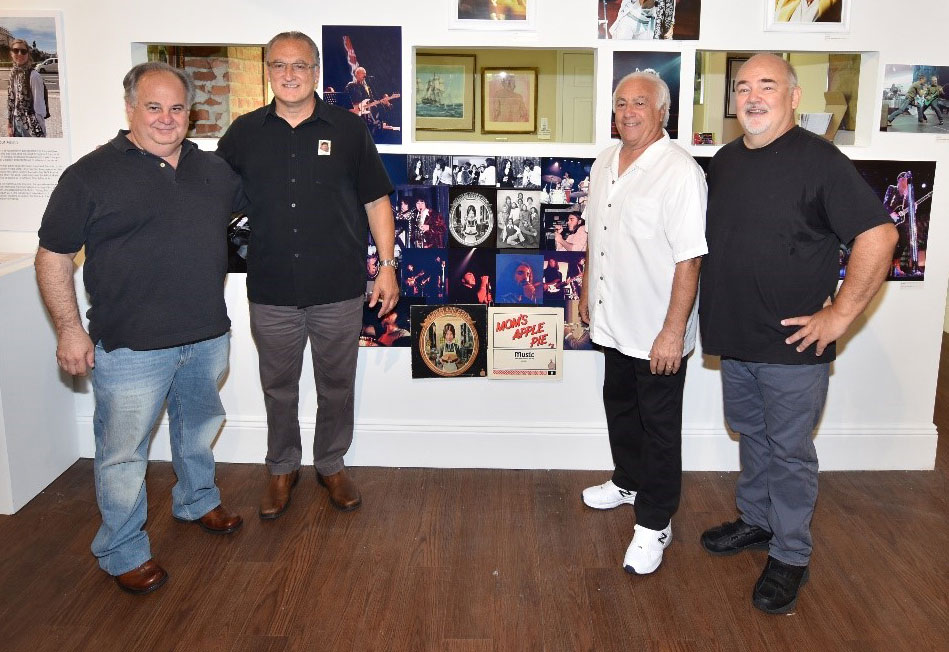 Bob said, "Of course it is a thrill to be 'on the wall', and sharing pictures and experiences with others will be a blast." To him, this exhibition opens a door to recount stories from his musical past, something that has shaped him into the man he is today, but it's also about giving well-earned acknowledgement to the men behind the scenes.
"Seriously, I'm more excited for the photographers than for me. They really deserve this recognition," he said.
An opening reception was held July 13 at Trumbull Art Gallery with music by – you guessed it – Bob Fiorino in his newest musical act, FM Acoustic, a duo formed with his Mom's Apple Pie bandmate Bob "Rollo" Miller. The two play local venues throughout the Valley, typically after Bob has already put in a full day at the Covelli office as CFO.
Bob's interest in music began with watching Elvis Presley movies as a young child. "I thought it couldn't get any cooler than that," he said. But his love for music truly began in February 1964, with the appearance of The Beatles on the Ed Sullivan Show. He joined a band in the 7th grade and the rest is history. Music continued from then on to be a major part of who Bob is. Mom's Apple Pie was formed and signed to a record deal with Brown Bag Records in 1970. They toured for four years from Boston to LA, but Bob eventually ended up back in Warren, Ohio where he got his accounting degree from Youngstown State University and started a family with his wife Lori – having two sons. After working several years at a CPA firm, he came to work for Covelli Enterprises in 1986 when the company owned just 24 McDonalds. Now the company is the single largest franchisee of Panera Bread in the country.

So how did he end up here? How did he make a complete 180 degree turn from rock star to accountant? If you ask Bob, he didn't.
"Music and math have much in common with symmetry in scale, rhythm, pattern and so on," he said. "Music also promotes inspiration and creative thinking. I think creativity at work is much underrated these days. I feel that I create at work every day."
But music means even more to him than that.
He said, "Music may be doing more for me now than it even did back in the seventies. Back then I was a twenty year-old with a dream and not much else. These days, my life and our world are much more complex. I think my resurgence with music helps ground me in what is important. In fact, the [Warren] office thinks that music, and my grandkids, have made their work lives a little better."
Music rather than being "extra-curricular" for an already busy CFO is actually a deep part of how he maintains a sense of balance. It allows him to be able to put so much of himself into everything he does. There's a rhythm, a beat, to his entire existence that comes together like a beautiful song. There's music behind it all.

Being CFO of Covelli Enterprises, a company that issues more than 35,000 W-2s annually, can be demanding. The one thing that continues to fuel his passion for his job are the individuals receiving those W-2s: the employees.
"My favorite part is without a doubt our people. I'm proud of the interactions and relationships within our company. In fact, when visiting our markets with Panera LLC company employees, I find that over and over they comment on the culture and friendship that exists within our organization," he said.
When he's not in the office or playing gigs with Rollo, Bob is "Papa" visiting his two grandchildren in Columbus, Ohio, a role he absolutely cherishes. He often brings his guitar and has begun instilling his affinity for music in his grandson. Both of Bob's sons also play instruments and often join Bob for family jam sessions even now that they are grown and married themselves.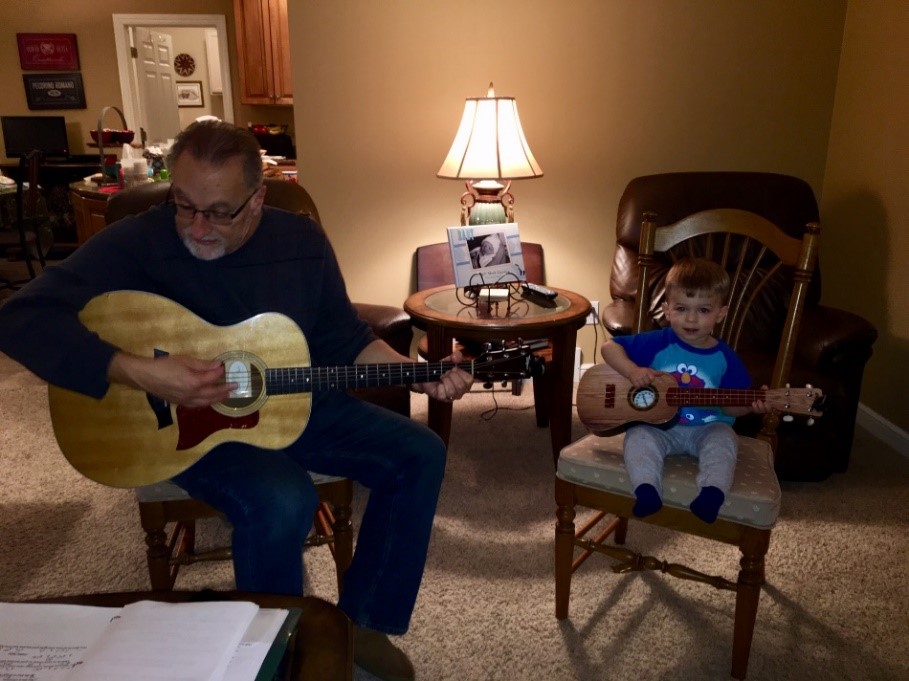 For Bob, there's no end to his passion for the things he loves: his family, his work, and, of course, the thing that keeps his toes tapping: the music.
The "First Three Songs, No Flash" exhibition runs through August 24 at Trumbull Art Gallery where you will find among the beautiful concert photography, some gems from the past of our singing CFO.
Of the exhibit, Bob said, "We grew up with many of these photographers seeing their names captioned with so many pictures in the local newspapers. In fact, I grew up with two of the featured photographers, even taking a 9th grade photography class with them in high school. I think our community is excited that they are being featured at the art gallery. Couple that with pictures of some local rock bands that many grew up with, and also with pictures of some of the biggest names in rock. Now that sounds like a successful exhibit."
For more on the exhibition, curated by Andy Gray Entertainment Editor at Warren's Tribune Chronicle, see the following story link from the Trib:
https://www.tribtoday.com/life/ticket/2019/07/photography-show-chronicles-superstars-and-local-stars/
Be sure to follow @FMAcoustic on Facebook for upcoming appearances to hear for yourself the music behind the man.
https://www.covelli.com/wp-content/uploads/2019/07/music-man.jpg
600
1200
Ricky Darbey
https://www.covelli.com/wp-content/uploads/2016/01/Covelli-Enterprises_small_white.png
Ricky Darbey
2019-07-18 23:00:40
2019-07-19 08:46:06
The Music Behind the Man