When Carrie Rayl walked in the 2016 Panerathon, she was there to show support for her mother, who had just finished treatment for breast cancer.
When Carrie walked in the 2017 Panerathon, it was because she herself is battling breast cancer.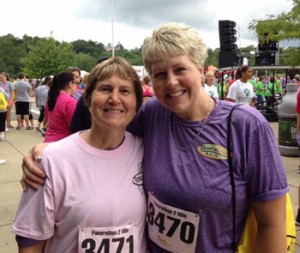 "I never thought that six months after my mother had breast cancer, that I'd be diagnosed. This has just be unreal," said Rayl, a 45 year-old mother of two sons.
Rayl, her mother, Linda Simplican, her husband, Frank, and 50 of their friends and co-workers wore specially printed T Shirts with the name, "Carrie's Crew" at the 2017 Panerathon. And they came in 7th place in the competition.
Carrie said the event had new meaning for her this year. "I am so grateful to the Joanie Abdu Center for everything they've done for me," she said.  Proceeds from the Panerathon benefit the center.
Carrie, who works as an occupational therapy assistant at St Elizabeth Hospital, is still undergoing treatment for the breast cancer and is about halfway through radiation therapy.
 "There's never a good time to get cancer," she said.
But for Carrie, this has been an extremely eventful year.
Two days after being discharged from the hospital for complication from chemotherapy, her eldest son, Austin, was graduating from college and she attended the ceremony. "I was just determined to be there," she said.
And two weeks later, she watched her youngest son, Noah, graduate from high school.
"I was weak and had to let people help me with his party but I was so thankful I was able to be there," she said.
Like her mother, she had a lumpectomy to remove a cancerous mass, but Carrie's breast cancer was more severe. Cancer was found in a lynph node as well, meaning that she had Stage Two breast cancer and had to undergo a whole course of chemotherapy.
Her mother's lymph nodes showed no signs of cancer.
Carrie said the chemotherapy was particularly rough for her but that she is doing well now.
"I am just so grateful that we caught it early and was able to get the treatment and support that I did," she said.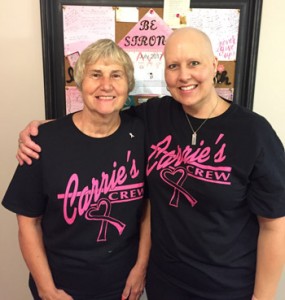 She believes that one of the reasons why her cancer was detected so early is because she decided to get her yearly mammogram at the Joanie Abdu Breast Center instead of the usual facility where she had been getting them.  She was so impressed with the care that Joanie Abdu provided for her mother.
She said the 3-D imaging that Joanie Abdu uses allows for better and earlier detection.
"The 3-D digital mammography can detect cancer 15 months earlier than a normal mammogram," she said. "Now I tell everyone to make sure they ask if their facility uses 3-D digital imagining."
Carrie said participating in the Panerathon represents one small way she can give back to the Joanie Abdu Breast Center.
"The Panerathon is important to me because it's right here in our local community, gives 100 percent of the proceeds to Joanie Abdu Breast Center which provided excellent care for my mom and now did the same for me!" she said. "We are blessed to have a facility that just focused on breast care & cancer treatments."
Carrie said the support that she has received for Carrie's Crew means a  great deal to her.
"I feel overwhelmed by the support of Carrie's Crew, which is my family, friends and co-workers and some people I don't personally know, who have bought my shirts and have been praying for me. It means so much to me, my husband and kids."
She said the support strengthens her. "It makes me fight even harder!"
https://www.covelli.com/wp-content/uploads/2017/09/carrie-ray-media-1280x640.jpg
640
1280
Ricky Darbey
https://www.covelli.com/wp-content/uploads/2016/01/Covelli-Enterprises_small_white.png
Ricky Darbey
2017-09-27 03:17:34
2017-10-31 21:49:48
Like Mother, Like Daughter: Women Battling Breast Cancer With Joanie Abdu