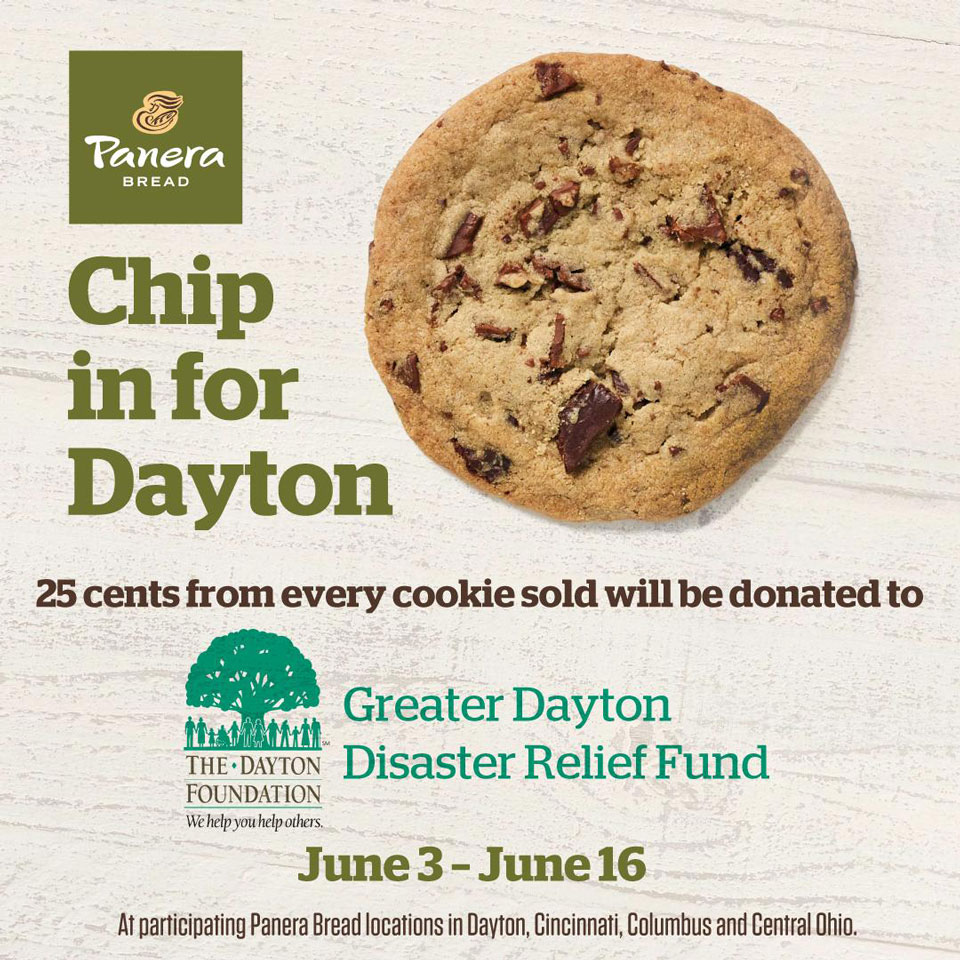 Panera Bread's largest franchisee will donate 25 cents from every cookie sold June 3-16 to benefit the Greater Dayton Disaster Relief Fund
Covelli Enterprises announced this week it will host an emergency fundraising campaign called 'Chip in for Dayton' in its nearly 100 Dayton, Cincinnati/Northern Kentucky, and Central Ohio Panera bakery-cafés. From June 3-16 for every cookie sold, Panera will donate 25 cents to the Greater Dayton Disaster Relief Fund of The Dayton Foundation to support relief efforts for local victims of the tornadoes that devastated communities in Dayton and surrounding areas last week.
In addition to the 'Chip in for Dayton' fundraiser, Covelli Enterprises also committed all Panera bakery-cafes in Dayton and Central Ohio to raising additional funds for the cause during the entire month of June through its Change Roll-up program at the registers. Ohio-native Sam Covelli, Owner and Operator of Covelli Enterprises, upon hearing of the destruction that occurred Monday, immediately pledged his company's resources to the relief effort and began working with vendors to source urgent donations for victims including 35,000 bottles of water that was delivered Friday to The Foodbank in Dayton. The delivery was made possible thanks to the help of Covelli Enterprises' partners Pink Ribbon Girls and United Building Materials.
"We're doing all we can to help the situation in our Dayton-area neighborhoods, and we invite all other community stakeholders to do the same," Covelli said. "Our goal is to give the people in the region as many ways to get involved in the relief effort as possible. We want the families affected to know they have our support and they are not alone in this."
The benefitting fund, the Greater Dayton Disaster Relief Fund, was created by The Dayton Foundation this week to quickly respond to the most urgent needs within the community including food, water, clothing, and shelter for families affected by the storms, as well as to assist in long-term rebuilding and recovery efforts in the affected areas. The Foundation will distribute funds among several organizations including the local chapter of the American Red Cross and the Dayton Foodbank. More information on the fund may be found at daytonfoundation.org.
All cookies are baked fresh daily by Panera bakers, and the purchase of any cookie of any kind within participating Panera cafes in the region at any price point will benefit the "Chip in for Dayton" fundraiser.
Covelli Enterprises is committed to doing everything it can to assist the people of Dayton during this time of need.
https://www.covelli.com/wp-content/uploads/2019/06/chip-in-featured.jpg
734
1200
Ricky Darbey
https://www.covelli.com/wp-content/uploads/2016/01/Covelli-Enterprises_small_white.png
Ricky Darbey
2019-06-03 00:00:19
2019-06-02 23:21:59
COVELLI ENTERPRISES LAUNCHES 'CHIP IN FOR DAYTON' CAMPAIGN TO BENEFIT VICTIMS OF RECENT TORNADOES