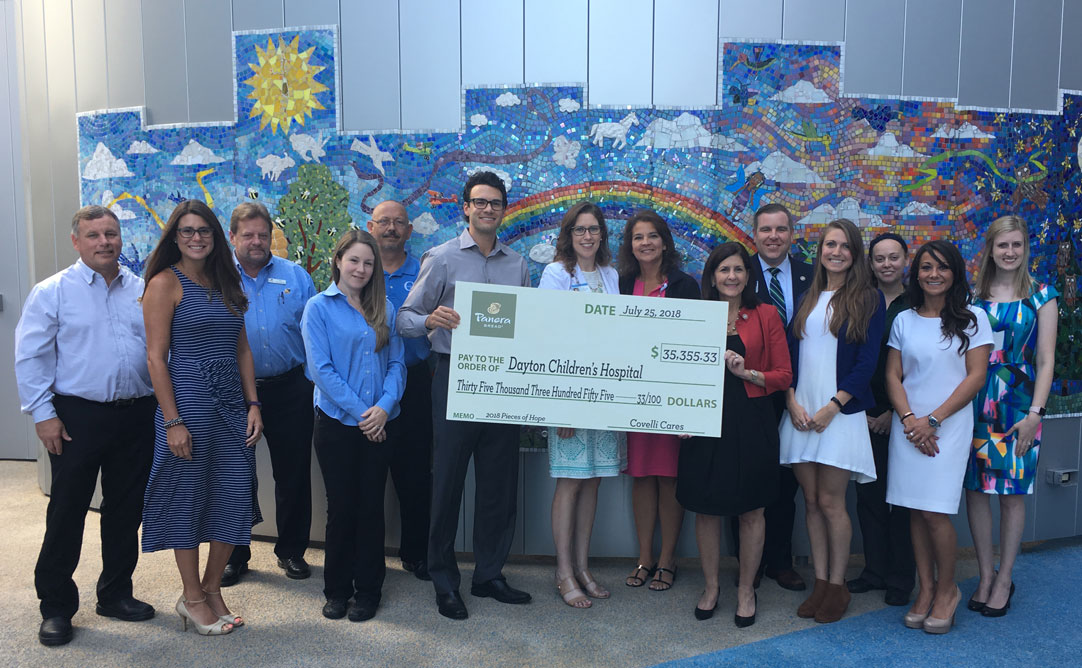 In 2014, Dayton Children's Hospital opened its brand new Autism Diagnostic Center with the goal of improving outcomes for their child patients on the autism spectrum. Four years and more than 1,500 patients later, the center is achieving that goal and continuing to transform the lives of children and families affected by autism. They are doing so with the help of Covelli Enterprises and its Panera Bread cafe locations in Dayton. As the largest donor investment in autism services at Dayton Children's, the partnership has generated nearly $110,000 in support over four years and the funds are having a major impact.
Every April, Panera Bread hosts its annual Pieces of Hope for Autism cookie campaign through which 100% of the proceeds from every puzzle piece cookie sold is donated to Dayton Children's. The Dayton Panera Bread cafes have also raised funds through its Covelli Cares Community Breadbox collection canisters at the registers and through its new Change Roll-Up program. These programs have generated funds to support the Autism Diagnostic Center and autism support programs at the hospital.
Mary Beth Dewitt, PhD, a clinical child and adolescent psychologist at Dayton Children's Hospital, has witnessed the positive effect of the partnership on outcomes for her patients and their families. The funds have been used to expand diagnostic services, add staff members, purchase books and other resources for families to receive upon diagnosis, and create sensory distraction kits to entertain children hospital-wide while they are being treated. With the additional staff, Dr. Dewitt said they have been able to cut down on wait times for assessments and improve access for their patients.
"We are typically able to get kids in for an assessment within a week, which has really helped to relieve anxieties of concerned parents waiting for answers," Dr. Dewitt said.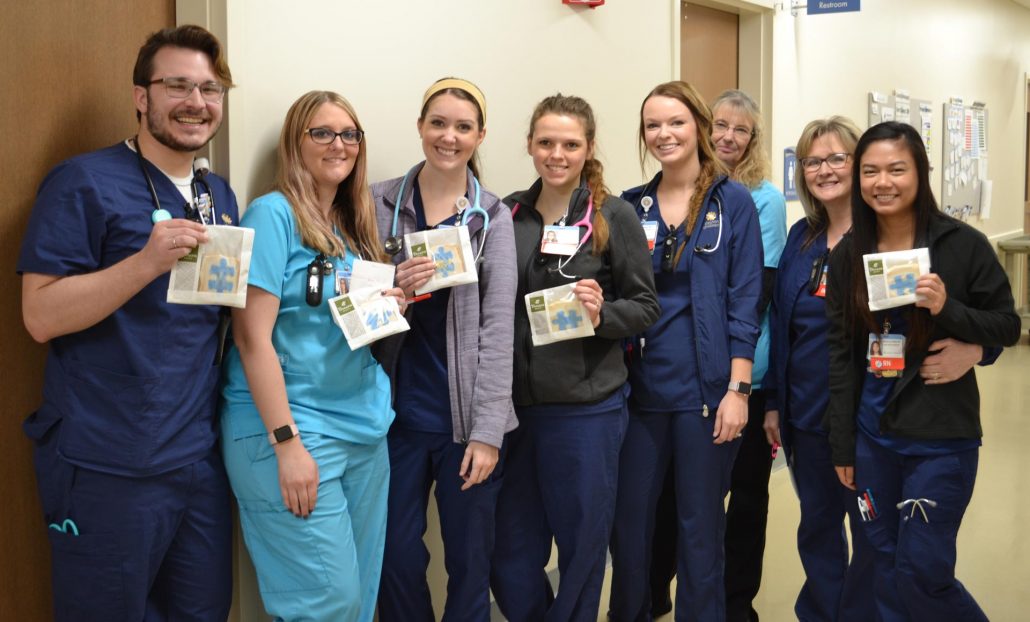 Dr. Dewitt also said her entire team was able to attend a training session together when in the past they may only be able to send one representative. This allowed for more collaborative and timely discussion among all team members to be able to get the most out of the training, something that wasn't able to be done as effectively before.
The funds have also allowed the hospital to expand services into Springboro to serve the population south of Dayton with a new Behavioral Health facility that opened last year. The center was able to be designed specifically with children with autism in mind including special accommodations like small, soundproofed waiting rooms for children to be able to wait in comfort rather than in a larger, crowded waiting room that may overwhelm a particularly sensitive child.
Dayton Children's is planning another expansion with a new building set to open in the near future close to the main hospital. The Center for Community Health and Advocacy will be home to the hospital's community outreach programs including primary care, specialized clinics, foster care and kinship programs, nutrition services for families in need, and child safety programs. The facility will also be designed with children with autism and special needs in mind and will include a closed circuit set-up where parents may remain involved as observers in their child's care without disturbing any assessments. The same goes for training, as the closed circuitry allows for students to view activities without interfering with results.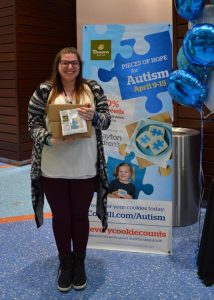 Dr. Dewitt said, "I've seen it in my kids and in the research. Early diagnosis and intervention with a multi-disciplinary approach is key. You can't put a price on getting the optimal care for a child to allow them to live a successful and healthy life. The bottom line is we really can help these kids; they do get better with our help."
Adam Blanchard, Director of Donor Engagement at Dayton Children's Hospital Foundation, said that even with all the advancements that the Panera Bread partnership funds have helped to bring out, it isn't just about what the money can do. It's also about creating a reason for people to take action.
Blanchard recounted a story of special education classes from Magsig Middle School that made an annual tradition out of field trips to Panera Bread during the month of April in order to support kids just like them by purchasing puzzle piece cookies.
"[The campaign] touches more people than we will ever know, from all of us at Dayton Children's to the community as a whole in all aspects. The power of people engaging can never be underestimated."
Blanchard said one the biggest benefits of the partnership with Panera Bread is that it has helped to strengthen the Dayton Children's connection to the community. There is now awareness that families don't have to travel outside of the Miami Valley for expert care for their children.
"Our partnership with Panera Bread is just that, a true partnership. It's not at all transactional. Both parties are genuinely concerned about bettering outcomes for children with autism," Blanchard said. "It's all about coming together to elevate each other's organizations in the goal to solve a common problem."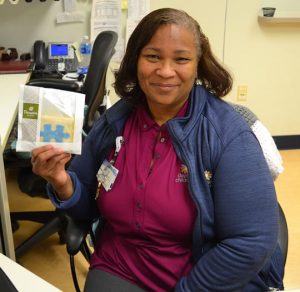 Dr. Dewitt agreed that the campaign means more than just money for the center. She said, "I just want to say thank you. The partnership has brought such enjoyment to our staff, our families, and our patients. It's amazing that we are able to bring so much joy with a little cookie."
You can look for ways to support Dayton Children's Hospital and their Autism Diagnostic Center within the Dayton area Panera Bread cafes throughout the year. The Pieces of Hope for Autism cookie campaign is set for early April 2019.
https://www.covelli.com/wp-content/uploads/2018/10/dayton-childrens-slider-1920x1381.jpg
1381
1920
Ricky Darbey
https://www.covelli.com/wp-content/uploads/2016/01/Covelli-Enterprises_small_white.png
Ricky Darbey
2018-10-22 19:41:07
2018-10-22 19:41:07
Bringing Joy: A look at Panera Bread's transformative partnership with Dayton Children's Hospital