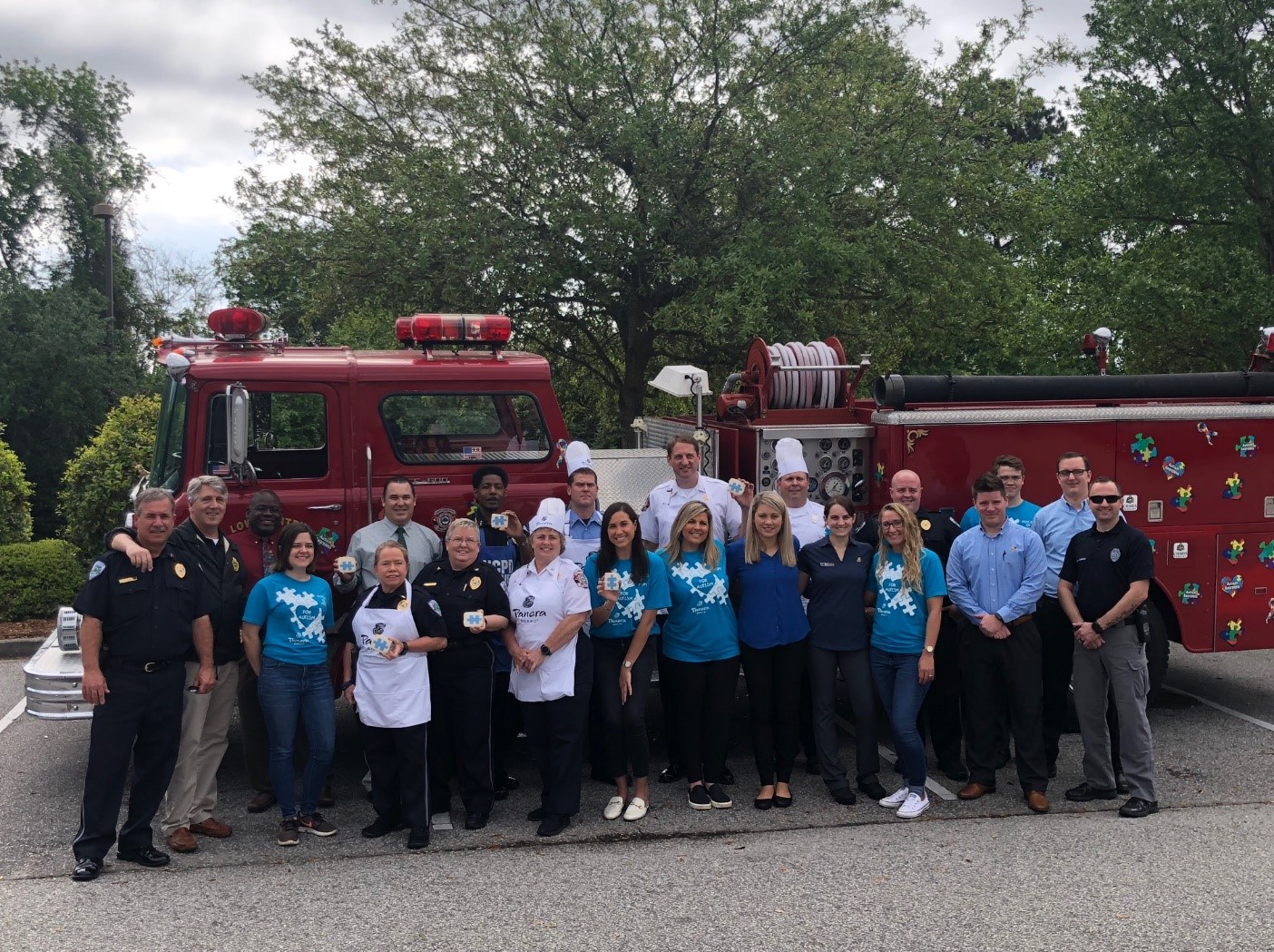 Our company has hosted our highly visible 'Pieces of Hope for Autism' cookie campaign since 2011 to raise both funds and awareness for autism. What may not be as visible are the stories of how this cause touches lives at the national, regional, local, and even individual level. Our support for autism organizations has surpassed $2 million over the last 9 years, and it has helped us make lasting connections in every community we serve. This year's campaign raised more than $310,000. It also helped us connect with a very special fire department in North Charleston, SC.
Autism is a cause near and dear to Captain David Reindollar of the North Charleston Fire Department.  His son Dawson was diagnosed with autism when he was 4 years old. Dawson, who was non-verbal until the age of 7, always had an affinity for drawing. In fact, drawing for a time was his primary way of communicating. One of his most inspired drawings was of a firetruck covered in puzzle pieces.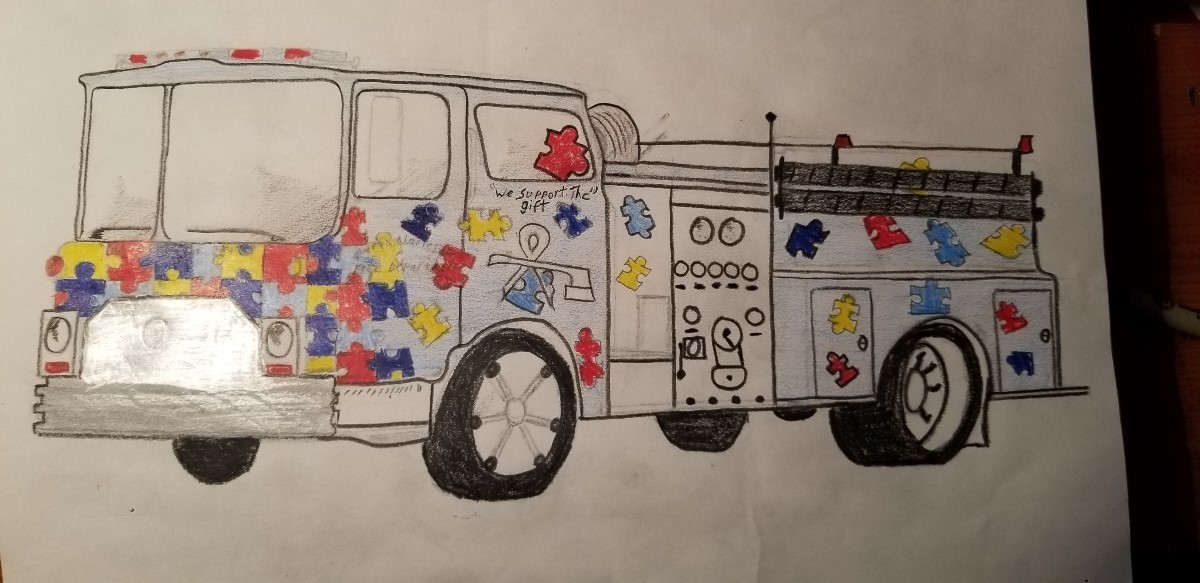 This drawing became the blueprint for a real-life Autism Awareness Firetruck and start of tradition by the fire and police departments and Lowcountry firefighter support team in North Charleston to immerse themselves in the community wherever they could. The truck allowed for both departments to engage with people in a very different and special way than they were used to. It also opened the door for meaningful partnerships like the one we formed with them this year.
In early April, we hosted a first-ever cookie decorating competition between the North Charleston Fire and Police Departments at our Centerpoint cafe to kick off the 'Pieces of Hope for Autism' cookie campaign. It was not only a blast for all who attended (and the nearly 3,000 viewers who watched via Facebook LIVE), but it was a remarkable coming-together in support of the cause.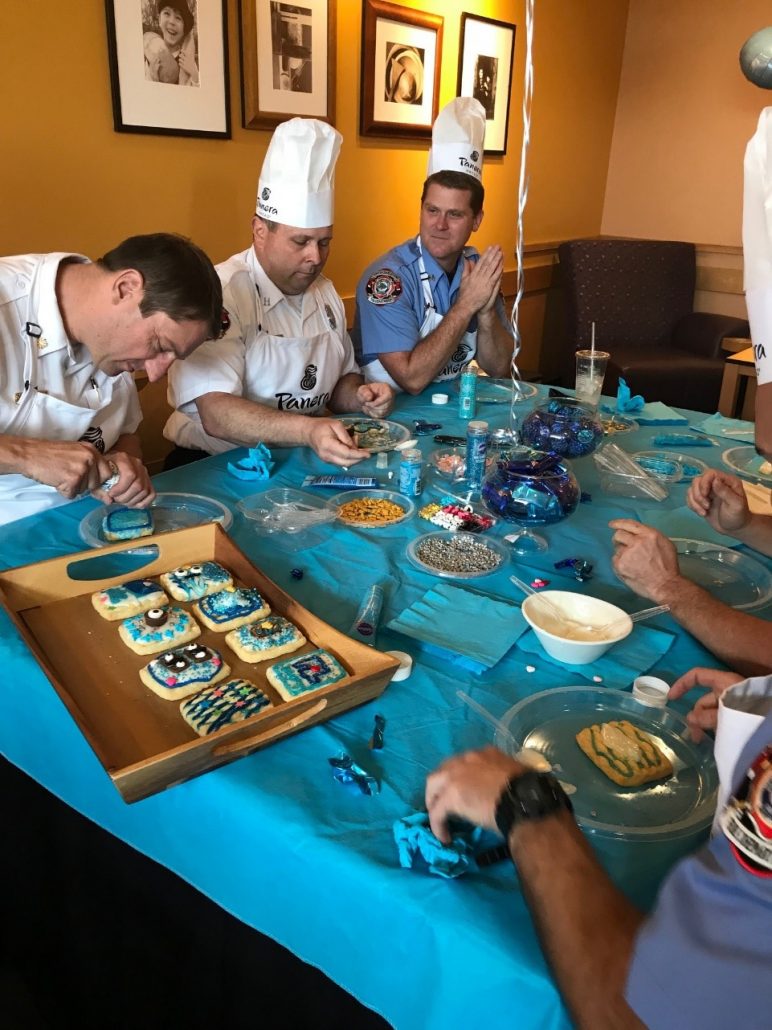 Capt. Reindollar said the event gave them the opportunity to show their 'human' side to the members of the community in order to build the trust and connectivity that is so important between police and fire departments and the people they work to protect in their jobs every day.
"Our partnership with Panera gave us a platform to strengthen both sides – police and fire," he said. "The event allowed us to come together and show personal care from both departments. Seeing the Mayor there and the police chief in a chef's hat and apron, it matters. It's something you don't forget."
Several customers were selected at random to judge the cookie decorating contest. Coincidentally, they said the reason they were meeting at Panera was to speak about their support for autism, unaware of the event that was taking place that day. The customers picked one of the police officers as the eventual winner, but the event – which helped kick off a record-breaking number of puzzle piece cookies sales – created winners all around.
Capt. Reindollar said his department's support for autism has also meant a lot to him personally. "It helps me to know that I'm with a department that cares. They invest in me, so I invest back," he said.
His sentiments are most certainly echoed throughout North Charleston. When government departments invest in their communities and causes important to its residents, the support, cooperation, and goodwill is reciprocated.
The Autism Awareness Firetruck is repurposed throughout the year in support of many other community causes. What started as a mere dream meticulously designed by a talented 10 year old is now a real-life symbol of unity for an entire community.
"I told Dawson that one day we would make his dream real, and now we've shown that truck at so many community events. It really builds his spirits to see people connecting over it," Capt. Reindollar said.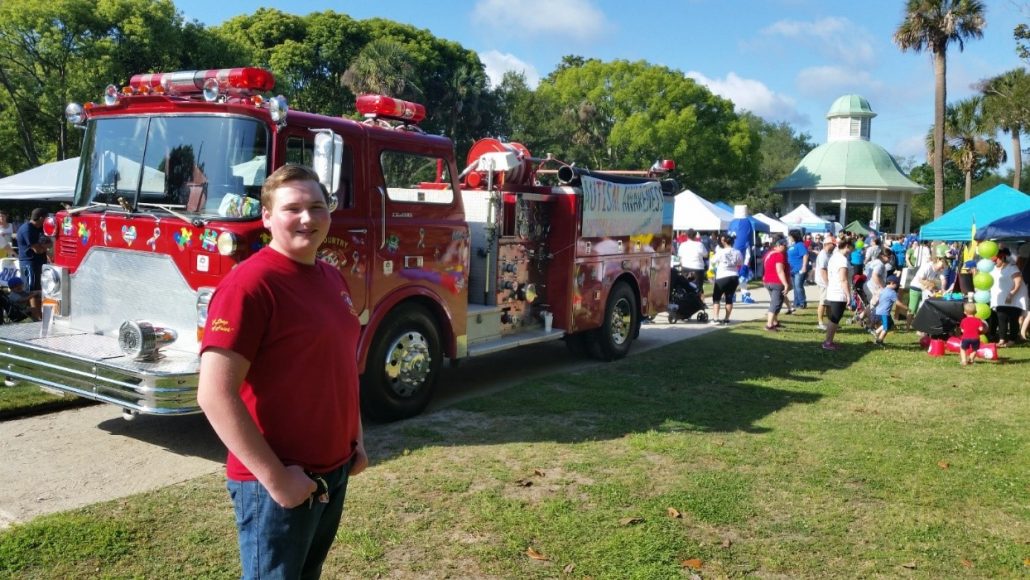 The truck and the fire department's support for the autism cause serve as a sort of glue bringing together many diverse community members. It strengthens the important bond between the police and fire departments and the residents of North Charleston.
Dawson is now 18 years old and just graduated high school this past month. Even at age 10, when he first drew the truck, he struggled to communicate. Now, he will be going off to college to study engineering, welding, and graphic arts.
"They are geniuses. You just have to let them find their area of focus," Capt. Reindollar said of his son and those diagnosed with autism.
He said his family just allowed Dawson to grow in his areas of strength. He went on to say that children with autism need support and resources to be able to realize their potential. That's why we at Covelli Enterprises passionately got behind this cause nearly a decade ago. We have been honored to use our Panera cafes and products to bring people together to give that support to those living with autism.
"An autism diagnosis isn't an ending. It's a beginning," said Capt. Reindollar. "I can't wait to see what is next in his story."
100% of the proceeds from the annual sale of Panera's 'Pieces of Hope' cookies are donated to support various autism causes including The Rich Center for Autism, Potential Development, Autism Speaks of Central Ohio, Dan Marino Foundation, autism centers at Cleveland Clinic, Dayton Children's and Cincinnati Children's Hospitals, and Autism Societies of South Carolina, Georgia, North Carolina, and Northwestern Pennsylvania. Funds are used by these partners to provide services, scholarships, research, treatment, advocacy, and resources for families to help more kids like Dawson make their dreams, reality.
Thank you to the thousands of community members across eight states who joined us in making this year's campaign the biggest in our company history.
https://www.covelli.com/wp-content/uploads/2019/06/autism-story-2019-featured-2.jpg
600
1200
Ricky Darbey
https://www.covelli.com/wp-content/uploads/2016/01/Covelli-Enterprises_small_white.png
Ricky Darbey
2019-06-12 14:33:17
2019-06-13 10:51:18
Support for Autism Brings Communities Together To Help Make Dreams Real