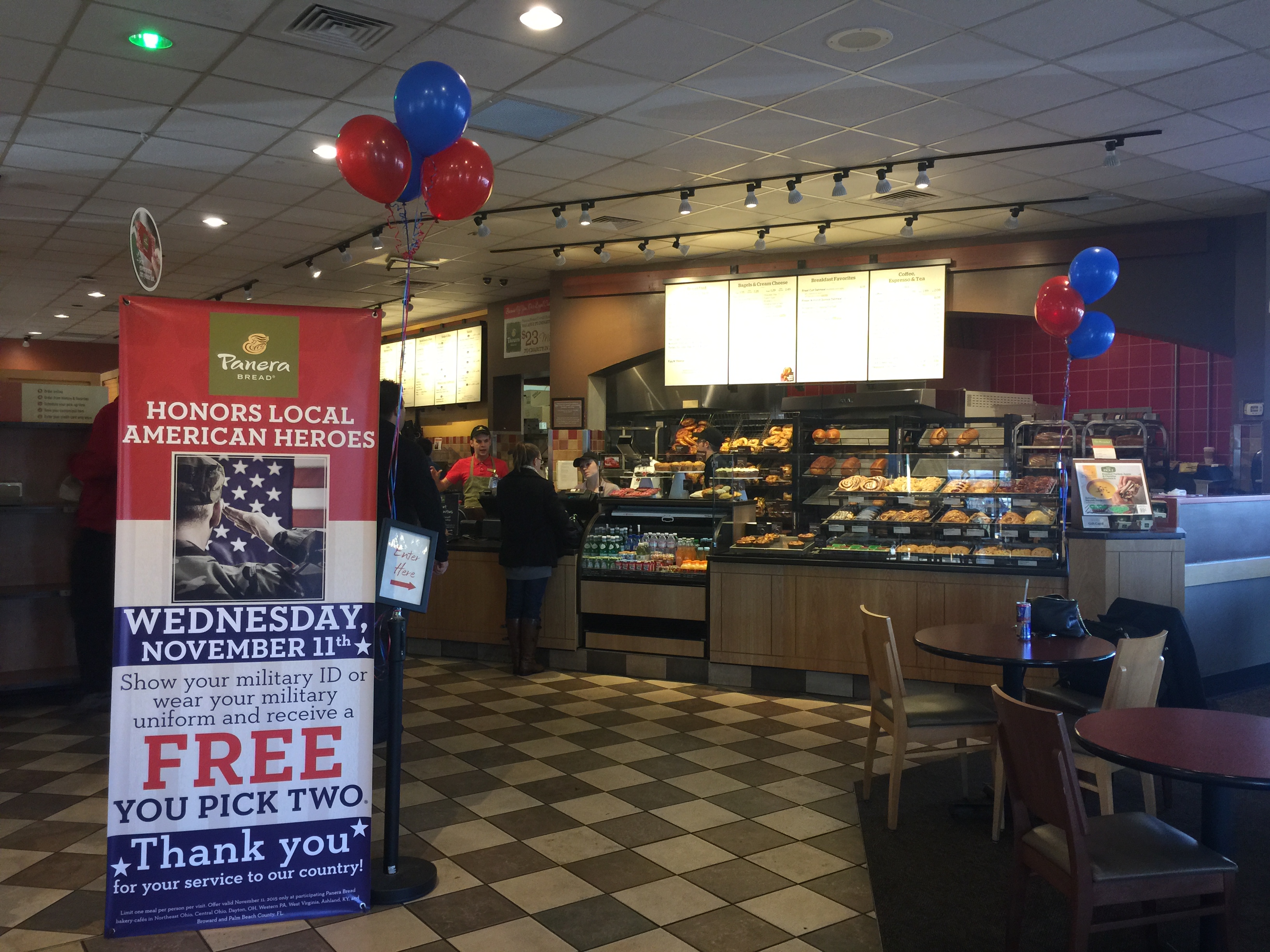 Saluting Veterans
Steve Powell had a dilemma on Veteran's Day.
He knew that the Panera Bread restaurant that he manages near the Wright Patterson Air Force base would be busy distributing free meals to hundreds of men and women who defended our country. But he wanted to take meals to the veterans living at the VA Hospital Medical Center in Dayton and spend a little time talking to them.
"I knew that we were probably their only visitors on Veteran's Day and maybe their only visitors for a long time," said Powell, the general manager of the Beavercreek Panera Bread restaurant. "It was kind of sad."
He decided he had no choice but to do it all.
Steve and two other Covelli Enterprises employees packed up Panera soups, sandwiches and salads and drove to the Dayton VA Medical Center, walking from room to room and chatting with the veterans. "It was very touching," he said. "and inspiring."
One man, a Korean War veteran, had just returned from his "Honor Flight" to Washington, D.C. He showed Steve and the others his photographs from the trip, including one that he treasures the most. It's a photo of him being kissed on the cheek by two women, dressed up in clothes from the 1950s.
Steve said the man called the kiss the "best moment of his life."
Steve said Veteran's Day was a pretty special day for him and that he was honored by the opportunity to serve veterans. "I loved the chance to spend time with these veterans and give a little something to them," he said.
The Panera Bread, O'Charley's and Dairy Queens that are a part of the Covelli Enterprises family of restaurants throughout Ohio, Pennsylvania, Florida, West Virginia and Pennsylvania gave away thousands of meals to veterans and it's been a company tradition for the last five years.
The grand total of meals served to veterans in 2015 from Panera Bread restaurants alone was 34,396, which is a 34 percent increase over the number of meals that Covelli-owned Panera Bread restaurants distributed in 2014.
Sam Covelli, owner/operator of Covelli Enterprises, said he is proud of how his staff has served the men and women who have and who continue to protect our country.
"Offering these free meals is a small way that we can recognize the great sacrifice that these men and women have made for all of us and for our way of life," Covelli said.
https://www.covelli.com/wp-content/uploads/2015/11/veterans3-1.jpg
2448
3264
samiam
https://www.covelli.com/wp-content/uploads/2016/01/Covelli-Enterprises_small_white.png
samiam
2015-11-16 23:02:08
2016-01-15 00:49:24
Saluting Veterans: Sharing Food, Collecting Stories and Inspiration