13 Nov

Girl Scouts is about more than just the cookies… it's about G.I.R.L.s!
Girl Scouts is about more than just the cookies… it's about G.I.R.L.s!
Posted in COMMUNITY WORK, FEATURED on November 13, 2019
Dena Chislak is a mother of two daughters, so she understands the importance of providing positive role models, enriching experiences, and opportunities for empowerment to young girls. Dena is also the Regional Marketing Director in Covelli Enterprises' West Palm market overseeing Panera's community partnerships in Broward and Palm Beach counties. For her, getting involved with Girl Scouts was a natural fit.
It was three years ago that Dena and Rebecca Schaffer, Director of Sponsorships & Community Partnerships for Girl Scouts of Southeast Florida, began their dynamic partnership. Since then, Panera has been a part of all things G.I.R.L. (Go-getter, Innovator, Risk-taker, Leader)™!
Girl Scouts is the recipient of funds from Panera's Community Breadbox collection canisters several months out of the year in all 31 cafes in Broward and Palm Beach counties. Panera also supports the Girl Scouts' Thin Mint Sprint 5K each year, during which girls are challenged to compete against the Girl Scouts CEO. This past January Panera was the Presenting Sponsor of the S.M.A.R.T. Cookie event that kicks off the annual and famous Girl Scout Cookie Sale Program.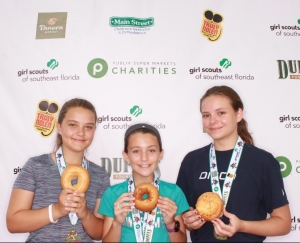 The Cookie Sale Program is what most people think of when they think of Girl Scouts, but they may not often think of what participating in this entrepreneurial program can do for a young girl.
Schaffer explained the Girl Scouts mission to builds girls of courage, confidence, and character who make the world a better place, and the ways the Cookie Sale Program helps to achieve that.
Girl Scouts aim to provide girls with early experiences in STEM (Science, Technology, Engineering, and Mathematics), Entrepreneurship, Life Skills and Financial Literacy to help guide them in future careers or in how they choose to serve their communities. The Cookie Sale Program essentially becomes each girl's own business through which they learn how to interact with the public, take ownership of their sales, and set their own financial goals.
Beyond cookies, Girl Scouts also encourages girls to take on real and impactful projects within their communities. These projects can range from creating a cookbook that includes recipes with ingredients readily found at food pantries to implementing anti-bullying and suicide prevention curriculum within the local school system. The organization recognizes individuals who create these types of initiatives with Bronze, Silver, and Gold Awards. Less than 6% of Girl Scouts receive the Gold Award, Girl Scouts' highest honor. Girl Scouts also log a combined 75,000 volunteer hours annually within their communities.
So, yes, these girls are doing A LOT more than selling cookies.
Taken from the Girl Scouts website is the following:
"While some people still think of us as just cookies, badges, campfires, and friendship bracelets, Girl Scouts are so much more. Girl Scouts are groundbreakers, big thinkers, and role models. Girl Scouts design robots, start garage bands, and improve their communities—and yes, they sell the best cookies on the planet. When she's a Girl Scout, she's also a G.I.R.L. (Go-getter, Innovator, Risk-taker, Leader)™."
In 2017, our own G.I.R.L. Dena was recognized for her work with Girl Scouts at their annual Emerald Awards, which honors women who exemplify leadership and serve as role models for young women in the Palm Beach community. Dena was presented with the Healthy Living Award for all she does to promote clean eating habits and wellness through her work at Panera.
Dena has also led Business Ethics workshops for various troops to share with young girls the importance philanthropy holds for Covelli Enterprises and why supporting the community is the right thing for any business to do. In her workshop, Dena discussed the MyPanera loyalty program and invited girls to design their own loyalty cards. The drawings of the Girl Scout loyalty cards hung inside Palm Beach and Broward County Panera cafes for a year as an outward symbol of Panera's commitment to these G.I.R.L.s.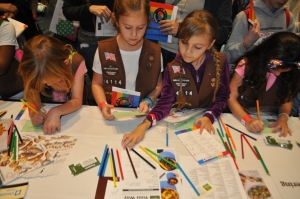 "These types of interactions are so meaningful," Schaffer said. "They connect our girls with strong female role models. Allowing them to see what Dena does in the community and in her role within her organization helps them see positive behaviors to model."
Schaffer, also a mother to a young girl, summed up what she loves about working for Girl Scouts saying, "The whole concept of empowering girls, and not just empowering them, but showing them how to empower themselves. Teaching them to use resources and giving them skills while also providing them a safe, supportive, all-girl environment. It's a place where they can find their voice, develop courage, speak up, and lead!"
Because of its combined contributions over the last three years, Panera is now recognized as an Annual Advocate for Girls.
In defining why she feels passionate about supporting Girl Scouts, Dena echoed Schaffer's sentiments saying, "Everything Rebecca said. That's why. The organization takes what we give them and does such good with it. Then the girls take it and run with it."
Only a couple more months until everyone's favorite cookies are back! This year, when you buy them (and we know you'll buy them), think about the role those cookies play in transforming girls into G.I.R.L.s (Go-getters, Innovators, Risk-takers, Leaders)™ as they learn vital life skills that will stay with them forever. For more on Girl Scouts of Southeast Florida, visit https://www.gssef.org/.