Donna DeHart has a calm, reassuring voice and when people call the Susan G. Komen office in West Virginia, she'll be the one to answer.
That demeanor has served her well in her role as the executive director and sole employee of the Susan G. Komen office in West Virginia – an organization dedicated to saving lives, easing suffering and ending breast cancer.
"We are a giant support group," she said. "If anyone calls our office and they don't have insurance and need a mammogram, we will get them to a facility where we've made a grant and they'll get the services they need."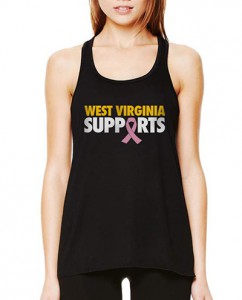 Susan G Komen covers entire state; works with Panera Bread
The Foundation, based in Charleston, casts a broad net for how it deals with breast cancer. It seeks to raise people's awareness about the treatable disease; it works with people who have been diagnosed; and it interacts with and funds various health care organizations that treat those with the disease.
DeHart's office covers the entire state and was founded by a volunteer in 2000.
"We have wigs and camis in our office and breast cancer information that we can give to people as well," she said.
The organization relies heavily on donations and grants and DeHart said Covelli Enterprises has been instrumental in helping to raise funds.
For the entire month of October, the West Virginia Susan Komen office receives proceeds from all pink ribbon bagels that are sold at the various Panera Breads throughout the state.
Those bagel sales produced $5,030.77 in 2014 for the West Virginia Susan G. Komen Foundation.
DeHart said Panera also donates all of the food for survivors who participate in the annual fundraiser, Race for the Cure.
"What makes Panera a good partner? No. 1– They never say no. I can call and say we've got something going on and Panera always comes through," she said.

"They're easy to work with and I don't see big turnovers in their stores. Plus, the food is delicious and everybody appreciates it."