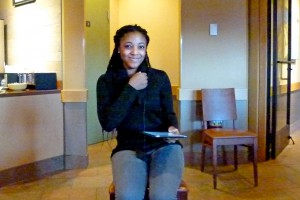 Jazmyne Kenney, a mild-mannered and soft-spoken senior at the Pittsburgh Creative and
Performing Arts School, said she has long loved writing and used it as a way of expressing her
thoughts about the world and her surroundings.
Her poem, Praying for Fish, chronicles conditions for some African-Americans in her community.
It won second place in the Covelli Enterprises/Panera Bread annual Martin Luther King Jr. writing contest.
Jazmyne, who has plans to attend college at Temple, Duquesne or Penn State, knows she wants to study some form of writing.
Jazmyne, the daughter of Alleda Travillion, said that education is the key to improving life for African-Americans.
Jazymyn said Dr. Martin Luther King Jr. would find that society today has improved a little.
"A lot of people say that we are in a post-racist society. But my generation still has a lot to doto fix things before we can claim that things are OK and that Dr. King's dream has been realized," she said.