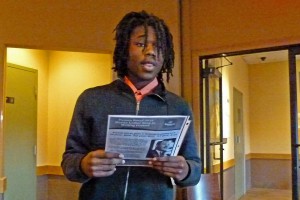 Javon Collins, who won first place in the 2015 Covelli Enterprises Martin Luther King Jr. Essay
Contest, said he has been thinking a lot about his future.
He said he would like to play professional football, but he's realistic enough to recognize that
he might not be able to accomplish this dream.
So, he has a backup plan.
"I would like to attend Pitt," said the mild-mannered 17 year-old, who said he believes that the world's biggest problem is a lack of love.
His essay, which he said he did not want to title, tried to reflect Dr. Martin Luther King Jr.'s messages about the importance of showing love and kindness in life.
"We don't have enough of that," Javon said. "We all need to do what Dr. King said and love each other more."