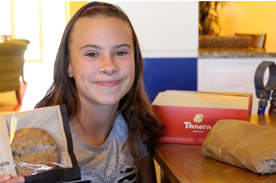 In 2014, the Quantum House of West Palm Beach helped care for more than 500 family members while their children were receiving treatment for a serious medical condition in Palm Beach County; yet they had to turn away more than 200 families.
"That stinks," said Roberta Jurney, executive director of Quantum House. She said she never wants to have to turn away a family that needs a place to stay while a loved one is receiving care at a hospital.
In February 2015, bulldozers came to the property and ground was broken for adding 20 more rooms to the area's only "hospital hospitality house."
The expansion, which will cost about $5 million, is expected to be completed later this year and will enable the facility to accommodate up to 300 more family members a year.  Covelli Enterprises has contributed $50,000 to the initiative.
Although the house is located just feet away from St. Mary's Hospital, Roberta said anyone who has a child in an area hospital is welcome to stay.
"We're kind of like Switzerland, we don't care where you come from," Roberta said.
Some families stay one night and others stay for several months at the home, which offers residents nightly meals, activities, a business center, laundry facilities, a putting green in the backyard and a fully equipped and stocked kitchen. Most families stay about three weeks.
The Covelli-owned Panera Bread restaurant supplies dinner every other week to all residents of the house and also helps put together gift bags that guests receive when they check in, including a gift card to Panera Bread.
Guests are asked to pay a voluntary $35 per night donation, but Roberta says about 70 percent do not. "We never turn anyone away because they can't afford to pay," she said.
"Our goal is to keep loved ones together when someone is dealing with a medical issue," she said. "We realize that a piece of their life is in a really bad spot."
Roberta said the Quantum staff works hard to have interesting activities, including golf lessons by a PGA pro, therapy dog visits and crafts, to give the families reasons to come out and interact.
"They support each other," she said. "We try to operate the House on the assumption that when they show up, they come with nothing. And we don't want them to have to worry about anything except their child in the hospital. We try to keep them fed and watered."