Prepare more food each day than what will be sold so that there will be enough left to donate to those who are hungry.
That's one of the instructions that Sam Covelli, CEO of Covelli Enterprises, has given to staff members of his Panera Bread restaurants.
It's the attitude behind that directive, coupled with the company's practiced commitment to philanthropy, that helped it win Columbus Business First's 2015 Corporate Caring Award for large corporations in the realm of Human Services.
In 2014, alone, Covelli Enterprises' Central Ohio market donated $4.1 million in Panera food items to local food banks, shelters, churches and hunger relief agencies.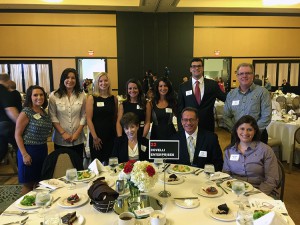 "We're in business to be good and to do good," Sam Covelli said. "This award is an honor and a wonderful recognition for our company and our amazing associates and managers who work incredibly hard to give back to the communities that have been so supportive of us."
Covelli said this recognition is also a testament to the loyal Panera Bread customers who support the company every day, allowing it the opportunity to continue to give back.
The award was presented at the annual luncheon ceremony June 18 at the Hilton Polaris, which was attended by hundreds of members of Central Ohio's business and non-profit communities.
Liz Fiorino, Regional Marketing Director for Covelli Enterprise's Central Ohio region, said that the Covelli associates who work in the 38 restaurants in her region are a special group of people who carry the corporate passion for giving back.

"This award was about cafes and the people who run them every day. They work tirelessly to not only provide great food and service for their guests, but also to make meaningful connections to the communities they serve. It is because of them that we won this incredible recognition," she said.
Fiorino explained that each of the Covelli Panera Breads in the Covelli family established relationships with food banks in their neighborhoods to receive the end-of-day donations of food. In the Columbus region, more than 100 different organizations, representing a diverse geography and population, receive donations averaging about $300 worth of product each day.
"In some cases, our cafes are able to support multiple organizations in the same day. Our café staff works very closely with the organizations to make sure we do not over-donate in one area or in one day," she said.
Fiorino said the program aligns perfectly with the corporate mission of staying local with donations and allows Panera associates to develop lasting relationships with non-profits.
In addition to donations, Covelli and its staff were also recognized for their legacy of matching their donations with action.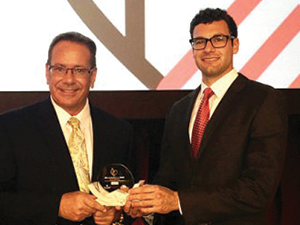 Greg Nett and Albert Covelli holding the award
"Many of our employees will drive the product themselves to wherever it needs to get, will spend time serving food and help clean up whenever possible," Fiorino said.
The Covelli-owned Panera restaurants also have canisters placed at the cash registers where customers can make donations. The Operation Dough Nation canisters support a variety of local charitable organization each year, including hunger relief agencies like Mid-Ohio Foodbank, which will be featured in the canisters in September 2015.
The Central Ohio Covelli workers also volunteer together on a quarterly basis at the Mid-Ohio Foodbank, helping organize and package food supplies and assisting families in need with their pantry selections.
Fiorino explained that Covelli's giving is guided by what the local community wants and needs. She said there is also a concern for trying to fill gaps that aren't addressed elsewhere.
"Through our product donations we believe we are able to help those in need in a way they may otherwise not receive," she said.

"Covelli Enterprises has been a vital partner in helping the Foodbank connect nutritious food to our hungry neighbors," said a Mid-Ohio Foodbank representative. "We are extremely grateful for their role in ending hunger, one nourishing meal at a time."
More information on the awards can be found here.
The 2015 honorees are broken into three categories, determined by employee count:
Large Companies:
• Safelite AutoGlass
• Park National Bank
• Roosters and Roosters Foundation
• Covelli Enterprises/Panera Bread
Medium Companies:
• Advanced Drainage Systems Inc.
• Lake Shore Cryotronics Inc.
• Manheim Ohio
• GOSH Enterprises
Small Compaines:
• Cybervation, Inc.
• GreenScapes Landscape Co. Inc.
• Rockbridge
• Champion Real Estate Services
The Benefactor of the Year award went to White Castle System Inc.