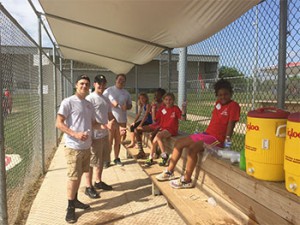 Panera Bread volunteers catching up with reds rookies in the dugout!
In baseball, homeruns are easy to spot, but not so easy to execute. They take concentration, practice, skill and maybe even some luck.'
The Reds Rookie Success League is working to help 250 inner-city children from Dayton learn how to have homeruns in life through a 8 day summer training camp where the children practice baseball skills while working on developing their character and building confidence.
In mid-June, 30 volunteers from 11 different Panera Bread Restaurants, owned by Covelli Enterprises, joined the Reds Rookie staff, brought the children lunch and spent the day as coaches and mentors for the kids. The volunteers helped to reinforce the goals of the camp: cooperation, integrity, respect, education, determination and spirit.
The camp is being held at the Action Sports Center on Gateway Drive in Dayton.
Covelli volunteers have been arriving just after 10 a.m. every day with a donated breakfast for the camp volunteers.
"The Dayton community has been so welcoming to us since we came in as new owners of the 11 stores in the market. We just wanted to do something as a company, and team, to show our thanks and dedication to them as a community,' said Jessica Cavaliere, regional marketing director for Panera Bread. "We had an absolute blast with the kids and can't wait to return next year!"
Covelli Enterprises also contributed $2,500 to the Reds Rookie Success League of Dayton.
Funds for Covelli's cash donation were raised through the company's Operation Dough-Nation program where collection canisters are placed alongside cash registers in all Dayton area Panera Bread locations.
The donation will be used to sponsor Dayton Rookies to attend a week long REDS Camp later this summer. The kids who, at the end of the Dayton camp, have proven themselves in all areas of character building and show sincere interest in the game of baseball get to attend a more elite camp in Cincinnati.
Tyler Lucente, who works as an associate at The Greene Bakery-café in Dayton, explained why he enjoyed the day, "I knew volunteering would be very rewarding. I went to a camp when I was younger and it made a big impact on me."
"Baseball is important because it teaches team work, leadership, cooperation and integrity, as well as skills that can translate thru out the kids entire life's."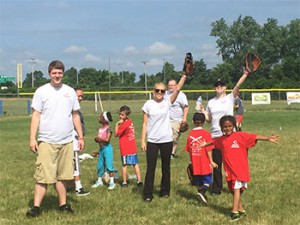 The Panera workers volunteered at The Reds Rookie Success League which is working to help 250 inner-city children from Dayton develop their character and build confidence.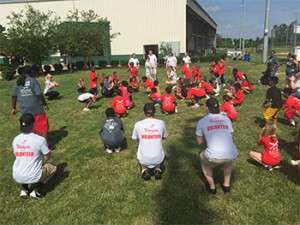 The Reds Rookie kids show Panera employees their yoga moves.
Sam Covelli, CEO of Covelli Enterprises, said his company's core philosophy involves giving back to the communities where he operates restraunts.
"Operation Dough-Nation is a way for us as company, and our patrons, to support local programs. The Reds Rookie Success League is an organization we believe is really making a difference with kids in Dayton. That is what we strive to do at Panera Bread, make a positive difference in the community through our products and bakery-cafes."
Ann Murphy-Fenner, a senior member of the steering committee for the Reds Rookie Success League, said the group appreciates Covelli Enterprise's involvement.
"The people of this remarkable company are sincere in their efforts and are determined to help make a difference in the lives of our children and the future of our communities. We are truly thankful to have them on our team," she said.