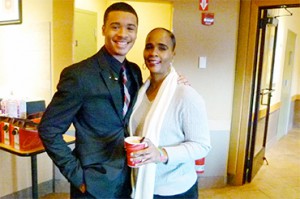 More than 50 people gathered in a side room of the Shadyside Panera Bread on a Saturday in early January 2015 to listen to the winners of the annual Covelli Enterprises Martin Luther King essay content read their work.
One by one, high school students moved to a center area of the room to accept awards and shake hands and to tell the story of how one of the nation's greatest civil rights leaders had inspired them.
Two essays and one poem were selected as the top winners with honorable mentions being distributed to four students. Students from more than 25 schools and six school districts were invited to participate.
Javon Collins, a sophmore at Pittsburgh Allderdice High School, whose essay was titled, "I Have Decided to Stick With Love," won first place. Collins and the two other top winners read their work to the audience.
Students received specially engraved plaques and Panera gift cards ranging from $50 to $100 and the top three winners received $500, $250 and $125 cash prizes respectively.
Sam Covelli, president of Covelli Enterprises, said he has been incredibly inspired by the students' writing and the fact that they, too, recognize the brilliance and power of Martin Luther King Jr.'s ideas.
"It is so meaningful to me that these students today, who were not alive when Dr. King was trying to unite our country are continuing to honor his work and his legacy," Covelli said. "It's something that we must do all year long, not just on Martin Luther King Day and not just with essay contents."
Honorable mentions:
Deja Green – Pittsburgh Westinghouse High School
Erion Morton – Pittsburgh Allderdice High School
Davion Traylor – Pittsburgh Obama High School
Jade Carter – Pittsburgh Westinghouse High School