The goal has been the same for 26 years at I Know I Can, a college access organization in Columbus, Ohio: "Help Columbus City Schools students enter and succeed in college." But the methods for how to accomplish that goal have changed during the organization's existence.
Katina Fullen, executive director of the nonprofit, explained how I Know I Can College Advisors realized that high school was not the place to start preparing students, and more importantly, families for college.
"College planning should start before high school," said Fullen, highlighting that I Know I Can now begins working with students and families in the 6th grade. "We were advising students in eleventh and twelfth grades and recognized that we needed more time with them to prepare for college."
Blueprint: College, launched in 2009, is one way that I Know I Can is making an effort to reach Columbus City Schools students and their families earlier.
Blueprint: College is a series of workshops where I Know I Can and local higher education expects provide key college readiness and financial literacy information for middle school students and their parents. How to prepare for, enroll, finance and thrive in college are key areas that I Know I Can works to address with Columbus City Schools students and their families.
In an effort to remove potential attendance barriers, I Know I Can provides dinner, free transportation, and free child care for all Blueprint: College attendees.
From its beginnings during the program's first year, serving just 150 families, Blueprint:College has grown to reach more than 2,000 families across Columbus annually. In describing her experience with Blueprint:College, an 8th grade mother states,
"Blueprint opened doors and made me more aware of where we're at, where we are trying to go, and what we need to do in order to get there. I really enjoyed it. I really appreciated it."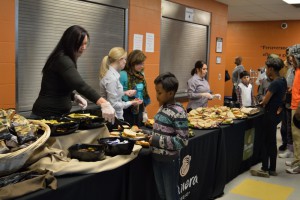 Blueprint: College attendees are becoming more aware of educational options. Recent program evaluations show after attending Blueprint: College, 96 percent of all parents report understanding the academic and financial preparation needed for their students to be college ready. Taking action with their college blueprint as a guide, Blueprint: College families increase the frequency of college conversations in the home as well as their involvement in their student's education.
Not surprisingly, armed with new knowledge and a plan of action there is a 100 percent increase in the number of Blueprint: College parents who have higher college expectations for their students.
However, I Know I Can realized that the small organization could not implement the program without great support from numerous organizations and businesses and Covelli Enterprises is proud to be one of the partners.
As Blueprint: College attendance steadily increased, Fullen began looking at the organization's budget and realized that one of the largest line items was the cost of meals for the workshops.
"We were trying to find ways to manage our budget," Fullen said. And it was not long before Sam Covelli came forward as the first restaurant partner and offered to help with meals for Blueprint:College."
Other local restaurants soon followed, including White Castle, Bob Evans and Donatos.
To date, Covelli Enterprises has provided dinner to more than 2,500 students and their parents who attend Blueprint:College workshops. The complementary dinner is served one hour before the official Blueprint:College program begins. During that time current college students who are often Columbus City Schools graduates sit with families answering questions about their own personal college journey.
To assist with the capacity of facilitating Blueprint:College, Panera provides staffers to attend workshops and serve dinner.
"The support from Panera and its staff is beyond wonderful," Fullen said. Panera brings more than just their great food for Blueprint:College families, they bring a smile and enthusiasm for the program that shines through in all they do."
For more information, visit: www.iknowican.org