Wounded Warriors Family Support Group helps Josh Sust buy truck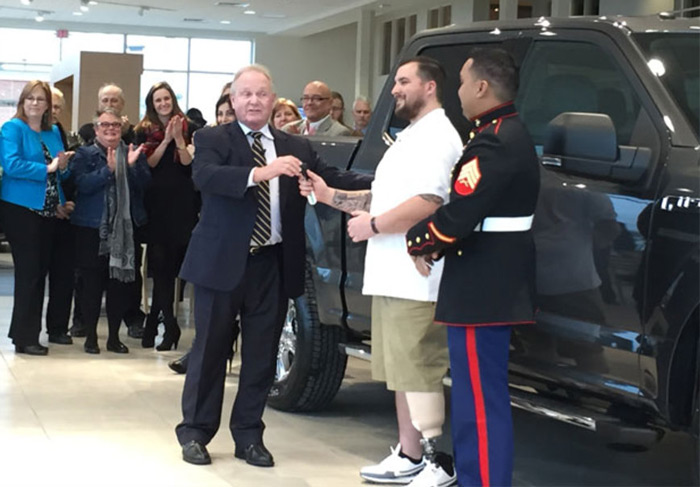 Josh Sust returned to his hometown of Cincinnati after serving with the U.S. Marine Corps with serious injuries, memories of terror and no regrets about serving his country.
In 2011, while serving with the 2nd Battalion 4th Marines in Afghanistan, an improvised explosive device struck Sust. The injuries were so severe that he, eventually, had to have his left leg amputated below his knee.
"It sucks that I am missing a leg, but I am OK and I wouldn't change anything," he said.
Sust, who wears a prosthetic, said he has developed amazing friendships through the military and the course of his physical recovery. In fact, he is now working at Abilities in Motion, the same place where he obtained his own prosthetic leg.
He is a technician and patient advisor for the Cincinnati-based prosthetic company.
"There are a lot of guys in my situation and we don't regret anything.," he said. "There are things you can do with your life. You can be depressed or hate life and drink your pain away. Or, you become a bigger and better person than you were before."
Sust said a key part of his journey to recovery has involved being as mobile as possible. He has a track wheelchair which allows him to enjoy outdoor activities as he formerly did.
He, however, had a lot of trouble carrying the track chair in his car.  In 2015, he applied for funding from the Wounded Warriors Family Support group to help him buy a Ford F-150 truck. The organization, with support from businesses like Covelli Enterprises, gave Sust the funds he needed to complete a purchase.
"It was the best Christmas present ever," Sust said. "I can get around and that's so important to me."
Covelli Enterprises President Sam Covelli said he is honored to support the Wounded Warriors Family Support group and soldiers like Sust. "Josh epitomizes the mantra of service above self. We, as a country, are deeply indebted to him and others like him who work to defend our freedoms."
http://www.covelli.com/wp-content/uploads/2016/01/Covelli-Enterprises_small_white.png
0
0
Sam Covelli
http://www.covelli.com/wp-content/uploads/2016/01/Covelli-Enterprises_small_white.png
Sam Covelli
2016-11-08 02:08:14
2016-11-08 02:25:36
Former Marine is grateful for friendships and kindness