Black History Month Honoree: Warren Mayor William "Doug" Franklin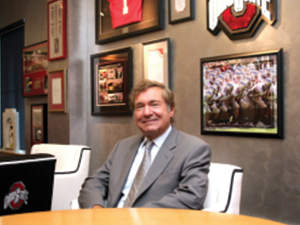 I am proud to call Warren and the Mahoning Valley my home and the headquarters of our company, Covelli Enterprises. We have many accomplishments for which we can be proud.
In 2011, Warren elected its first African-American mayor, William "Doug" Franklin. Fewer than 40 percent of American cities has ever elected an African-American mayor. And most cities that have elected African-American mayors have a population that is mostly African-American.
As part of Black History Month, Covelli Enterprises has been working with Star Radio to highlight the accomplishments of some of the Mahoning Valley's African-American leaders. Mayor Doug Franklin, one of our first honorees, has a long history in public service. His political began in 1989 when he was first elected to Warren City Council as the Fourth Ward Councilman.
After serving two terms in that position, he won his first citywide race in 1993 for a position as councilman-at-large. In 2000, he was elected to serve as President of Council and was appointed director of public service and safety in 2004.
Mayor Franklin, a native of Warren and graduate of Warren Western Reserve High School, holds a degree in political science from Kent State University.
Mayor Franklin's contributions to our community have not been limited to political arena issues only. In fact, he has been active with numerous organizations, including Someplace Safe, Sunshine Inc., Trumbull County UMADAOP, Warren Grows, Trumbull County Action Program (TCAP), Trumbull County Red Cross and the Warren Area Council.
Mayor Franklin's career is as an example and inspiration as we all work to knock down racial and other barriers to become an inclusive, welcoming and tolerant community.