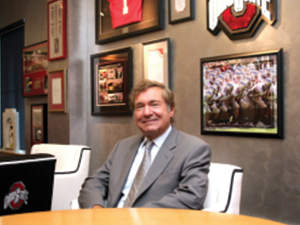 We are in the service business. We pride ourselves on treating our customers with courtesy and respect. That's what my late father, Albert Covelli, always taught me about operating restaurants and that's one of the main lessons we've stressed to our associates.
So, it's thrilling for me to walk into one of our Panera Bread restaurants and see our staff members practicing what we've taught them.
That happens every day when I walk into one of our restaurants.
I want to tell you about a special day when our staff members saluted our country's heroes.
Staffers at the 300 Panera Bread, Dairy Queen and O'Charley's Restaurants that are a part of the Covelli Enterprises family of restaurants spent Veteran's Day serving meals to our nation's soldiers.
Our restaurants in Ohio, Pennsylvania, West Virginia and Florida served about 40,000 meals to veterans.
Some of the veterans came to our restaurants. In other cases, we went to them.
In Dayton, for instance, Steve Powell, general manager of Panera Bread, led the initiative to take meals to veterans at the Dayton VA Medical Center.
Panera staffers packed sandwiches, salads and soups and drove to the VA facility, delivering the food, talking to the vets about their lives and doing what we do – providing great customer service.
Read more about their visit here. The story of their trip made me even more grateful for being able to provide the opportunities for this type of interaction between different generations.
My father, a veteran himself, who served in World War II, said that our industry is food service, but that our real business is people. I am honored and humbled by the service of our nation's heroes and eternally grateful for the service of our loyal associates who allow us to serve people.