Clients of Lark Enterprises stuff 8,000 bags for Panerathon
 Joyce Anderson, a client of Lark Enterprises, stuffs bags to give to participants in the Panerathon. She says she likes dropping the finished bags into the boxes.
Ed Anderson held the bright orange bag in his left hand while he used his right hand to scoop up the items spread out in front of him, including a chapstick, a balloon and a tiny box of Nerd's candy. He then dropped the bag into a box at the end of his table.
Anderson was almost done with his second box of packed gift bags to distribute to the children attending the Panerathon Aug. 30. This second box meant a few things to Anderson:
• He would collect about $5 for his work so far.
• He was proving that he is capable of making important contributions.
Anderson is one of the 49 people with intellectual and developmental disabilities, autism spectrum disorder or a mental health diagnosis who works at Lark Enterprises on Green Ridge Drive in New Castle.
The sprawling warehouse building is set up as a production facility and the 49 clients, like Ed, come there every day to work on jobs like stuffing bags, assembling electrical components and connecting suction cups to hooks.
"I love it here," Anderson said, explaining that he has been working at the facility five days a week for 10 years. The 27 year-old, who called himself his father's birthday present, said he is most happy about the salary that he receives.
Ed said he saw a television commercial promoting the Panerathon and was proud to be associated with the event.
Ed's father brings him to work every day, but some of the others come on a bus.
Kelly Rembold, marketing specialist for the company, said the production facility always has work for people to perform.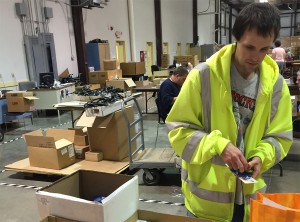 Ben Anderson, a client of Lark Enterprises, says he loves the salary he gets paid for each Panerathon bag that he stuffs